Want to take on a project that adds beauty and resale value to your home? Look down … the answer may lie with your flooring.
The average ROI for installing hardwood flooring is somewhere between 70 and 80 percent. Hardwood flooring can add up to 2.5 percent more to the price you charge for your home.
But even if you're not ready to sell, and you have no immediate plans to do so in the future, the best reason to install hardwood throughout your home is for the sheer beauty of it.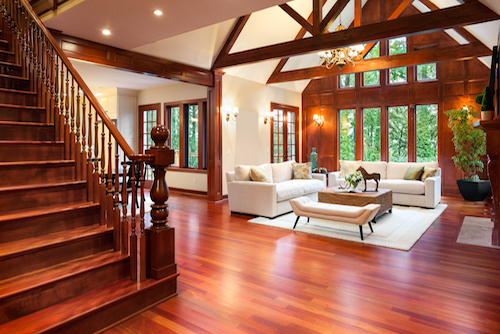 Yet not all hardwood is created equal. There's more to it than simply picking out your favorite color. You have to mix in aesthetics and performance to ensure you gain flooring you can live with for years.
Where do you start?
Engineered or solid hardwood
When most people think of hardwood flooring, they think of solid planks taken straight from the tree. In our modern times, you have a lot of different options. Solid hardwood still makes an excellent choice in many homes. But engineered flooring can be the perfect choice in certain circumstances.
Solid hardwood flooring is installed over one or two layers of plywood. That can raise a flooring level up and interfere with some floorplans. If you're already dealing with a drop ceiling and you can't raise a door frame, you might not have enough clearance for solid hardwood installation.
Engineered flooring can be glued directly to concrete or a soundproofing mat. It's also the best choice if you want to install over radiant heating.
If you are going to install engineered wood, choose carefully. Engineered wood is created in several layers. In some cases, manufacturers create the top layer so thin, you can't sand it down and refinish it in the future. That means your engineered floors won't have the longevity of other hardwood options. It may be less expensive today, but you'll pay for it down the road.
Of course, for some homeowners, nothing beats the feel of real wood. You can feel the difference. You can also hear the difference – solid hardwood makes a quieter living environment.
Prefinished or site finished
Hardwood flooring can be purchased unfinished that is laid into place and finished after installation, or prefinished, which arrives with stain and topcoat already in place. Each has its advantages and disadvantages.
With prefinished hardwood, what you see is what you get. When you walk into our showroom, you can see the different colors, styles, grains, and patterns. You can match the color to your existing decor. You can coordinate it with the rest of your fixtures and appliances.
Prefinished also takes less time from beginning to end. If time is a factor, this is the way to go. Once the boards are laid into place, you're ready to go. You won't have to wait and stay off site as the boards are colored and sealed.
On site finishing may take a bit longer, but for some, the customization means the sky's the limit for choices. You can mix and match and color. You can select your level of stain and sheen. With on site finishing, the boards are nailed into place unfinished. Then the unfinished flooring is sanded, stained, and sealed as a continuous plane. The advantage of that is sealant covers the spaces in between. It provides a stronger moisture barrier, which can be a great advantage in some areas of your home.
Wood type
If you're trying to decide what type of wood to install, you can't ignore oak. Here in America, oak is king in the hardwood flooring market. It's a very durable wood that handles well in an active household. It also has appealing color and grain that mixes and matches well with other aesthetics in a home. Especially here in Colorado where hardwood rules, oak can be a welcome addition to any decor. And because of its popularity, it's also one of the most affordable hardwoods on the market.
Of course, you don't have to stick with oak. If you're looking for something to set you apart from your neighbors and friends, there are a lot of choices for you. Walnut, maple, cherry, or ash – the choice comes down to preferences and taste.
If you're looking at prefinished, what you see is what you get. But with unfinished wood, keep in mind that certain woods create darker finishes when the process is finalized. If you're looking for a specific shade, be sure to talk over your desires with one of our consultants to ensure you get what you want.
Finish type
There are many different types of finishes for hardwood, but in general, they fall into one of two classes: oil or polyurethane.
Oil penetrates the wood and gives a soft glow that keeps the wood looking natural. But because it penetrates the wood, it leaves it more vulnerable to damage. Oil finishes scratch easier, but the very nature of an oil finish also makes it easier to cover them up. You can fix them on a spot by spot basis.
Polyurethane creates a hard topcoat that makes it more resilient to wear. This is often a better choice for busy households with kids and pets coming and going. Yet polyurethane is also harder to repair. In most cases, you'll need to buff out problem areas, then reapply the finish to the entire section of the floor.
Plank width
In years past, hardwood planks came in traditional sizes, usually two to three inch strips. No more. Today you can select hardwood planks in a wide variety of widths, which can add luxury and personality to any home.
Wider plank widths work well in larger rooms. Have an open air concept, where the kitchen, dining, and living space all roll into one another? Wide planks can give the space its own unique look.
Four, five, six, seven – really, you can go as wide as you choose. If the space can handle the expansiveness of the wood, why not give it a go? Wider planks mean fewer seams. That means less opportunity for damage from seepage between the planks. However, it also means you might see more movement as wood expands and contracts. Because there aren't as many boards to distribute the movement, you may notice it more in what's installed.
Still, it's hard not to notice the beauty in a floor that isn't the "same" as everyone else's.
So what's it going to be? What hardwood flooring is perfect for your home? If you want to finalize your decision and add new flooring to your home, why not stop by and see your options today?