HGTV has turned many of us into budding decorators. We watch our favorite shows, pick up design tips, and work tirelessly to morph them into our own living spaces.
That's how we start picking up the tools we need to build homes or our own. Whether you're starting from scratch with a new build, or are turning your current design into a masterpiece, a lot of it begins with developing your own sense of aesthetics.
For many, they start with the "must-haves." Certain things you know from the start:
My final design includes hardwood flooring.
That's your starting point.
Yet even with something so simple, it can be a complicated process figuring everything out.
Do you prefer a rustic look? Hardwood flooring can be a base for everything country.
Or maybe you're more of a minimalist at heart. Hardwood is the perfect combination of clean lines and sleek looks that are perfect for a simplistic feel.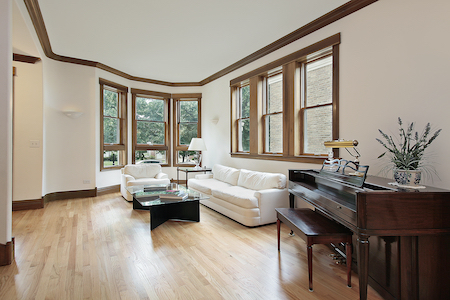 Prefer mid-century modern? This combines timelessness, charm, and unassuming style into one beautiful look.
Or maybe you're ready to let your bohemian vibe shine through. It's time to mix colors and patterns for a look that's truly your own.
Hardwood flooring is there to set the stage for your design dreams.
Why install hardwood flooring in your home?
There are several compelling reasons to choose hardwood flooring for your home.
People unequivocally focus on hardwood flooring due to its classic good looks. What's not to love? No matter what style you're trying to achieve, hardwood sets the stage for a beautiful design.
Looks may be the first attraction, but many other factors follow close behind. Hardwood floors are incredibly durable and can withstand heavy foot traffic, making them suitable for high-traffic areas like living rooms, hallways, and kitchens. They are also resistant to stains, scratches, and wear, making them an excellent long-term investment.
Hardwood floors are easy to clean and maintain. Have a spill? Clean it up. Hardwood floors can be easily swept or vacuumed, and spills can be quickly wiped away. This makes them a hygienic choice, especially for individuals with allergies or respiratory issues.
Hardwood flooring offers a wide range of design possibilities. With numerous wood species, finishes, and textures to choose from, you can create a unique and personalized look for your home. Whether you prefer a rustic, weathered appearance or a sleek, contemporary feel, hardwood flooring can help you achieve the desired aesthetic.
Things to consider when choosing hardwood flooring
When selecting hardwood flooring for your home, there are several factors to consider. Let's explore each of them in detail:
Type of flooring
Solid hardwood is milled from a single piece of wood, offering unmatched beauty and durability. It can be sanded and refinished multiple times, making it a long-lasting investment. Solid hardwood is best suited for above-grade installations, such as living rooms and bedrooms.
Engineered hardwood comprises multiple layers of plywood topped with a wood veneer. This construction provides enhanced stability, making it less susceptible to moisture and temperature changes than solid hardwood. Engineered hardwood is an excellent choice for below-grade installations, such as basements, or areas with fluctuating humidity. It also works well in rooms with radiant heating systems.
Wood species
The choice of wood species greatly impacts the appearance and characteristics of your hardwood flooring. Each wood species has unique grain patterns, colors, and hardness levels. Some of the more popular choices include:
Oak – Oak is a widely used and versatile hardwood species, known for its durability and beautiful grain patterns. It comes in two varieties, red oak and white oak, each with distinct appearances. Red oak has a reddish hue and pronounced grain, while white oak has a more subtle grain and a slightly golden color.
Maple – Maple hardwood flooring offers a light and bright appearance, with a fine, consistent grain. It is highly durable and resistant to wear, making it suitable for high-traffic areas. Maple flooring can be left natural or stained to achieve different shades.
Cherry – Cherry hardwood is known for its rich, reddish-brown color that darkens with age and exposure to sunlight. It has a smooth, satiny texture and a distinctive grain pattern. Cherry flooring adds warmth and elegance to any space.
Walnut – Walnut hardwood flooring features a rich, dark brown color with a beautiful blend of straight and wavy grain patterns. It lends a luxurious and sophisticated look to interiors and is often chosen for its unique character and depth.
Hickory – Hickory is a durable hardwood species with significant color variation, ranging from pale blond to deep brown. It has a distinctive grain pattern with knots and mineral streaks, adding rustic charm to any room.
These are just a few examples; spend time looking around to find the right hardwood for you. Many other wood species are available, each with unique characteristics and appearances. Consider the desired color, grain pattern, and hardness level that align with your aesthetic preferences and lifestyle.
Appearance
Not all hardwood looks the same. You'll have to determine how much you want your hardwood flooring to stand out or blend in. You'll have many choices, including:
Color – Hardwood floors come in a wide range of colors, from light tones like natural maple to dark hues like espresso or ebony. Lighter colors can make a room feel more spacious and airy, while darker colors add warmth and coziness.
Grain Pattern – The grain pattern refers to the visible lines and textures in the wood. Some species have pronounced grain patterns, like oak, while others, such as maple, have a smoother and more uniform appearance. Decide whether you prefer a more distinctive and rustic grain or a sleeker, minimalist look.
Texture – Hardwood flooring can have various textures, such as smooth, wire-brushed, distressed, or hand-scraped. Smooth finishes provide a modern and polished look, while textured finishes add character and give the floor a more aged or rustic feel.
Finishing
Prefinished hardwood flooring is factory-finished, with multiple coats of protective finish applied. This option offers convenience as the flooring arrives ready to install. Prefinished floors often come with warranties and have a wide range of finish options to choose from.
Unfinished hardwood flooring is installed raw and requires on-site sanding, staining, and finishing. This option allows you to customize the color and finish according to your preferences. It also allows for a seamless look when matching existing hardwood flooring in your home.
You should also consider factors such as gloss level (ranging from matte to high gloss), texture (smooth or textured), and color. The finish should enhance the natural beauty of the wood while protecting against stains, scratches, and wear.
Find the best flooring expert
To ensure a successful hardwood flooring installation, finding a reliable and experienced flooring expert is essential. Start by asking for recommendations from friends, family, or neighbors who have recently had hardwood floors installed. Research local flooring companies, read reviews, and request quotes from multiple contractors to compare prices and services.
A reputable professional can provide references and show you examples of their work. Discuss your vision and expectations, and ask for their input and recommendations based on their expertise.
How can we help you?