Are you remodeling your home? Looking for a flooring that will last for years and look great too? Don't want to follow the Joneses – want something you won't find in your neighbor's home?
Maybe it's time to give bamboo flooring another look.
Bamboo flooring is often considered a category of hardwood, even though it isn't a hardwood at all. Bamboo isn't a tree, and isn't a wood. Instead, it's a grass native to China. It's cut down as strips, bonded together and crafted into planks that resemble hardwood. You'll find colors, styles, and finishes in all spectrums, and often stand out over other hardwood options.
One of the top reasons people turn to bamboo is because of its natural, renewable sourcing. Unlike trees which can require decades of growth before harvesting, bamboo stalks can be harvested repeatedly every five to six years. Most of the bamboo on the market today is sourced from plantation-like applications that approach their farming operations responsibly.
While bamboo farming is a growing enterprise, it is important to understand that if you are looking for a renewable resource, it's a good idea to pay attention to the manufacturing process. Less than reputable manufacturers are still in abundance in this category, so it's important to dive deep and understand the product you are purchasing.
If you find inexpensive options online, there is a reason. Ensuring you receive a quality product means doing your research early.
The different types of bamboo flooring
If you decide to install hardwood flooring, you'll be able to select from a variety of styles: traditional hardwood, laminate, engineered.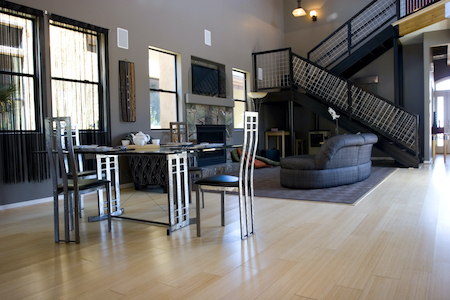 With bamboo, it works in a similar manner. Bamboo is constructed in several unique ways.
Stranded bamboo – it's created by shredding the bamboo stalks and compressing them into sheets using a resin binder and pressurized heat. They are then cut into planks to install in your home. You'll find both click-and-lock and nail-down varieties.
Horizontal bamboo – is manufactured by cutting the bamboo into thin strips and then glued together to form the planks. With this method, you'll see the grain from the fibers within the plant. Because it isn't pressurized when created, it isn't as durable as the stranded option. But because of its grainy appearance, it can create a striking look.
Engineered – this is created by bonding a thin layer of bamboo onto an MDF core or a piece of plywood. It's structured similarly to engineered hardwood, and performs  similarly. It's the least expensive option, and cannot be refinished down the road.
Thinking about installing bamboo? Here are the pros and cons.
Before you settle on flooring for your home, it's important to think about your lifestyle. An empty nest couple will have different needs than a young growing family. If you live alone, you'll have different requirements than if you own several pets.
In many cases, what can be considered a "pro" by one household will be a "con" for the next. Bamboo flooring is a great choice for many homeowners, but for others, it can be a mess.
What we like best about bamboo flooring is:
It gives a luxurious appearance to any room you install it in. It has a look that steps beyond traditional hardwood.
Like hardwood, if you go with a solid bamboo, you can refinish it and have it last for decades. That makes it worth spending a little more on it upfront.
Today's bamboo flooring isn't what you could purchase even a few short years ago. It's easy to find articles online that talk about how finicky bamboo can be. Yet today's bamboo is more water-resistant than ever, and can even surpass the durability of some hardwoods.
It's natural. If you care about going green, having a sustainable product inside your home, look no further than bamboo.
It can be less expensive than exotic hardwood, yet offers a completely unique look and feel. If you don't want to replicate every other home in your neighborhood, bamboo flooring might just be what you're looking for.
Still, bamboo flooring isn't right for everybody. Some of the cons for using this in your home include:
It's just as easy to find poor quality bamboo as it is high quality. Don't select a bamboo flooring online based on cost – less-than-reputable companies will give you a lower quality product. If you install the wrong bamboo, it will be softer and won't hold up very well over time.
How it's created is important too. A less than reputable company can press the strands together using a high VOC adhesive, which can make it more dangerous to your health once you install it.
It can be a sustainable, eco-friendly option … unless you go with a greedy manufacturer. There are lots of ways to cut costs in this product line. Be careful before you finalize your purchase.
Flooding, high moisture, or pooling water will damage your bamboo flooring.
It can be scratched quite easily. It isn't the best choice with lots of pets who love to run and play.
Still think bamboo flooring is right for you?
Age is everything – select wisely
When manufacturers harvest bamboo, they know the proper age to ensure the highest quality. Again, this is a reason to go with a trusted resource.
With bamboo, age is important. Age determines its durability.
Most of the bamboo used in manufacturing today comes from China, and is created using a species of bamboo called Moso. Moso bamboo takes 5 to 6 years to reach maturity, and will achieve a base diameter of 4 to 6 inches, while reaching a height anywhere from 40 to 80 feet tall.
Maturity gives bamboo its strength. The younger the plant, the weaker the strands, the less durable the end product – your floors – will be.
If you've ever heard of homeowners unhappy with their bamboo floors, it's most likely because they installed a weaker product. That's when flooring will break apart, split, warp, and crack under pressure.
Talk with a flooring associate about the product line. Do your own research too. Don't settle until you're sure you have the perfect product for your home.
Are you ready to install bamboo flooring in your home?
We're happy to help. Give us a call today, and we'll be happy to answer all of your questions about bamboo flooring, and help you make the right decision for your home.