When most homeowners shop for new flooring, they come in with a goal in mind. Maybe they've dreamed of hardwood, and have a vision of it throughout their living space.
Yet starting the process may be more difficult than it seems. Suddenly, multiple samples are available to you. And the more you look, the more they appear the same. Should you choose Golden Oak, Colonial Maple, Golden Brown, or Red Mahogany?
Don't think it gets any easier once you have a hue. Coming in with "dark" or "light" in mind can still leave you scratching your head when you start to lay samples side by side.
This one has a little more red. That one has a little more gray.
Which choice should you make?
Choosing the right hardwood floor color – where to begin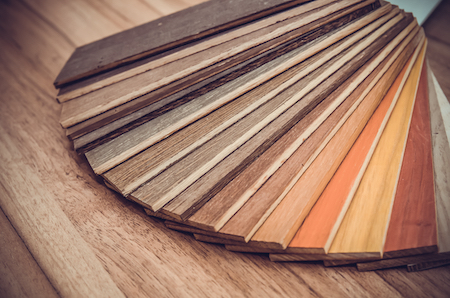 Installing hardwood is a great choice for homeowners. It's a flooring choice you'll enjoy now and for many years to come. Hardwood is durable, easy to clean, easy to maintain, and you'll fall in love with it a little more each day.
With any flooring you choose, your ultimate goal is to set the stage for aesthetics and decor. Your flooring is the baseline for whatever else you bring into your room.
For most homeowners, they choose a maximum of three flooring choices to use throughout the home.
Hardwood for all main living spaces
Carpet for bedrooms
Tile for bathrooms
This is one of the most common game plans for remodels and renovations. There's a reason for this: it creates a cohesive look, and offers functionality where you need it most.
You can use your current decor to help point you in the right direction. What color are your cabinets? What choices have you made with furnishings? What ambiance are you trying to create?
Whether you move towards dark, light, or middle of the road, color choices appeal to what's deep inside of each and every one of us. When we see our "dream" home, it usually comes predetermined by colors, tones, and hues.
Middle colors of hardwood flooring
When homeowners first venture into hardwood flooring, they usually start with middle of the road colors. Think oak or pine. It's popular and classic, and looks good no matter what aesthetics you prefer.
It won't be so dark that you worry about the color. It won't be so light that you'll worry about brightness and seeing everything that accumulates in the nooks and crannies. It's durable. And you'll find middle colors just about everywhere you go.
What's more, middle hues go with just about any decor. It complements almost any furniture genre, and will coordinate well with whatever color furnishing you desire.
Middle hues also give you the possibility of playing with your flooring in other ways. Want to add a bit of gray to your hardwood? Or how about moving toward reds? You'll be amazed at how much you can change your surroundings just by moving a shade or two away from a "classic". You might even consider mixing, selecting multi-color wood with side-by-side planks in slightly different shades. This works well, especially if you have lighter furnishings, as it will give you depth and allow the rest of your aesthetics to pop.
Dark colors of hardwood flooring
Dark hardwood floors are on-trend and have been popular in some homes for as long as hardwood flooring has been around. The old plantation-style homes are often reminiscent of dark flooring and equally classic furniture. But don't think you need a country home to utilize this dark color hue. You'll find it equally as appealing in a condo thirty floors up in the heart of Downtown Denver.
That's because dark hardwood flooring works great with a variety of colors and fabrics. They're a great choice if you're trying to create something formal and contemporary. They're also a great choice if you're moving more toward rustic and casual. Because there are so many choices, you'll find one that works well with your style and mood.
We find dark hardwood flooring works exceptionally well when you have an open concept floorplan that lets the beauty of the hardwood shine through. It may be a bit too dark for small rooms, giving them an even smaller look and feel. They also work better with larger planks – fewer seams show off the dark flooring. If you have your heart set on dark hardwood, the best way to select your color is to narrow it down to a few choices, and bring them home to see how they feel.
Light colors of hardwood flooring
Light is in abundance here in Colorado. Why not play off that light and add even more light to your home! Light hardwood floors have many favorable design aspects that homeowners love. Because their light color stands the test of time, it's not unreasonable that light hardwood will give you decades worth of wear.
Floors with lighter finishes go with just about anything. It gives you a great choice when you're in love with white furnishings, without truly installing white flooring. Oak and Maple maybe two of the most popular choices, but there are many more options. Ash and Hickory bring light flooring with new hues and tones, something that may be more appealing to your sense of decor.
There aren't many spaces that aren't created with light floors in mind – they look good everywhere. While some may feel light flooring will be harder to clean and maintain, the opposite is almost always true. It's often harder to see dust and debris, and if a spill does occur, it's easy to see and to clean.
What's your shade – selecting the perfect hardwood color
Do you prefer to stick with trendy colors, giving your home a popular look and feel? Black stains, natural-looking hardwood, or planks with gray undertones are sure to meet your expectations.
Love classic good looks? You'll never go wrong if you stick with mid-range colors, even if you move a little toward grays, whites, or reds.
Start with your gut – most homeowners have a feeling for what they want almost from the beginning. Narrow it to a few selections, and live with samples for a few days.
You'll find yourself leaning towards one or the other.
Stop by today, and we'll help you find the perfect selection to suit your needs.