Ready to have dark hardwood floors installed in your home?
Dark hardwood flooring is very stylish. It's sleek and gives your home a sophisticated look.
And just like other hardwood floor options, there's a number of ways of getting them as dark as you choose. Even ebony is an option.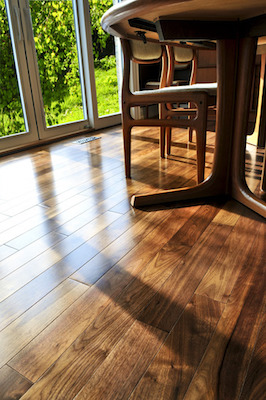 For most dark hardwoods, they are stained to make them as dark as you desire.
The most common dark flooring is oak hardwood. To gain a rich, dark color, it is stained with a dark brown stain such as Ebony (the darkest stain) or a slightly lighter stain such as Jacobean or a Dark Walnut. Any of these colors will produce a rich, dark color without the undertones of red.
Brazilian Walnut is naturally a darker wood, which will come through in the final color. If you lay Brazilian Walnut unfinished, it has a smoother grain than oak, and will be more of a mid-toned brown. It will provide you with much more color variation throughout.
Maple hardwood flooring can be stained dark, however, it can be a difficult process due to its pores. In some cases dark stains can seep in and turn gray or varied in color, which can be a problem between planks on a larger floor. With Maple, it may be better to purchase them prefinished in the final color you desire.
There are two ways of achieving dark hardwood floors. Stop by and view pre-stained hardwood flooring planks to choose your perfect color. You can also choose unfinished hardwood and stain it on site. One of the benefits of staining onsite is you can test out different sample colors to determine the right choice for you. Colors will change based on your décor and lighting, among other things, and often appears darker when finished then what you'll find on samples.