Choosing flooring can be a difficult task. All you have to do is enter a flooring showroom floor and feel the anxiety kick in.
Where do you start?
How do you know which is the best flooring to choose?
Will you like it six months from now?
Will it wear well over the next decade?
Of course, you may already have specific ideas in mind. If you're choosing flooring for your basement, and you know hardwood is the right choice for you, it might seem simple. But once you start looking around, you'll discover it's anything but.
Basements are problematic. For most of us across Colorado, we can't imagine having a home without a basement. It adds valuable space.
It's the perfect place to add more family living, a game room, an extra bedroom, or maybe a media center.
But being below ground gives special challenges. It's cooler down there. Moisture can be a problem. And because your basement probably sits on a concrete slab, that adds to the potential for damage down the road.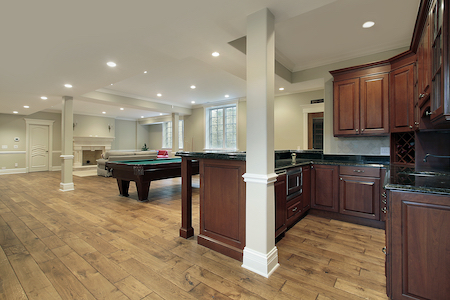 Yet you want hardwood. You love your hardwood flooring through your home, and you want to continue it down into your basement. Is it possible?
The good news is – YES – you can add hardwood floors to your basement. But you have to find the right hardwood flooring to suit your needs.
It's a basement … it's going to be damp
Why are basements so problematic?
Cool, moist air is denser than warm. That's why it tends to sink to the basement where it sits. It condenses as it comes into contact with colder surfaces, such as the concrete used to build the foundation of your home.
Because they sit below ground, basements are also prone to water seeping in from the outside. They can enter through the concrete walls, seep in through cracks in the window casements, all of which impact the functionality of your basement. You have to consider this before you install any flooring.
If you want hardwood floors in the basement … try engineered wood
Here at Pro-Flooring, we recommend engineered flooring as one of the best choices for basements. Why? Because it looks great and does well in cool, moist situations.
Engineered flooring looks like hardwood, but it's actually made up of multiple layers that give it more strength than traditional hardwood. Engineered floor is constructed using an inner core of anywhere from three to twelve cross layers of plywood, which is what gives it it's added strength. These layers can be made from various hardwoods, birch, or pine. They are glued and pressed together under strength to give it it's tight core.
An additional layer is then fused to the top. This top layer is what you'll see once the flooring is fully installed. This is what gives it its beauty and good looks. It's commonly referred to the wear layer, and this is where you should concentrate as you make your final decision. Different manufacturers create this product in different ways. It's the wear layer that will determine how well it stands up over time.
You'll usually find engineered wood floors are sold based on measurements of the wear layer. The wear layer varies from product to product. You'll find thicknesses range from a paper thin .6mm to a thicker 4mm wear layer.
Wear layer thickness is important because it dictates how often you can sand and refinish the wear layer.  This isn't something most homeowners often do. But if you have a thicker layer from the beginning, it's nice to know that you have the option of sanding it down and refinishing it to go with your new decor. When you're ready to give your engineered hardwood a facelift, all you have to do is sand it and pick a new finish color. This is especially important in a busy household where you have kids and pets, and the wear layer has a variety of scratches and dents.
Engineered flooring can be glued directly to the subfloor, or nailed or glued to a plywood subfloor if you prefer. Because of their construction, they are also one of the perfect flooring choices to be installed over radiant heating.
Does engineered hardwood look like traditional hardwood? There are still a lot of myths and misconceptions over how this product handles in your home. If you haven't looked at engineered flooring lately, you haven't seen the possibilities. Stop by today – you'll be pleasantly surprised.
There is another option … try luxury vinyl tile
Still, we know that not everyone is sold on engineered hardwood. And that's okay. There's another great choice for you. It's called luxury vinyl tile, also known as luxury vinyl plank, or LVT.
If you love the look of wood plank floors, but want a waterproof option, look no further than LVT. Luxury vinyl planks may be one of the best basement flooring options on the market today.
They give the appearance of plank wood floors, but are made with vinyl construction that provides a waterproof, soft, cushiony, quiet, and easy to maintain floor.
Luxury vinyl planks are created by combining four main layers.
A wear layer – this is a transparent topcoat that helps the surface from staining, scratching, or fading.
An image layer – this is what gives your flooring it's good looks. A realistic image is adhered to the vinyl core.
A vinyl core – the vinyl PVC material is what gives LVT flexibility and makes it 100 percent waterproof.
A backing layer – this vinyl backing later further enhances its ability to be waterproof, and prevents mold and mildew.
What makes luxury vinyl plank construction growing in popularity is its DIY flexibility. You'll find LVT in both glue down and click in place technology. It's one of the easiest options to use as a basement floor. It doesn't require many tools or skills, and you can easily have it in place in a weekend.
You'll love the looks and affordability. And if something does happen to a plank or section of your flooring, be sure to keep a few extras on hand. You can simply click and replace it, and continue loving your floors for years to come.
What's the right hardwood for your basement? 
With both of these options – engineered and luxury vinyl planks – you're sure to find the perfect product for your home. Just stop by and take a look.
Either product makes a perfect flooring in a part of your home that might just need a little extra TLC to keep it looking its best year round. No matter which you choose, you're going to love the look.