One of the great reasons to live in Colorado is to enjoy indoor/outdoor living twelve months of the year.
The summers are gorgeous. Why not get the gang together for a barbeque?
The winters are spectacular. Why not gather around the fire pit and enjoy a few rounds of smores and hot chocolate?
That's why more homeowners are choosing to remodel and expand their living spaces beyond the boundaries of the walls. Instead of pushing out the kitchen, or adding an extra internal room, why not create outdoor living space that's functional year-round instead?
We're not talking your parent's patios here. This is way beyond a slab of cement with a charcoal grill. Instead, this is about creating truly functional space you can use no matter what the weather is like outside. And here in Colorado, that means a wide fluctuation in temperatures, as well as dealing with everything from harsh sunlight to several feet of snow.
How can you do all of that easily?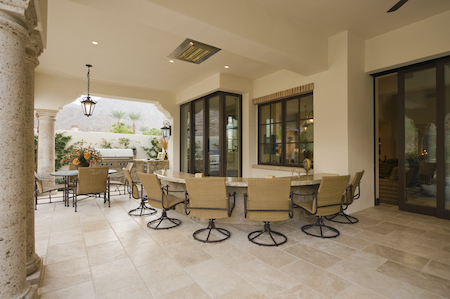 It starts with your floor. Choose a tile that works well inside and out, and will carry functionality and durability throughout, blurring the space to add continuity and style.
Here are a few things to keep in mind.
Bringing the outside in
One of the best ways to bring two spaces together is by using the same tile in both locations. This isn't time to fall in love with indoor tile and try and make it work outdoors. Instead, pay attention to what works well outdoors, and bring it in.
Choose a tile that works well no matter what the weather is like outside. Flagstone works well. Flagstone is porous, so you will have to seal it from time to time. Just make sure you choose one based on functionality, and one that will dow well in all kinds of elements. It should hold up well to stains and other damage it might receive from being outdoors.
Mixing and matching 
Just because you want to bring your indoor living outside, doesn't mean you have to use the same flooring materials throughout. Be selective. Just make sure they blend well together.
If you're using fold-up glass doors, the lines will already be blurred between indoor and outdoor living. Select tile that works well outside, and bring it in several feet to merge with your interior space. Then use a material you enjoy on the inside – like the hardwood you've always dreamed about. Transitions are everything. And that's something we're experts in – just ask.
Matching grains
Here in Colorado, people love their hardwood. If you've had hardwood in your kitchen for years, you might not want to change it. You can't imagine anything but hardwood. But carrying the look outside isn't possible. Wood products you use inside – oak, pine, or ash – are simply too soft to use on the outside.
That doesn't mean you can't use the same concepts in both locations. Change up the color. Use decking material outside, and mimic the size and plank orientation, so it flows directly into your indoor living space. You might even be able to invest in tile planks, which often do a very good job of mimicking hardwood. You can use it to transition from one location to another. Or use it to blend the looks into something you truly desire.
Stay simple
In many cases, the reason you elect to build glass walls that can open up to the outside is to take in a breathtaking view. Focus on the view by staying simple with your choice of flooring material. As you're choosing a tile, go with neutral colors that blend rather than stand out. It's a perfect way to allow the natural beauty of the surrounding area to create just the ambiance you're looking for.
We love staying light when we go neutral. Choose a soft sand, beige, or tan color. This allows you to mix and match color choices as you desire. Of course, this is also where your own design options can come into play.
How about a darker color – a dark gray that is less likely to show muddy footprints from your four legged friends? Travertine and slate are always great options, both inside and out. Their durability makes them high in demand. Just be conscious of manufacturers' guidelines. Some require sealants to ensure they are well protected from stains and damage.
Mixing materials
What makes some living spaces so special is their uniqueness. They don't stay within the mold, they destroy it. And that's the beauty of redoing your living space today … anything is possible.
What we often recommend to our customers is to dream a bit before they start their design work. It may sound silly – after all, dreaming is what made you want to remodel in the first place. But sometimes people don't dream big enough before they start shopping. What we're talking about here is developing a pinboard on Pinterest, or even a vision board where you cut out pictures from magazines and attach them to a posterboard where you can see your ideas on display.
Use these concepts to really see what your design style is like. You'll start to see trends. You'll discover what features really excite you, and scream "install me" every time you look at them.
Don't listen to proper design etiquette. Some of the most unique designs in the world incorporate different materials together. Concrete, wood, steel, tile, glass – it can all add character to your overall design. Choose what suits you best, and rely on a designer to make suggestions to make it work.
Choosing a tile – we're here to help
What's your preference? What kind of space are you creating for your indoor/outdoor living? No matter if the temperatures hit record highs or extreme lows, whether it's the heart of the summer, or the darkest of winters, isn't it nice to know you have the perfect spot for your family gatherings?
Choosing a tile doesn't have to be difficult. You just have to rely on someone who can help you make the right choice. We're here to help.