When you think of your perfect "forever" home, what does it look like?
Most of us have at least a few ideas of things it would include.
A gourmet kitchen? Yep.
A master suite to make celebrities jealous? You bet.
But when you really sit down and start envisioning every single space, it's equally important to start with the floors. What do you see on the floor space?
Here in Colorado, a lot of homeowners see hardwood flooring throughout. And we get it – hardwood is beautiful. But do you want hardwood in every room, on every floor?
What if you already have your "forever" home and hardwood is only in a few rooms?
What if you want something different in certain rooms? You "see" your office space different from the bedrooms.
What if you're trying to match hardwood already in your kitchen, and it's impossible to find?
Now what?
Can you mix different hardwood flooring and still have a house that looks its best?
The short answer is: Yes! Here's how.
Divide your house up by rooms
Houses are rarely designed as one large open space. Instead, they are created with individual rooms assigned to separate tasks. Yes, you might love open concept living. Your kitchen, dining, and living space may all flow together. But they still provide separate duties, and function differently throughout the day.
Maybe your kitchen has large south facing windows. Maybe the family room receives streams of sunshine all day long, while the dining space is a little darker, almost cave-like.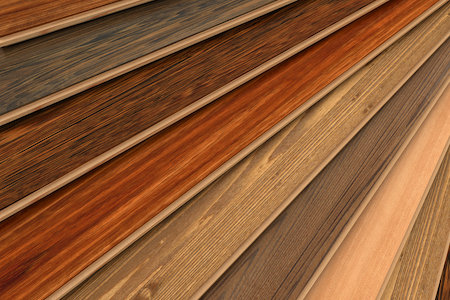 Creating flow by using the same hardwood can work. Or you can change things up and choose wood grains according to your room location and size. Large rooms, or rooms with lots of natural light, do well with darker flooring. If you choose something like mahogany or Brazilian walnut, it can provide a contemporary, sophisticated feel.
Smaller rooms – think a mud room or a tiny interior bathroom – those may feel cavernous if you stick with a dark theme. A lighter wood automatically makes it feel larger, brighter. For smaller rooms, woods like white oak, ash, or maple may be the perfect way to lighten things up.
Doorways are the automatic divider when using different woods. Yet be careful how you transition from a hallway to a bedroom, for example. If you run planks parallel to the room's length, it will give the appearance of being narrower. Changing grain and direction help with the transition. Run the wood in different direction to create visual appeal. It can also create a more dramatic size difference as you move from space to space.
Natural dividers – create each room separately
If you choose to use different wood throughout your home, the natural dividing line is to separate out individual rooms. It's the easiest way to do it. You can use doorways to separate using wooden borders or even T-moldings to cross over the thresholds. Or spice things up and incorporate tile into place – something that complements your decor and adds to the aesthetics.
The good thing about the times we live in is it's easier than ever to get ideas. Head to Google or Pinterest and type in "wood transitions." You'll find a wealth of ideas at your fingertips. And if you use Pinterest, you can even Pin some of your favorites. That's a great way to bring your "dream list" into our location and show us your ideas. That gives us a way to understand your desires, and show you great ways to make your dreams come true.
Of course, not all homes have natural dividers between rooms. What if you want to divide out open spaces? Highlight specific areas by using borders. We've seen this done in lots of creative ways. Use contrasting wood to section off different spaces. Why not highlight an eating space by defining it with your flooring?
You can even use wood to create dramatic entrances. How about using parquet in the front entryway, before meeting with the rest of the flooring installed throughout the first floor? Complementing colors and shades are key.
Contrasting or matching – which is easier?
Homeowners often come into our showroom hoping to install a matching hardwood floor to something already existing inside their homes. That is very difficult at best because no matter how close you get, the two woods are cut from different materials, were laid at different times, and ultimately take on a different color. No matter how slight it looks when you lay a plank or two together and attempt to match, once it's in place in your home, the difference becomes even more apparent.
The grain may be off. The color hue simply won't match.
If it's important to you to get the same look throughout your home, consider sanding down your existing hardwood, and refinishing it all together to make it the same. That means you can install unfinished hardwood planks in the rooms currently without, and stain them as one entire unit once it's installed.
Contrasting becomes easier when you think of distinct zones throughout your home. Don't focus on the look of your flooring from room to room, look up and use other features too.
For example, how about the cabinetry in your kitchen? Homes today often have two-toned wood based on upper and lower cabinets. Maybe you've used darker wood floors to set off lighter cabinets. How about playing off the lighter color as you move throughout the rest of your home?
Is your trim boards whitewashed, light, and airy? Mixing it up can give you a new backdrop to play with. Sometimes incorporating new colors into your decor can give you a fresh new outlook.
What does your dream home look like?
Everyone's dream home looks a little bit different. The best place to start is by envisioning your dream home a little bit deeper.
Think beyond the "gourmet kitchen" and "master bath spa" that can make a celebrity jealous.
Instead, focus in on the things that matter most. The things that make you happy when you walk in from a long day at work. Or when you have guests over for a party.
What impression do you want them to take away? How do you want your home to look and feel?
And if that includes playing with different colors and hues, mixing different hardwood flooring throughout your home, then by all means do it.
You're going to love the look.