One of my favorite things to do is to visit the homes taking part in the Parade of Homes each year. There you can see the latest-and-greatest of everything for your home. Ideas are in abundance, and you can take a lot of them home with you and implement them into your own remodeling plans.
Of course, what you see in these million dollar houses might not be practical in your own home. Do you really want cement countertops? Can you really remodel your home with all of the eco-friendly solutions presented in something new?
Should you invest in something new – trendy – or stick with the tried but true? We get questions all the time from people wondering if hardwood flooring is the right choice. Let us put your mind at ease and answer some of the ones we receive all the time.
Are hardwood floors still popular?
Hardwood flooring will never go out of style. How do we know that? All you have to do is look at the current trends to know this is true.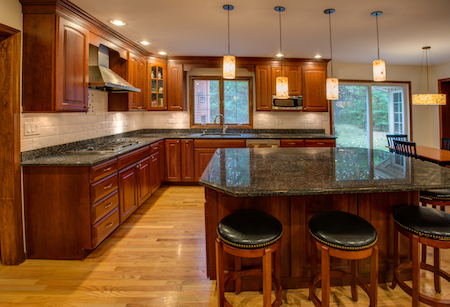 Manufacturers know people want hardwood. So they've created the look using a variety of other products, ones that mimic the look of hardwood but give you different results.
Want affordability? Check out vinyl that looks like hardwood but gives you a water-resistant flooring.
Can't install hardwood in your basement? That's why laminate has grown in popularity.
Want something even more durable? Even stone tiles can now be engineered to give you the look of hardwood.
With all of that in mind, if hardwood is on your radar, don't worry that your choice in flooring is no longer a popular one.
Are hardwood floors worth it?
You only have to do a quick search online to discover that hardwood flooring can cost more than other choices. And if you're remodeling on a budget, it may have you looking at other options.
A recent article on Realtor.com stated it best: Wood floors are one of the best investments you can make. According to real estate experts – the ones who get into homes every day – the average ROI for hardwood is between 70 and 80 percent, and having hardwood in your home can boost the sales price of a home by as much as 2.5 percent.
Hardwood can last for years, decades if cared for in the proper manner. And in most cases, it's easy to do. With today's product lines, you can select hardwood perfect for your lifestyle, making daily maintenance a snap.
What is the best hardwood floor?
This is a tough question to answer because we can go in so many directions. It's tough to pick "what's best" until we understand what you're looking for.
Let's start with the installation process. You can install hardwood either unfinished or finished, depending on your needs. An unfinished floor is good if you're looking at customizing the look, or want to match the color of other existing floors already in place. Prefinished flooring makes the process easier – just lay it in place and it's ready to go. You won't have odors from staining, or the wait time to ensure it's dried and properly cured.
We can also discuss if it's better to install solid hardwood, or if engineered hardwood would make a better choice. Solid hardwood comes ⅝ to ¾ inches thick, and can be sanded and refinished many times. But manufacturers don't recommend solid hardwood in certain places in your home, like below-grade basements. For those rooms, engineered hardwood can be a better choice. It's a hardwood veneer glued to several layers of wood underneath. This product is a good choice to continue the hardwood look into areas not suited for hardwood. But keep in mind, it can't be sanded and refinished more than a couple of times, meaning you will have to replace it sooner than more traditional styles.
And we'd be remiss in talking about "what's best" without touching on species. One of the very best – you guessed it – is the species most readily available, and also the hardest. Oak, maple, and cherry are ever-popular because they are the most durable. And for most families, they provide a great look and stand up to whatever they can dish out. Of course, they aren't the only choice, because homeowners come in all shapes and sizes.
Bamboo is growing in popularity. Cork is an eco-friendly option. You can go with something more exotic, like teak or mesquite. Whatever you choose, just before you get to know the source, and be sure they are using sustainable methods for production.
Why install hardwood flooring?
If you're already considering hardwood flooring, we don't have to tell you why they are one of the best choices you can make for your home. But we're still willing to throw in our two-cents on why they continue to be at the top of the wish list for remodeling projects.
They're timeless – hardwood flooring has been used for centuries, and they will be used well into the future. It's because they are one of the most beautiful options you can add to your home.
They're versatile – no matter how often you choose to redecorate, hardwood looks good with everything. They are perfect additions to almost any room in your home.
They're durable – you don't have to worry about staining it like other flooring choices. You can keep it clean with just a quick vacuum or sweep. They can live up to the punishment your family dishes out, and still look good in the end.
They're hygienic – because clean-up is a breeze, you don't have to worry about dirt hiding in the fibers, or pollutants wedging into the corners.
They may be the last flooring you have to install – depending on your lifestyle, hardwood flooring can last for decades. And unlike other forms of flooring, you can fix hardwood when damaged.
Plus, with all of the styles, designs, and options available, the possibilities are endless. If you're thinking about installing hardwood flooring in your home, the best place to start is by coming in and seeing our entire line. We can help you narrow down your options, and find the right flooring choice for your needs.