It's a tale as old as time. You've had hardwood floors since you first purchased your home. You love them. But lately, they're looking a bit worn.
Like the scratches in the hallway from where the dogs love to play.
And the rough patch in the corner where you didn't notice the standing water for days. You tried to buff it out, but now it just looks worn. It looks like raw wood, even a little warped.
So now you've reached a point when you're wondering what to do. Should you refinish your old hardwood floors? Or is it time to replace them instead?
Most people buy hardwood with the intent to keep them forever. They say hardwood can last for decades, so you assumed it would be a one time purchase.
However, this might not be the best thing to do in your situation. How do you know?
Start with knowing your floors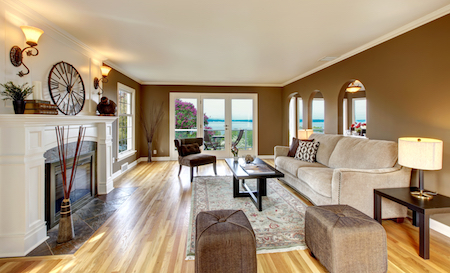 Before you determine which way to go, it's important to get to know your flooring a little better. If you laid your hardwood into place years ago, then you know the type of hardwood you have. But if you've recently moved in, or are upgrading a fixer upper, you have to figure it out before you decide what's next.
The easiest way is to find a floor vent where you can pop it out and take a look at the construction of the floorboard. If it looks layered, it's engineered. That means there's only a small surface that can be refinished, and you'll have to check with professionals to see if it's possible.
Solid wood is typically ¾ to 1 inch thick. Different types of hardwood hold up better to continual sanding and refinishing. Pulling up a plank will help you get close and personal with the hardwood, separating it from the subfloor beneath. It will also allow you to bring it in so we can help you determine the quality of the wood itself.
Assess the hardwood floor damage
While certain types of damage can easily be removed, others completely ruin your floor. The last thing you want to do is to take the time and expense of refinishing the floor, only to have problems almost immediately after. The things that can ruin your hardwood include:
Rough wear and tear –Kids playing on the floor is normal wear and tear. Kids beating your floor with a toy is not. Spilling food on your floor and wiping it up quickly is normal wear and tear. Leaving red wine sitting for days is not. A lot of damage is simply caused by not using common sense.
Cleaning methods – You can't use the same products you use to clean your bathtub or kitchen counters on your hardwood floors. Water, chemicals, and hardwood don't mix. If your hardwood floors are allowed to sit damp for extended periods of time, it will quickly start to decay. At the most, use a very dry damp mop on occasion to pick up messes and spills. Use a swiffer or soft-bristled broom on a regular basis, or choose a vacuum designed for hardwood. If you need further cleaning, ensure you use a cleaner approved for your hardwood – check with manufacturer's guidelines before using anything, as you could void the warranty.
Pets – Dogs and cats can be hard on hardwood floors. Their nails can create deep gauges that become irreparable over time. If you choose to have hardwood with pets, be sure to install hardwood that ranks high on the Janka scale. Brazilian walnut or maple, for example, are harder than other types of wood, and do a better job at withstanding scrapes and scratches. To reduce impact, be sure to keep nails short and trimmed. Consider laying rugs down where pets spend the most amount of time.
Lifestyle patterns – You should also assess the way your family lives. It's a good idea to take off shoes as you enter. It can keep your house cleaner, and help you avoid tracking in dirt and debris. Does that leave your mudroom or entryways always taking the brunt of the mess? Then by all means, consider using a different flooring product in these areas that are more prone to messes. If you have a home with smaller kids, you may also have areas that are more likely to sustain messes. Are these areas that can be fixed by installing different types of flooring? Can you lay down rugs? Kids grow. Families change. If you can change your patterns in the short term, knowing you'll enjoy what's in place for the long term, sometimes your final decisions make sense.
Is refinishing your hardwood floors the right thing to do? 
A lot of people invest in hardwood flooring for the very reason it will last a lifetime. With refinishing, you can make the old flooring look new, especially when you're ready for a change.
But ultimately, it comes down to making the right decision. As we've already discussed, a variety of things you've been living with have impacted your floors to the point where refinishing doesn't make sense. If furniture or pets nails have dug so deep, you might not be able to sand or buff the damage out.
It also comes down to looks. With all of the new choices on the market today, do you want to stick with the wood planks currently in place? Today's options include a wider variety of hardwoods, different stain possibilities, and even different plank size. Maybe you've wanted to explore exotic hardwood now that the kids have finally moved to college.
Sanding can't remove water damage, especially if it's seeped through the cracks and has impacted the subfloor. And if mildew or mold has filtered underneath, it's time to start over with a clean slate.
You can only sand down wood so far before the structure is compromised. If it's engineered wood, it's only the top layer that can be changed. And if your flooring is still under warranty, in most cases, it becomes void as soon as you start the refinishing process.
Is replacing your old hardwood floors the right thing to do? 
Replacement is obviously your best choice is your current floor has been compromised. If there are issues you can't fix, replacement is the only way to go.
It also makes sense if you are doing extensive remodeling. Are you restructuring the kitchen? Adding on a new room? To keep the flow of your home, replacing is the perfect way to create seamless transitions throughout your living space.
Another benefit is the benefit of having new flooring installed quicker than refinishing. Depending on how extensive the refinishing project is, you might have to move out of your home while sanding, buffing, staining, and adding the topcoat takes place. If you replace your old flooring, it takes far less time, meaning you can return to your lifestyle sooner. This can be especially beneficial if you're upgrading for an event that will take place in your home.
Conclusion
So what's the best route for you?
Will you be refinishing the hardwood floors in your home? Or is it time to look at alternative options?
No matter where you are in the decision process, one of the best steps you can take is by stopping by to consider your options carefully. We can make suggestions and show you ways to upgrade your old spaces and create a look you've been dreaming of.
How can we help you today?