Looking for the perfect flooring for your kitchen or bathroom project? Maybe it's time to give resilient flooring another look.
Resilient flooring isn't your mom and dad's flooring choice. It's come a long way since the vinyl flooring that stretched across the modern home built in the 1900s, thin, often with asbestos, and not very attractive.
Today's resilient flooring gives you many different choices, vinyl being just the start. How about selecting natural materials such as linoleum? Maybe you want the good looks of hardwood without the fuss. That's resilient flooring, and more.
Resilient flooring is available in three basic categories:
Sheet – this is a great option when covering large spaces, as it provides you with fewer seams
Tiles – this is easy to install and great for the do-it-yourselfer
Planks – easy to fit together and provides a high quality flooring option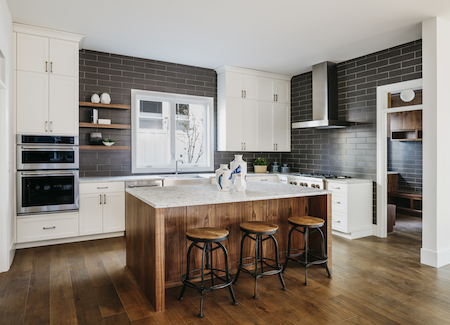 You'll also find resilient flooring is available in several different installation processes:
Glue down – an adhesive is applied to the subfloor before the flooring is laid into place
Self-stick – tiles come with adhesive already applied to the back, simply put them into place and press down
Floating – this uses interlocking planks that click together
What types of flooring are considered resilient flooring?
According to the Resilient Floor Covering Institute (RFCI), only six types of flooring can be considered resilient:
Vinyl
Linoleum
Cork
Rubber
Asphalt
Polymeric poured seamless floor
Polymeric is poured in liquid format, rarely in a residential area.
Asphalt hasn't been used in residential surroundings for years.
Rubber is often considered a great choice for home gyms or yoga studios, but in general, is left to more commercial surroundings.
That leaves three – vinyl, linoleum, and cork – products used in home environments that meet all the requirements of resilient flooring.
Homeowners migrate to using resilient flooring because of several distinct advantages, including:
It's durable – when well cared for, resilient flooring can last for decades
It's flexible – it's the perfect flooring for subfloors that are less-than-perfect
It's inexpensive – for budget-minded homeowners, resilient flooring is the ideal choice
Of course, resilient flooring has its own set of disadvantages too.
It's soft and flexible. And while that can be good in certain situations, small pressure points like chair legs and high heels can indent and damage resilient flooring.
It can detract from the value of your home. Not every homeowner loves the look of resilient flooring. In higher valued homes, it can prevent a potential buyer from placing a bid. It pays to know your neighborhood, and understand the value of what you're having installed.
Why vinyl may be the perfect resilient flooring choice for your kitchen or bathroom
Vinyl flooring comes in an array of products: sheets, tiles, and planks. They are made up of several layers:
A top coat that protects the wear layer and adds sheen to the overall look
A wear layer that safeguards the pattern layer
The pattern layer that gives the vinyl it's color, pattern, and looks
The cushion layer that provides texture and give
Fiberglass that gives the product its shape keeps it from rolling and curving
A base layer that provides support to all other layers
Vinyl sheets were invented back in the 1950s and quickly became one of the go-to products to install in a home. Homeowners loved sheets because if its ease. It was easy for an expert to lay a vinyl sheet into place either loosely or glued down for a more permanent performance. It was soft and looked good at the same time.
Over time, vinyl tiles and planks were created for even more options, and quickly became a DIYer's dream. Tiles and planks are harder and stiffer than sheets, which makes them easier for a DIYer to lay into place. Whether you glue them down or join them and float them over the subfloor, they can be an easy way to change up your floor in no time flat.
No matter which product you select, they can be a great addition to a kitchen or bath. Vinyl doesn't mind messy spills; they are easy to clean up. If you drop a pot or a pan, vinyl can bounce back and look just as great as before. And because these are rooms where you'll be cleaning more frequently, vinyl makes the process easy. It's water resistant, meaning you can wipe up spills and messes without worrying about the condition of the flooring when it's gone. Keep in mind that vinyl can be slippery when wet, so it's still a good idea to have bath mats ready when stepping out of the tub or shower.
Why linoleum may be the perfect resilient flooring choice for your kitchen or bathroom
Yes, there is a difference between linoleum and vinyl.
Linoleum was first patented over 150 years ago. It's a solid but flexible film formed over a layer of linseed oil paint. That makes linoleum a natural and biodegradable material, something some homeowners demand in their flooring choice. In addition to linseed oil, it can also include a host of other natural products, including pine rosin, limestone, cork flour, wood flour, jute, and coloring pigments. Because the coloring will stretch throughout the product, it won't scratch away as it can with vinyl.
Linoleum isn't as forgiving as vinyl. Linoleum must be installed over a smooth, level subfloor to ensure its success. If that can't be assured, installing an underlayment may be needed to ensure its success. Linoleum typically is secured with a flooring adhesive; check manufacturer's guidelines for specifications.
Linoleum isn't as flexible as vinyl, and is harder to work with, especially in more challenging areas of your home. There are also fewer choices with patterns and colors, and gives off a yellow hue that will disappear when exposed to light.
But if you're looking for a green solution to your flooring needs, it's hard to beat linoleum. And it requires only a basic routine of sweeping and mopping to keep it looking good throughout the day. It also must be treated with a sealer periodically to keep it looking its best.
Why cork may be the perfect resilient flooring choice for your kitchen or bathroom
Cork is growing in popularity because it looks beautiful while providing high end durability. Cork is naturally elastic, making it a great flooring choice to stay soft underfoot and bounce back in certain circumstances. It's also an environmentally friendly choice, perfect for households that want to go green.
Cork offers a wide variety of color and pattern choices. It is available as both planks and tiles. The texture of cork is dependent on how cork is laid together; small granules give it a more traditional cork look, or use larger granules for a more textured appearance.
You can even choose from different composition types. Want an even more environmentally friendly option? How about constructed from recycled wine corks? Or stick with an engineered cork flooring that can float or click into place.
Which resilient flooring is right for you? 
Are you looking at changing out the flooring of your kitchen or bath? Maybe it's time to give resilient flooring another look.
It's the perfect way to add beauty and aesthetics to your overall design, while creating an environment that's easy to clean and is durable for years to come.
Stop by today and see our complete line of resilient flooring. You're going to love the look.