Are you intrigued by the idea of cozy, efficient heating emanating from beneath your feet?
It can sound like a great idea on a cold winter morning. If you've ever stepped on cold tile while you're waiting for the shower to warm, you know what I mean.
We understand that choosing the right flooring for your home involves considering a myriad of factors. And radiant floor heating is gaining popularity among homeowners. Yet deciding to install radiant heating is only the first step in your renovation plans. You can't place just any flooring over the top; it requires special considerations when finalizing your selection.
What should you choose?
Why You Should Consider Radiant Flooring as a Home Heating Solution
Radiant floor heating is a heating system that involves installing heating elements, typically coils of tubing carrying warm water, beneath the flooring. This ingenious setup offers a range of benefits that have made it a favorite among homeowners.
Unlike traditional forced-air heating systems that rely on blowing hot air into rooms, radiant floor heating operates by radiating heat upwards from the floor. This results in a more even and consistent distribution of warmth throughout the space, eliminating hot or cold spots.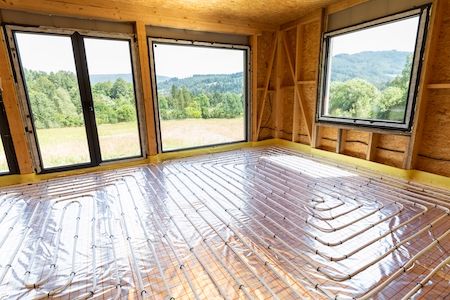 One of the most appealing aspects of radiant floor heating is its energy efficiency. Because the heat rises evenly, you can comfortably lower your thermostat a few degrees without sacrificing comfort. This adds up to potential energy savings over time.
Additionally, since the heat source is distributed across the floor, there's less heat loss through walls and ceilings. This can further contribute to reduced energy consumption.
Not All Flooring Materials Will Work for Radiant Heating
While radiant floor heating is a fantastic heating solution, selecting the right type of flooring is crucial to ensure its efficiency and effectiveness. Some flooring materials can hinder heat transfer, reducing warmth and potentially damaging the flooring over time.
Incompatible flooring choices can lead to warping, cracking, or even separating from the subfloor due to temperature fluctuations.
The 5 Types of Flooring That Work With Radiant Floor Heating Systems
Ready to learn what the best flooring materials are? We've put together a selection of flooring ideas that are aesthetically pleasing and compatible with radiant floor heating.
Tile Flooring
Ceramic and porcelain tiles are exceptional choices for radiant floor heating. They conduct heat efficiently and retain and distribute warmth effectively throughout the space. Additionally, tiles are known for their durability, making them ideal for high-traffic areas. They're also available in a wide range of styles, colors, and patterns, allowing you to achieve the desired look for your space.
Laminate Flooring
Laminate flooring is another viable option for homes with radiant heating systems. It's composed of multiple layers, including a core that provides stability and resistance to temperature changes and a print layer that looks realistic. Laminate flooring is easy to install and comes in various designs that mimic the appearance of hardwood, stone, or tile. It is important to select laminate with a suitable underlayment that enhances heat distribution. This is where it pays to work with a flooring dealer who understands how to find the best manufacturers in the marketplace today.
Engineered Hardwood Flooring
Unlike solid hardwood, engineered hardwood is designed to withstand variations in temperature and humidity, making it suitable for radiant floor heating. Engineered hardwood consists of layers of wood that are stacked and bonded together, providing stability and preventing warping or buckling. It offers the timeless beauty of hardwood while accommodating the needs of radiant heating systems.
Natural Stone Flooring
Natural stone, such as granite, marble, and slate, is an excellent heat conductor. These materials can retain heat for extended periods, ensuring a cozy atmosphere in your home. Additionally, the natural variations in color and pattern of stone add a touch of luxury and uniqueness to any room. Many homeowners love the look so much, they extend natural stone flooring throughout their homes. You may discover that stone and radiant heating are perfect for every room in your house.
Vinyl Plank Flooring
Vinyl plank flooring has gained popularity for its versatility and durability. It's also a suitable option for radiant floor heating. Vinyl is a good heat conductor and can efficiently transmit warmth from the heating system to the room. It's available in a wide array of styles, including those that convincingly imitate the look of wood or stone.
How to Finalize Your Decision
Choosing the right flooring material for your radiant floor heating system involves considering various factors. Here are some steps to guide you toward the best decision:
Consult Professionals
Before making any decisions, consult with a flooring professional or installer who has experience with radiant heating systems. They can provide valuable insights and recommendations based on your specific needs and the layout of your home.
Assess Room Usage
Consider the function of the room you're flooring. Is it a high-traffic area? Will it be exposed to moisture? Different flooring materials have varying levels of durability and water resistance.
Understand Installation Requirements
Some flooring materials may have specific installation requirements when used with radiant floor heating systems. Ensure you understand these requirements and are prepared for any additional steps or costs.
Budget Considerations
Evaluate your budget and explore flooring options that align with your financial constraints. Remember that investing in quality flooring can lead to long-term savings through energy efficiency and reduced maintenance.
Aesthetics
Select a flooring material that matches your desired aesthetics and complements the overall design of your home. Whether you prefer a rustic hardwood look or the elegance of natural stone, there's a compatible option available.
Which flooring material stands out to you? 
Radiant floor heating is a wonderful home heating solution that offers comfort, energy efficiency, and even distribution of warmth. However, it's crucial to pair this system with the right flooring material to maximize its benefits.
We're dedicated to helping you make the best choice for your home. Visit our store, consult our experts, and explore our diverse range of flooring options that work seamlessly with radiant heating systems.
Your journey to a cozy and stylish home begins with the perfect flooring choice.