When you walk into a home for the very first time, your eyes take in the theme. You look at color, decor, aesthetics. You see what's there and how it appeals to your senses.
While you might say, "Great kitchen cabinets" or "I love your couch," your eyes also gravitate to the flooring, noticing how it pulls everything together.
Flooring has the ability to set the stage for overall home design. And while you might focus on what material to select – hardwood, vinyl, or tile – color matters equally.
You might be used to oak hardwood or darker tile, but light-colored flooring can really pack a punch in the right circumstances.
Are you tired of dimly lit rooms in your home? Do you want to make the most of the natural light that enters your space? Let's explore how choosing light-colored flooring can transform the ambiance of your home.
Why Color Matters in Flooring
Color is not just a matter of aesthetics; it plays a crucial role in a room's overall atmosphere. The color of your flooring can significantly impact how light is reflected, absorbed, and perceived in a space. Dark-colored flooring tends to absorb more light, making a room feel cozier but potentially darker, while light-colored flooring reflects light, creating a brighter and more open feel.
Light-Colored vs. Dark-Colored Flooring – What's the Difference?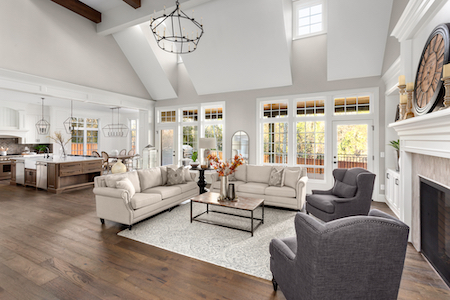 To better understand the difference, think of a room as a canvas.
Dark-colored flooring can act like a deep, rich background, making vibrant furnishings and decor pop. However, it can also make a room feel smaller and less airy.
Light-colored flooring acts as a clean, blank canvas, allowing natural light to bounce off the surface, brightening up the room, and making it feel more spacious.
Light-colored flooring may be the way to go if you like light, bright, open spaces.
Factors to Consider When Choosing Flooring
The hardest part of design often starts with the flooring.
It should be durable and functional. It should be easy to clean and long-lasting. It should also be aesthetically pleasing.
That's a lot to ask from something that gets a lot of daily traffic. That's why a lot of homeowners tend to select darker flooring, assuming it handles better.
Not true. Yet with light-colored flooring, there are some important factors to consider:
What Room Are You Installing New Flooring In?
The function of the room plays a significant role in your flooring choice. For high-traffic areas like the living room or kitchen, durability and ease of cleaning are crucial. In bedrooms, comfort and warmth may be a priority.
Who Will Use the Room?
Consider the needs and preferences of the room's occupants. For example, if you have pets or children, you'll want flooring that can withstand their activities.
The Current Style of Your Home
Your flooring should complement the existing style and decor of your home. Light-colored flooring can work well in both traditional and modern settings.
The Flooring You Prefer
Do you have a particular type of flooring in mind, such as hardwood, laminate, or vinyl? Make sure your choice aligns with your aesthetic and practical requirements.
The Size of the Room
In smaller rooms, light-colored flooring can create an illusion of more space. Conversely, dark flooring can make a large room feel cozier.
The Amount of Natural Light in the Room
Do you love natural light spilling in from all directions? Do you thrive in a well-lit home? Be aware of the fade factor. Darker flooring tends to fade more in areas with more light. Light flooring can amplify the feeling of a light and airy space.
What Light-Colored Flooring Does for Each Room in Your Home
While homeowners love continuity throughout a home, you'll still use several different materials depending on the room. Flooring needs vary by room. Blending is important for congruency. You should also consider the specific benefits of light-colored flooring in different areas of your home:
Living Space
Light-colored flooring in your living room can make it feel more open and inviting. It complements a variety of design styles and allows your furniture and decor to shine.
Kitchen
In the heart of your home, light-colored flooring can enhance the cleanliness and brightness of the space. It's also a practical choice, as spills and stains are more forgiving on light surfaces.
Bedrooms
Light-colored flooring in bedrooms creates a serene and calming atmosphere. It's a versatile choice that pairs well with various bedroom color schemes.
Bathrooms
Light-colored bathroom flooring can make the space feel larger, cleaner, and more spa-like. It's an excellent choice for creating a fresh and airy bathroom ambiance.
Media Rooms
For those cozy movie nights, light-colored flooring can still work, especially if you have ample lighting control. It can help reduce the need for excessive artificial lighting.
Basements
Light-colored flooring can be a game-changer in basements, which often lack natural light. It can make the space feel more like an extension of your home than a dark, underground area.
Find the Right Light-Colored Flooring to Suit Your Needs
With so many options available, finding the perfect light-colored flooring for your home is within reach. From light hardwoods to light-toned vinyl and laminate, there's a solution to suit every budget and style.
The choice of flooring color is not just a matter of personal preference; it can significantly impact how you experience your living spaces. Light-colored flooring can enhance natural lighting, making your home feel brighter and more spacious.
Have more questions? Want to explore your options? It might be time to stop by and see which flooring is right for you.
Whether you're looking for a specific room, or have goals of transforming your entire home, carefully selecting the right light-colored flooring for each room can transform your home into a well-lit, inviting oasis.
So, why wait? How can we help you?