Thanks to HGTV, we're all amateur decorators itching to remodel a portion of our homes. We dream of crashing down walls and completely changing a room.
Of course, reality is a bit different. When we're ready to make changes, we know they have to last for years. We don't want buyer's remorse. We want to fall in love with our selections.
This is why many people put off installing new flooring. We want hardwood. Every design show tells us so. Hardwood is ever-popular. It increases resale value. What's not to love?
Before you install hardwood, take a little time to consider your lifestyle. We agree, hardwood is popular, and it's a great flooring choice … for some homeowners.
Many types of flooring exist because there are many different needs. Hardwood is a great choice, but for others, it's not.
And that's why luxury vinyl planks have been growing in popularity.
Which should you choose: luxury vinyl planks or hardwood flooring? We have some tips for you.
What makes hardwood flooring popular?
Nothing says "natural" or "organic" like hardwood flooring. It's been used for centuries and will continue to be used well into the future.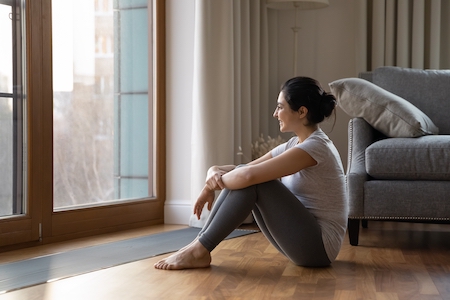 When you see hardwood flooring, you feel its integrity. Hardwood is a classic, elegant flooring option that adds warmth and character to any home.
Hardwood flooring comes in a wide range of species, colors, and finishes, allowing homeowners to select an option that complements their decor and personal style. Popular species include oak, maple, cherry, and walnut, with each type of wood having unique characteristics and benefits.
What makes luxury vinyl planks popular?
When a homeowner first sees luxury vinyl planks, they're often surprised.
This isn't the vinyl they remember from their childhood homes. This is something new. Different.
That's because luxury vinyl planks are created to closely resemble hardwood flooring … with a twist. They offer features homeowners really want. Like water-resistance.
Luxury vinyl planks are known for their durability and ability to withstand heavy foot traffic and wear and tear. It is resistant to scratches, stains, and water, making it a popular choice for kitchens, bathrooms, and entryways. People also love using this in basements.
It's easy to install, often requiring only a few tools and minimal prep work. It can be installed over a variety of subfloors, including concrete, wood, and even existing flooring.
Luxury vinyl planks are available in a wide range of styles and designs, including those that mimic the look of hardwood, stone, and tile. This allows homeowners to achieve the look they want without the expense and maintenance required by natural materials.
Comparing luxury vinyl planks to hardwood flooring
Which is better for your home: luxury vinyl planks or hardwood flooring? While you might be leaning one way or the other, there is a lot to consider.
Cost
Luxury vinyl planks are generally less expensive than hardwood flooring. That can be a bonus if you're working on a strict budget. Hardwood flooring can be higher due to the need for specialized tools and expertise.
Luxury vinyl planks are often installed using click-and-lock technology, meaning even a do-it-yourselfer can handle the work. Yet hardwood flooring can be sanded down and refinished many times, meaning it's a flooring choice that can last for decades.
Durability
Luxury vinyl planks are known for their durability and ability to withstand heavy foot traffic, scratches, and water damage. It has a wear layer that protects against scratches and stains, and is also water-resistant, making it a good choice for areas like bathrooms, kitchens, and basements.
Hardwood flooring can also be reliable if properly maintained and cared for. Hardwood floors can be sanded and refinished multiple times, extending their lifespan and keeping them looking new.
Appearance
While luxury vinyl planks can mimic the look of hardwood flooring, many people prefer the look and feel of real hardwood. Hardwood flooring offers a timeless, classic look that can add value to a home. Hardwood flooring comes in a variety of species, grades, and colors, and can be customized to fit a specific design style.
Luxury vinyl planks are also available in a variety of colors and patterns that mimic the look of hardwood, stone, and tile. They often stretch the color range, and can sometimes offer choices beyond what you'll find in nature.
Installation
Luxury vinyl planks are generally easier and quicker to install than hardwood flooring. Luxury vinyl planks can often be installed over existing flooring, and do not require the same level of expertise or specialized tools as hardwood flooring. It is typically installed using a floating method, which means the planks click or lock together and do not need to be glued down to the subfloor.
Hardwood flooring requires more expertise and specialized tools, such as a nail gun and saws, and can take longer to install.
Maintenance
Luxury vinyl planks are easier to maintain than hardwood flooring, as they are less susceptible to scratches, dents, and stains. They can be cleaned with regular sweeping and occasional mopping. Luxury vinyl planks are also more resistant to water damage than hardwood flooring.
Hardwood flooring requires more maintenance, including regular cleaning and refinishing every few years. Hardwood floors are also susceptible to water damage and should not be installed in areas with high moisture levels.
Sustainability
Hardwood flooring is generally considered a more sustainable option, as it is a natural, renewable resource. Hardwood flooring can be sourced from sustainably managed forests and is biodegradable.
Luxury vinyl planks are made from synthetic materials and are not biodegradable. However, Luxury vinyl planks are often made from recycled materials and can be recycled at the end of their life. Additionally, installing luxury vinyl planks requires less energy and resources than hardwood flooring, which can be a consideration for those looking to reduce their environmental impact.
What's your choice: luxury vinyl planks or hardwood flooring?
There isn't a right or wrong choice. Both make excellent flooring choices, a material you'll love for years.
The only choice you have is to find what's right for you.
Have questions? We can help you find the answers. Call us or stop by today.