You love hardwood. In fact, you've had your eye on exotic hardwood floors for some time.
You want hardwood because it's durable, easy to maintain, and gives you the aesthetics you're looking for. Plus you know that if you ever have a desire to sell, buyers want hardwood. When done right, installing hardwood floors can bring 70 to 80 percent ROI, increasing your home's price by as much as 2.5 percent.
Those numbers are about hardwood. Is there a difference between hardwood and exotic hardwood? Can you expect better outcomes if you move to the exotic category?
What is exotic hardwood?
Before we move deeper into installing exotic hardwood, it's a good idea to define it.
Exotic hardwood refers to flooring made from species of trees that are not commonly found domestically. These species are often unique, beautiful, and highly sought after for their durability, color, and distinctive grain patterns. Exotic hardwood flooring is often considered a premium product due to the scarcity of the wood and the skill required to install it.
Some examples of exotic hardwood species include Brazilian cherry, tigerwood, cumaru, and Santos mahogany, among others. These woods are prized for their unique properties, such as their hardness, density, and rich colors. They are often used in high-end residential and commercial applications, including hotels, restaurants, and retail spaces.
While many in the design industry refer to this as exotic hardwood, you'll also find it mentioned as imported hardwood. White oak, red oak, and maple are all considered domestic in the United States. In Brazil, jatoba and ipe are considered domestic, while in Australia, cypress is a native hardwood. Domestic and imported is all in the eye of the beholder.
A better indicator is often considered to be hardness, appearance, and aesthetics.
Understanding Janka hardness scale for flooring
The Janka hardness scale measures the hardness and durability of wood species used in flooring. The scale is based on a standardized test that measures the amount of force required to embed a small steel ball halfway into the surface of a wood sample. The higher the number on the Janka scale, the harder and more durable the wood is.
The Janka hardness scale is often used in the flooring industry to help customers choose the best wood species for their specific needs. For example, a hardwood species with a high Janka rating is ideal for high-traffic areas, such as hallways and entryways, where the floor will likely experience a lot of wear and tear. In contrast, a softer wood species with a lower Janka rating may be more suitable for areas with less foot traffic, such as bedrooms and home offices.
The Janka hardness scale ranges from 0 to 4000, with most domestic hardwood species falling between 1000 and 3000. Some of the most common wood species used in flooring and their Janka hardness ratings include:
Red oak: 1290
White oak: 1360
Hard maple: 1450
Hickory: 1820
Brazilian cherry: 2350
Santos mahogany: 2200
Brazilian walnut: 3680
While the Janka hardness scale is important, it should never be the sole factor in choosing a wood species for flooring. Other factors are equally as important, such as the installation method, subfloor, and overall environmental conditions that will affect the durability and performance of the flooring.
Pros and cons of installing exotic hardwood in your home
Think exotic hardwood flooring is right for you? Before you search out a specific type, it's critical to consider which wood is right for your lifestyle.
Exotic hardwoods are highly sought-after for their unique and striking appearance, as well as their durability and longevity. However, like any flooring material, there are both advantages and disadvantages to installing exotic hardwood in your home.
Pros:
Unique Beauty – Exotic hardwoods have unique colors and grain patterns not commonly found in domestic hardwoods. This can add a distinctive and luxurious look to your home, increasing its aesthetic appeal and overall value.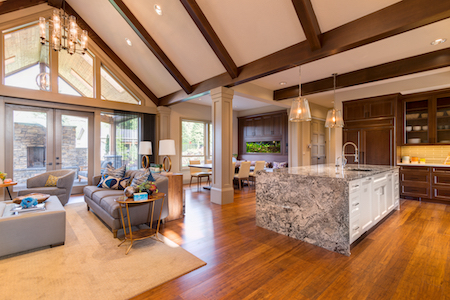 Durability – Many exotic hardwoods are harder and more durable than domestic hardwoods. This means they can withstand heavy foot traffic, scratches, and other types of wear and tear. This can make them ideal for high-traffic areas, such as entryways, hallways, and kitchens.
Longevity – Exotic hardwoods are often highly resistant to rot and decay, extending their lifespan and reducing the need for frequent replacement.
Environmental benefits – Many exotic hardwoods are sustainably sourced from managed forests, which can reduce their impact on the environment. This is something to research as you finalize your decision. Because hardwood grows slower than softwoods, these forests are often subjected to heavy deforestation. Look for manufacturers that subscribe to the strictest certification programs, such as that of the Forest Sustainability Council (FSC).
Cons:
Cost – Exotic hardwoods are often more expensive than domestic hardwoods due to their rarity and difficulty in sourcing and transporting them. This can make them a less affordable option for some homeowners.
Limited availability – Some exotic hardwoods may not be readily available in all regions due to their rarity. This can make it challenging to find a reputable supplier or installer.
Installation – Exotic hardwoods can be more challenging to install than domestic hardwoods due to their hardness and density. This can increase the installation cost and require more specialized skills and tools.
Maintenance – Exotic hardwoods may require more specialized care than domestic hardwoods, such as specific cleaning products or refinishing techniques. This can increase the cost and effort needed to maintain them.
The bottom line
Exotic hardwood flooring can be a beautiful and durable addition to your home, but it is important to consider both the pros and cons before making a decision. Ultimately, the choice to install exotic hardwood should be based on your personal preferences, budget, and lifestyle.
If you've had your eye out for something new, a flooring you don't see in every home, by all means, look to some of the top imported brands. Many make a great addition to any home environment.
We're happy to show you some of the most beautiful products on the market today. We'll help you find the right flooring to make your home a gorgeous place to come home to.