Luxury vinyl planks give you the beauty of traditional hardwood with a more functional and durable design.
Homeowners all across the Front Range love the idea of traditional hardwood flooring. Yet studies consistently show they are on the hunt for something more. They want:
Flooring that's more durable
Flooring with increased reliability and resistance
Flooring that easier to clean and care for
More affordable options that won't take a big bite out of their budgets
That's why more are turning to luxury vinyl planks.
What are luxury vinyl planks and how are they made?
Luxury Vinyl Plank (LVP) is a type of flooring made to look like hardwood or stone, but is actually made of synthetic materials. It is often chosen as an alternative to traditional hardwood flooring because it is more affordable, durable, and easier to install.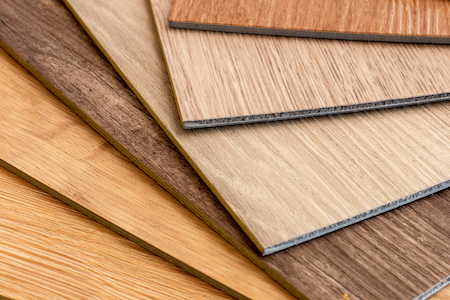 LVP is typically made by layering multiple materials together to create a plank-shaped product. The core of the plank is usually made of PVC (polyvinyl chloride), which provides most of the product's durability and stability. On top of the core layer, a high-resolution image of wood or stone is printed onto a thin layer of vinyl. This layer is then coated with a transparent protective wear layer that helps to prevent scratches and scuffs.
LVP is a popular choice for homeowners and commercial spaces alike. The planks come in a variety of sizes, colors, and styles, and can be cut to fit any room. They are typically installed as a "floating floor," meaning they are not glued or nailed down to the subfloor. Instead, the planks interlock with each other, creating a stable and durable surface that can withstand heavy foot traffic and everyday wear and tear.
If you have a busy household, luxury vinyl planks may be for you
You and I both know the importance of a well-maintained home. Home is a place where you can relax and unwind after a long day at work, where your family can gather and spend quality time together, and where you can create memories that will last a lifetime.
However, with a busy household, finding the time and energy to maintain your home can be a daunting task. That's where luxury vinyl planks come in.
Luxury vinyl planks, or LVP, have become increasingly popular over the years for a good reason. Not only are they durable and easy to maintain, but they also come in a wide variety of styles and colors that can complement any home decor. Whether you prefer the classic look of hardwood floors or the sleek appearance of tile, LVP can provide you with the style you desire without breaking the bank.
Busy households mean homes are constantly bustling with activity. Floors will see everything from spills and scratches to muddy paw prints. That's why many busy homeowners make the switch to LVP, and they never look back. LVP is not only easy to clean and maintain, but it's also incredibly durable. With a wear layer that protects against scratches and stains, you'll no longer have to worry about a busy household's daily wear and tear.
One of the greatest things about LVP is its versatility. Whether you have traditional or modern home decor, there is an LVP style that will fit perfectly with your aesthetic. From the warm, rustic look of wood planks to the relaxed, contemporary vibe of concrete tiles, LVP can provide the perfect flooring solution for your home. And with the option to mix and match different styles and colors, you can create a unique look that's all your own.
But don't just take our word for it. LVP has become a popular choice among homeowners and interior designers alike. Its durability, affordability, and stylish designs have made it a go-to flooring option for those who want the look of hardwood or tile without the high price tag or maintenance requirements.
If you're even thinking about it, go ahead and make the switch to LVP. Your busy household will thank you for it.
Need more? Here are 6 good reasons why you should choose luxury vinyl planks
If it sounds like we've fallen for luxury vinyl flooring, you're correct. But we know you may want more information about why it's growing in popularity. Check out these six reasons to further help you to decide.
Resistant to moisture – LVP is a great choice for areas prone to moisture, such as bathrooms, laundry rooms, and kitchens. Unlike hardwood, which can warp or buckle when exposed to water, LVP is completely waterproof, making it a durable and practical flooring option.
Resistant to scratches – With a wear layer that protects against scratches and scuffs, LVP is a great choice for homes with pets and children. You no longer have to worry about your floors getting damaged from daily wear and tear.
Easy to maintain – LVP is incredibly easy to maintain. Simply sweep or vacuum the floors regularly to remove dirt and debris, and clean up spills as soon as they occur. With proper maintenance, LVP can last for many years, saving you time and money in the long run.
Comfortable underfoot – LVP is not only durable and easy to maintain, but it's also comfortable underfoot. With a soft and cushioned feel, LVP provides a comfortable surface to stand and walk on, making it a great choice for homes with young children or those who spend a lot of time on their feet.
Affordable – Compared to hardwood or tile, LVP is a much more affordable flooring option. It provides the same look and feel as hardwood or tile without the high price tag. This makes it a great choice for homeowners on a budget who still want a stylish and functional look for their homes.
Easy to install – LVP is incredibly easy to install, even for those with limited DIY skills. With a click-and-lock installation system, LVP can be installed quickly and easily, without needing any special tools or equipment. This makes it a great choice for homeowners who want to tackle a home improvement project on their own.
What are you waiting for …
We can gush about luxury vinyl planks all day. But the best way to see for yourself is to come in and take a closer look.
Bring a list of questions. Bring in your top concerns. We'll provide details on why this may be your perfect flooring choice.
How can we help you find the best flooring to suit your needs?