Sometimes our elders knew best. When it came to flooring, they installed what they found readily in nature. Hardwood from trees. Tiles made from clay.
And linoleum made from linseed oil.
Of course, it was a long road for inventors to find what we call linoleum today. Patented by Frederick Walton in 1863, it took him years of experimenting to find the versatile flooring material homeowners continue to use today.
Made quite by accident, Walton named it linoleum, derived from the Latin words linum (flax) and oleum (oil). Like many building materials, it had a slow start. But with intense advertising and an eye for business, he eventually created a product that would be used for generations.
If you have a passion for home decor and design, you might be on the lookout for unique and beautiful materials to incorporate into your home projects. You might have overlooked linoleum, thinking it was just another version of vinyl.
It isn't
Linoleum offers a lot of benefits today's homeowners are craving.
Comfortable to walk on? Check.
Easy to clean? Check.
Budget-friendly? Check.
Sustainable and eco-friendly? Check.
Water-resistant? Check.
Is your excitement growing? Wait til you learn even more about the wonderful flooring called linoleum.
What is linoleum?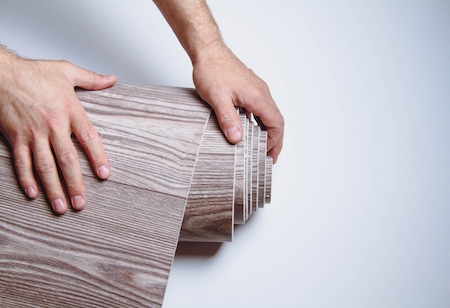 We've hinted at it, but let's talk about what linoleum actually is. Linoleum is a type of flooring material that's been around for over a century. It's made from natural materials like linseed oil, pine resin, wood flour, cork dust, and limestone, all of which are renewable and biodegradable.
What it's made of might be important to you, but seeing the colors and patterns will make you a true fan. You'll be amazed by the vast array of possibilities. From classic marble designs to bold, colorful options, there's a linoleum style to fit just about any aesthetic.
How is linoleum different from vinyl flooring?
While linoleum and vinyl flooring are often grouped together as similar materials, they're quite different. Vinyl is a synthetic material made from PVC, which is not biodegradable and can release harmful chemicals into the environment during production and disposal. Of course, manufacturers realize that "green" is essential to today's homeowners, so vinyl flooring companies are looking for alternatives. You might be amazed at what you can find.
That said, linoleum is an entirely different breed. It's created from natural products, meaning it's naturally "green." And because many linoleum manufacturers are aware of sustainability and strive for more eco-friendly products, many are going the extra mile to create sustainable flooring.
They focus on how and where they get their materials. They pay attention to the production process from beginning to end. They ensure a carbon-neutral process from cradle to grave.  Want to learn more about these manufacturers? Just ask.
What makes linoleum sustainable and eco-friendly?
In addition to being made from natural materials, linoleum has a number of other eco-friendly features. For one, it's highly durable, which means it can last for decades without needing to be replaced. This not only saves resources but also reduces waste.
Linoleum is also relatively easy to maintain, so you won't need harsh chemicals or cleaners to keep it looking its best. And because it's made from natural materials, it won't release harmful chemicals into the air or water.
Plus, innovation is continually improving the industry. Marmoleum manufactures linoleum as a bio-cycle product, meaning the materials can be composted and returned to the earth. They up-cycle various materials into production, including cocoa shells and tall oil. They use recycled content for paper backing residuals.
Stop by and learn more today.
Why linoleum is durable
Looking for durability? One thing that sets linoleum apart from other types of flooring is its durability. Because it's made from natural materials, it's naturally resistant to wear and tear. Plus, linoleum is highly water-resistant, so it won't warp or buckle if wet.
If you want durability, take a look at the warranties. Linoleum companies are so sure of their products, they often offer as much as 25 years or more. But with proper care, even 25 years is a minimum. We often hear of homes with linoleum doubling that lifespan.
What's most important is the wear layer. It's the protective coating added by manufacturers to prevent the surface from being scratched and damaged. Be aware that thicker layers offer better protection, but they can only withstand so much. It can be dented or torn by sharp objects, including high heels, metal furniture, or dropped silverware or knives.
The perfect rooms for linoleum are …
Wondering what rooms are the best fit for linoleum flooring? Just about any room can benefit from the durability and beauty of linoleum!
That said, linoleum is especially well-suited for high-traffic areas like kitchens, entryways, and hallways. It's also a great choice for bathrooms, as it's highly water-resistant and won't develop mold or mildew.
Keep in mind that linoleum is water-resistant, not waterproof. You should never immerse linoleum floors because excessive moisture can cause the edges, corners, or seams to curl. If you have a pipe burst and flood your home, linoleum can and will be damaged.
What to look for when buying linoleum
If you're considering adding linoleum flooring to your home, there are a few things to remember when shopping around.
Be sure to look for a high-quality product made from natural materials. Look for a reputable flooring dealer who sells top-name brands. Cheaper linoleum options may contain synthetic materials that can harm the environment.
You'll also want to consider the thickness of the linoleum, as thicker options tend to be more durable and long-lasting. You get what you pay for; a high-quality linoleum will always give you the best results.
And finally, make sure to choose a style and color that fits your personal taste and the aesthetic of your home. And that won't be a problem! If you've decided linoleum is for you, you'll be amazed at the potential products you can choose from. If you have a color or pattern in mind, you'll find one you love.
Are you sold on linoleum? We can't recommend linoleum flooring enough. Its eco-friendly features, durability, and a wide variety of styles make it a beautiful and practical material.
How can we help you select the suitable linoleum for your home?