Remodels often come as "all or nothing," especially if you have an open concept home. The entryway moves into the kitchen, glides into the living space, without boundaries or walls.
You have many ideas. You've picked colors and themes.
But what about flooring?
Even if you love one flooring material, it's not easy to envision it throughout your home. Hardwood, for example, may work great in your kitchen and living space, but what about the bathroom?
Some flooring material isn't made for the specifics of a room. Try hardwood in your master bath, and you may immediately regret your decision.
Mixing and matching different flooring types may seem challenging, especially when you like the way your open concept home flows. But there are easy ways to get the job done, and fall in love with the looks.
Should Flooring Be The Same Throughout The House?
Ask a dozen people, and you'll likely hear a dozen answers. Any interior designer will tell you the fundamental principle of design is harmony.
Harmony comes from a visual balance throughout your home. It feels structured. It follows a theme.
When it comes to flooring choices in open concept homes, there's an age-old debate: Should the flooring be the same throughout the house? While uniform flooring can create a cohesive look, mixing different flooring materials can add character and functionality to your home. Is it the right choice for you?
Consider These Before Mixing Different Flooring Materials
Before you start envisioning your dream home with an array of flooring materials, there are some important factors to consider.
Work with Existing Home Decor
Look closely at your furniture, wall colors, and any existing flooring you plan to keep. Are there dominant colors or patterns that you want to complement or contrast with your new flooring choices?
This process can be frustrating. If you're unsure of your choices, it may be time to ask an expert. We're happy to give our advice – we've helped hundreds of homeowners just like you select flooring for their homes.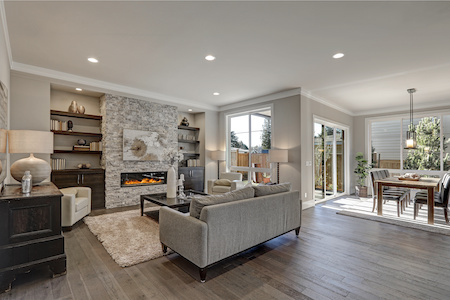 We also suggest starting a pinboard on Pinterest. Pin photos of rooms that appeal to you. You'll start seeing a trend the more photos you pin. This can guide you in solidifying your decisions.
Use a Color Wheel to Select Colors
When selecting flooring colors that harmonize with your overall design, the color wheel is your best friend. You can choose complementary colors for a harmonious look or contrasting colors to create a dynamic visual impact. For instance, pairing warm-toned wood flooring with cool-toned tiles can create an eye-catching contrast that defines different areas within an open concept space.
Complement Your Home's Architectural Style
You were attracted to your home the moment you drove up. Use that to guide you with your decor.
Modern slate and stone may have clean, minimalist decor. A country farmhouse may showcase a shabby chic style.
The architectural style of your home can play a significant role in determining the appropriate flooring choices. Traditional homes often pair well with classic hardwood floors, while modern homes may embrace sleek, minimalist materials like polished concrete. By aligning your flooring choices with your home's architectural style, you can enhance the overall aesthetic and maintain a sense of cohesion.
Consider the Size and Purpose of Each Room
Think about the size and purpose of each room. High-traffic areas like the entryway, kitchen, and living room may benefit from durable flooring materials like hardwood, tile, or laminate. At the same time, cozier spaces like bedrooms can incorporate softer options like carpet or area rugs.
Tailoring your flooring choices to the specific needs of each room ensures both style and functionality.
The Rule of Three
Do you see your home's flooring coming together? Now is a great time to introduce the rule of three.
Sticking to three flooring materials or less in your open concept home is generally advisable. This guideline helps maintain a sense of cohesion and prevents your space from feeling too busy or disjointed.
For example, you might choose one material for the common areas like the living room, dining room, and kitchen, another for transitional or high-traffic spaces like hallways and bathrooms, and a third for private areas such as bedrooms. This way, you can create distinct zones within your open concept layout while maintaining a harmonious look.
The Most Popular Flooring Combinations in Open Concept Homes
Now that you have a solid foundation in mixing and matching flooring materials, let's explore some of the most popular combinations for open concept homes:
Hardwood and Tile
Hardwood and tile are a classic pairing that works wonders in open concept spaces. You can opt for hardwood in the living and dining areas, creating a warm and inviting atmosphere. Tile is an excellent choice for high-traffic zones like the kitchen and entryways, offering durability and easy maintenance. The transition between these materials can be made seamless using transition strips or patterns that blend the two together.
Wood and Carpet
Combining wood and carpet can be a winning choice for those who desire a balance between comfort and style. Wood flooring can grace your living areas, adding elegance and sophistication, while plush carpets can make bedrooms and cozy corners feel soft and inviting. Consider using a wood border or inlay around the carpeted areas to achieve a seamless transition.
Tile and Laminate
Tile and laminate flooring are ideal for open concept homes with a modern or industrial aesthetic. Use sleek tiles in the kitchen and dining areas for easy cleaning and a polished look, while laminate flooring can extend into the living room and bedrooms, offering a budget-friendly option that mimics the appearance of hardwood.
Luxury Vinyl Plank and Carpet Tiles
Luxury Vinyl Plank (LVP) has gained popularity for its versatility and ability to mimic various materials, including hardwood and stone. You can combine LVP in high-traffic areas with carpet tiles in bedrooms or playrooms. Carpet tiles offer easy customization, as you can mix and match colors and patterns to suit your design preferences.
Final Thoughts
Mixing and matching different flooring types in open concept homes can be a fantastic way to add character, style, and functionality to your space.
Just remember the rule of three, and explore popular combinations using hardwood, tile, and carpet. With the right choices, your open concept home can become a true masterpiece of design and comfort.
How can we help you finalize your selection?