Want new flooring in your commercial space?
It requires more than selecting commercial flooring materials based on aesthetics alone.
The flooring selected will have to match your decor and create a welcoming environment for employees and customers. It must also meet certain safety requirements to keep those employees and customers secure while on your property.
Safety should always be a top priority, which means thinking about how easy it is to clean, whether it's slip-resistant, how durable it is, and even how straightforward installation and repairs will be.
Are you in the market for new commercial flooring? Keep these crucial safety considerations in mind as you explore some commercial flooring options that fit the bill.
Ensure Your Commercial Flooring is Easy to Clean
Commercial spaces can get messy. Whether it's spilled coffee in a bustling office or dropped food in a restaurant, accidents happen. That's why one of the first safety considerations when choosing commercial flooring should be how easy it is to clean.
Why is this important?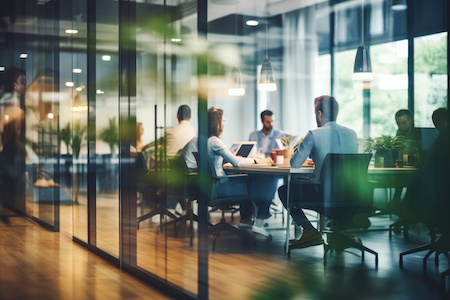 Easy-to-clean floors not only maintain a tidy appearance but also reduce the risk of accidents. Liquids and debris can create slip hazards, and they're more likely to linger on surfaces that are tough to clean. For instance, a carpet with deep pile might be cozy, but it can be a real headache to clean thoroughly.
What should you look for?
Smooth surfaces – Flooring materials like tiles or luxury vinyl are smooth and easy to wipe clean. They don't trap dirt or spills in hard-to-reach crevices.
Stain resistance – Seek flooring options that are resistant to stains. This ensures that even if something spills, it won't leave a lasting mark.
Low porosity – Porous materials, like some types of natural stone, can absorb liquids and stains. Opt for materials with low porosity, as they are less likely to soak up spills.
Maintenance ease – Consider how much effort will be required for routine cleaning and maintenance. Some materials may need special treatments or chemicals to stay clean and safe.
Anti-Slip is Critical
Slips and falls are some of the most common accidents in commercial spaces. To prevent such incidents, choosing flooring with anti-slip properties is paramount.
Why is this important?
In a commercial setting, foot traffic is constant. Whether it's employees, customers, or clients, ensuring everyone's safety is a top priority. Slip-resistant flooring can significantly reduce the risk of accidents, which can result in injuries and costly liabilities.
What should you keep an eye out for?
Textured surfaces – Flooring with textures or patterns can provide extra grip underfoot.
Coefficient of friction – Look for flooring materials with a high coefficient of friction, which indicates how slip-resistant they are.
Non-slip coatings – Some flooring materials come with anti-slip coatings that enhance safety.
Durability in a Demanding Atmosphere
Commercial spaces see a lot of action. Depending on your industry, your floors may need to withstand heavy foot traffic, rolling carts, or even chemical spills. Therefore, durability is a key safety consideration.
Why is this important?
Durable flooring saves you money in the long run by reducing replacement and maintenance costs and ensures that your floors remain safe to walk on.
What matters most?
Material strength – Consider materials known for their durability, such as ceramic tiles, porcelain tiles, or luxury vinyl planks.
Abrasion resistance – Some flooring materials are better at resisting wear and tear. Check for their abrasion rating.
Impact resistance – If your space experiences heavy objects being dropped or moved frequently, prioritize flooring that can withstand impact.
Chemical resistance – If your business uses chemicals, choose flooring they won't damage.
Ease of Installation – Ease of Repair
The installation process and the potential for future repairs should not be overlooked when selecting commercial flooring. Both factors can impact safety in various ways.
Why is this important?
Proper installation ensures the flooring is stable, flat, and secure, reducing tripping hazards. Ease of repair means that damaged sections can be quickly fixed to maintain a safe environment. Together, these offer you high-quality flooring options that increase longevity and aesthetics.
What should you invest in?
Installation method – Some flooring materials require specialized installation techniques. Make sure your installer is experienced with the chosen material.
Modular options – Consider modular flooring solutions like carpet tiles, which are easy to replace if damaged.
Availability of replacement parts – If you choose a flooring system with individual components, ensure that replacement parts are readily available.
Commercial Flooring Materials to Consider
With these thoughts in mind, it's time to start shopping. Luckily, you won't be stuck with one commercial flooring material that doesn't excite you or doesn't exactly fit within your guidelines. Instead, you'll find many materials that are as good-looking as they are durable. When safety matters, we often suggest our clients go with one of these commercial flooring materials.
Tile continues to be a popular choice for many reasons.
Easy to clean – Ceramic and porcelain tiles have smooth surfaces that are easy to clean and maintain.
Anti-slip – Many tile options include textured surfaces or anti-slip coatings for added safety.
Durability – Tiles are known for their durability and can withstand heavy foot traffic and wear.
Ease of installation/repair – While installation may require expertise, individual tiles can be replaced if damaged, reducing repair costs.
Luxury Vinyl is a new fan favorite and works well in many commercial applications.
Easy to clean – Luxury vinyl is moisture-resistant and easy to clean with a damp mop. In some circumstances, it's waterproof, increasing its value in a host of situations.
Anti-slip – Many luxury vinyl products feature textured surfaces that enhance slip resistance.
Durability – It's highly durable and can handle heavy traffic without showing significant wear.
Ease of installation/repair – Luxury vinyl often comes in planks or tiles, making it easier to replace damaged sections. That increases the longevity – a win/win for adding to your commercial space.
Carpet Tile is a long-time favorite for good reasons.
Easy to clean – While carpet tile may not be as easy to clean as hard surfaces, it's still possible to clean, remove, and replace individual tiles for thorough cleaning. Commercial-grade carpet tiles are designed for commercial applications, meaning they'll stand up to all you can dish out.
Anti-slip – Some carpet tiles have anti-slip backing, and low-pile options can provide good traction. Carpet tiles may be one of the best applications for anti-slip situations.
Durability – Look for high-quality carpet tiles designed for commercial use, as they tend to be more durable.
Ease of installation/repair – Carpet tiles are modular and relatively simple to install and replace when needed.
What's your choice? 
Selecting the right commercial flooring involves more than just picking a design that matches your brand's aesthetic. Safety should be a top priority.
Whether you've made up your mind and are ready to buy, or are still weighing your options, why not get started by talking with a flooring expert who can make your decision a little easier?
We've helped many businesses just like you solidify their commercial flooring plans. How can we help you?