There's a new focus on finding your perfect home and staying in place.
As we age, nesting takes on an entirely different meaning. We no longer plan a home around growing a family. Instead, we want to create a home where we can live indefinitely, throughout all the trials and tribulations of getting older.
Universal design sets up all the principles of aging in place. It's about ensuring a house is set up appropriately for everyone, no matter what their abilities. It includes things like:
Flexibility in use – providing choices and adaptability
Intuitive use  – eliminate complexities
Low physical effort – easy to operate and maintain
Universal design is the process used to design a home to be accessible to everyone. Every space – from kitchens to bath, and living spaces – should be accessible to people of all ages and abilities. And it should be done in such a way that it doesn't call out differences, but instead has a smooth, easy-to-use style that looks as good as it functions.
Do you have narrow hallways? Widening them means that a person requiring any form of assistance can maneuver them just fine.
Do you have steep staircases? Universal design eliminates staircases, putting in easy ways to move from location to location without the need for climbing stairs.
And here's the best part: universal design will never go out of style! That's because there are already over 108 million people over the age of 50, thanks to the large Baby Boomer generation, with another 49 million following in their footsteps from the Gen X generation. These people want flexible living as they age.
While there's a lot of features to build into a home specifically built under universal design guidelines, it starts at the bottom – the floor. And one of the best flooring choices you can choose is ceramic tile. What's more, ceramic tiles aren't just for floors. You'll find them in use in the kitchen, bathroom, and laundry room, on backsplashes, walls, and ceilings. Because they're that efficient, that beautiful, anywhere you want them in your home.
Universal design and minimalism go hand in hand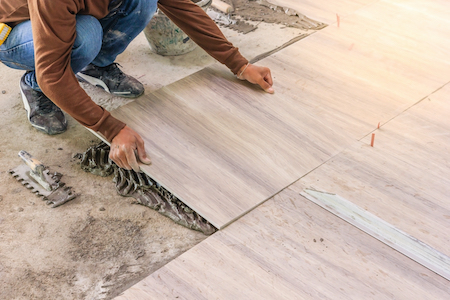 The key to good universal design is: simple is better. Clutter doesn't work. Rugs and other items you can trip over are nuisances more than helpers. Simplicity is key. That's why ceramic tile works so well.
It's beautiful. It's functional. It's one of the easiest flooring choices to maintain. And with a minimal amount of effort, it will look good for years – decades – to come.
Some designers will tell you to go big. Select ceramic tiles as large as possible in order to minimize the amount of grout needed in between. It creates a smooth, flowing look. Don't clutter it with throw rugs – that can be dangerous. And keep furniture high off the floor – it accentuates the clean look of the floor.
Other designers will tell you size doesn't matter; it's the continuity of the floor that matters most. Whether you use smaller penny round tiles, or large squares two feet in diameter or more, the key in creating classic good looks is keeping it simple.
Open concept
When you open up the floorplan of your home, it naturally creates universal design. That's because any barriers that might have impeded traffic flow are eliminated.
Does that mean eliminating wall space? Yes, wherever possible. That also means it will create rooms that naturally work together.
Take a look at your current home space. Average homes today have a kitchen, living room, family room, several bedrooms and bathrooms, hallways to connect the space, and additional rooms such as laundry rooms, home offices, or dens on the side.
Now take a look at the flooring in each of these spaces. Many homes are a hodgepodge of flooring choices.
Hardwood in the main living spaces
Vinyl in bathrooms
Carpet in bedrooms
Tile in bathrooms
How do each of these flooring choices connect? That can be a problem in two manners.
1. It can cause a tripping hazard.
2. It can create an imbalance in aesthetics.
Remember how you reworked clutter for a more minimalist look on countertops and with decor? The same holds true with flooring choices.
When you can see flooring change every few feet, from space to space, it clutters up the aesthetics. It adds chaos to the design.
Maybe now is the time to change out the different flooring choices you've made, and create a solid visual line from the front of your home to the back.
Some of our favorite ceramic tile choices include:
Wood Look Tile – this is growing in popularity because of its classic good looks. If you love hardwood flooring, but want the convenience of ceramic tile, look no further than wood look tile. It's created using a design technology that at first glance, it's easy to mistake this faux flooring for the real thing. It comes in planks, and can be many different colors, from light to dark.
Stone – want the look of stone tile in something that's more flexible to install and maintain? Stone look ceramic tile may be the perfect choice. It's a great way to create a smooth, uniform look, where natural tiles' various shapes might not do.
Porcelain Tile – while not exactly a decor choice, we would be remiss if we didn't mention porcelain tile in this article. Why? Because it's a great choice to lay inside and outside of your home. Porcelain tile takes ceramic tile to the next level because of its high tensile strength. It's resistant to moisture, and comes in a wide variety of design options. What's more, you can move your floorplan beyond your inside walls, and use it in outdoor living space too. People love the versatility when moving their kitchen space outdoors.
And if you weren't sold on ceramic tile before, let's talk about radiant heating. Ceramic tile is one of the best flooring choices if you desire to lay in radiant heating. Imagine warm floors on a cold winter morning. It's possible with ceramic tiles.
Is universal design right for you?
If you're part of the minimalist movement, if you're planning for the future and incorporating universal design into your remodeling plans, start at the bottom. Choosing ceramic tile to run all through your home is one of the smartest decisions you can make.