Want more business? Maybe it's time to look at your flooring.
Creating a stunning commercial space is essential to woo or attract customers or clients, retain employees, and create a professional impression.
And choosing the right flooring can do wonders for your commercial space's appearance, functionality, and longevity. But with plenty of flooring options available in the market, finding the one that fits your budget and requirements can be overwhelming.
Where do you begin?
What are the top priorities for your commercial space?
Selecting new flooring shouldn't be based on aesthetics alone. Plus carpet in a high-rise entrance would fail from the start.
That's why it's essential to identify the top priorities for your commercial space before you finalize your selection. For example, if you operate a hotel, you must prioritize durability, slip-resistance, and ease of maintenance. Healthcare or food industry businesses would prioritize flooring that can withstand professional cleaning and frequent spills.
Are you looking for a flooring solution that is visually appealing, highly durable, easy to maintain, or cost-effective? Understanding your priorities will help guide your decision-making process and ensure that the flooring you choose aligns with your specific needs.
How much foot traffic does your commercial setting receive?
The amount of foot traffic your commercial space receives is also critical in the selection process.
In high-traffic areas, flooring wears down faster, meaning durable options like ceramic or porcelain tiles may be ideal. These materials can resist scuffs and stains without showing significant signs of wear or tear.
Hardwoods also make a great choice for high-traffic areas, but it's essential to choose a harder wood species like oak or maple that can handle the wear and tear of heavy foot traffic.
What look and feel are you trying to achieve?
The look and feel of a commercial space play a significant role in creating a welcoming and professional environment.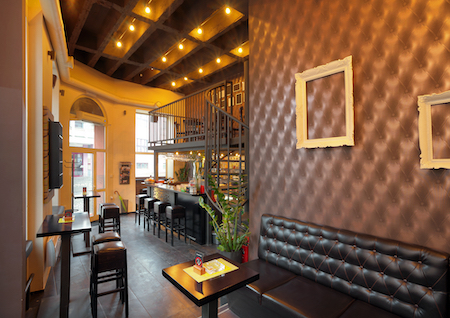 Different flooring materials can evoke distinct aesthetics, from sleek and modern to warm and rustic. If you want to create an inviting atmosphere, use warm, earth-toned colors, like beige or brown. Businesses looking to create a modern, urban feel may opt for black-and-white hues or bold, geometric patterns.
Stone flooring can also offer a sleek, modern look, while hardwood or natural stone tiles provide a more traditional feel.
How will you maintain your floors?
Proper maintenance is critical for the longevity and aesthetic appeal of your commercial flooring.
Different types of flooring require different cleaning and maintenance, so it's vital to consider how much time and care you're willing to invest.
Some flooring options, like carpet or vinyl, may require professional cleaning, while natural stone or tile may need regular professional sealing.
Choose a flooring solution that aligns with your maintenance capabilities and timeframe.
What is your flooring budget?
Commercial flooring varies significantly in price, so setting a budget that suits your business's resources will help solidify your decision.
Carpet and carpet tiles are generally the most budget-friendly option, while natural hardwood or stone tiles can be the most expensive. However, you can still achieve a high-quality aesthetic with more affordable options like luxury vinyl planks, laminates, and resilient flooring.
If you're unsure where to start, consult a flooring professional who can recommend the best option for your budget and needs.
Let's talk about commercial flooring options
Do you have the ideal flooring material in mind? Many property managers do. They've had good luck with a material, and won't go any other way. Others are open to suggestions – is there a better approach?
No matter what type of flooring you're considering, you have options for your commercial space.
Commercial Carpet
Carpet adds warmth and comfort to your space. It's available in unlimited colors, patterns, and textures. Carpet offers noise reduction, making it ideal for businesses where sound control is a priority. It is a budget-friendly option that can withstand moderate foot traffic and is relatively easy to replace if damaged.
Carpet Tile
Carpet tiles offer similar benefits to traditional carpet but are more versatile and easier to install. Carpet tiles come in various shapes, sizes, and colors, allowing you to create unique designs. And if one tile is stained or damaged, you can replace a single tile instead of the entire carpet.
Commercial Luxury Vinyl
Luxury vinyl flooring has gained popularity in recent years due to its versatility, durability, and cost-effectiveness. It is a popular flooring choice for businesses with heavy traffic areas since it's scratch-resistant and water-resistant, making it easy to clean and maintain. Luxury vinyl comes in a broad range of styles, patterns, and textures, including wood and stone looks, making it ideal for various business environments.
Resilient Flooring
Resilient flooring, such as linoleum and vinyl, is known for its durability and ease of maintenance. It is resistant to stains, scratches, and moisture and is often preferred for high-traffic areas. Linoleum, made from natural materials like linseed oil and cork, is eco-friendly and offers various color options. Vinyl flooring provides a cost-effective and versatile solution, with different textures and design options.
Stone
Stone flooring can be an excellent choice if you're aiming for a sophisticated and luxurious look. Options like marble, granite, and travertine can add elegance and durability to your commercial space. While stone flooring may require more maintenance to preserve its appearance, it offers a timeless aesthetic that can impress clients and customers.
Hardwoods
The classic and elegant look of natural hardwood floors is always timeless. It's ideal for businesses aiming for a traditional aesthetic that wants to offer a durable, high-quality flooring option. While it may be more susceptible to scratches and moisture, proper maintenance and periodic refinishing can keep hardwood floors looking stunning for years.
Laminate
Laminate flooring emulates the look of natural hardwood floors while being more cost-effective. It's an excellent choice for businesses aiming for a hardwood floor aesthetic that want a budget-friendly option but still aiming for a high-end look.
Are you ready for new commercial flooring?
Need new floors in your commercial space? Maybe it's time to consult with flooring professionals who can guide you based on your specific needs and goals.
Choosing the perfect commercial flooring can enhance your business's aesthetic appeal, functionality, and durability. Whether you're looking for a high-end luxurious look or a budget-friendly option, there is a flooring solution that will suit your business needs.
How can we help you?