When it's time to update your commercial flooring, it can be difficult deciding on what's the best flooring choice for your needs. And given the various choices on the market today, the decision process can be overwhelming at best. How do you choose one that will hold up well over time? How do you select one that looks great and attracts the right kind of tenants or customers into your place? How do you ensure longevity, so that it's money well spent?
It all starts with a little research to learn about the best commercial flooring choices on the market, and how to consider the best choice for your needs.
How to narrow down your choices
It's time to replace your current flooring with something new. You know you need new floors because the old no longer gives you the look or feel you need to make good first impressions. But how do you make a selection with so many different options available?
Start with looks – most commercial property owners have some ideas for what they're looking for. You already have a general understanding of what works well in different spaces throughout your property. Start there, but be open to new opportunities. Meeting with one of our flooring experts can help you pinpoint your needs and show you several different options that would make great final choices.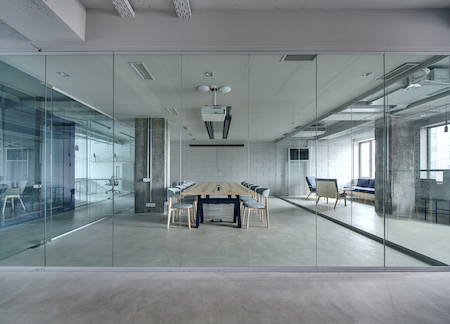 Maintenance – in commercial locations, maintenance is everything. You don't want fussy flooring materials that don't stand up over time. That means your final selection should be easy to care for and easy to maintain day in and day out, for years to come.
Durability – this is where spending a little extra might benefit you greatly. Don't shop on price alone. Bumping up your expectations a bit might push you into different categories of flooring that will add years of longevity to your final decision. When you select certain grades of flooring, they can stand up to active workspaces, and look well under pressure, even if that means a daily influx of heavy foot traffic.
Investment – there are many ways to look at your investment in your commercial flooring. Start with longevity – how many years can you reasonably expect from the flooring product you install? If you select something with an expected life of five years, what would it take to push it to ten? Yes, this is a numbers game, but sometimes just seeing your options can help you bring in better options.
It's also an investment in good looks. Will it give a better first impression when clients and prospects enter through the doors? Will it add strong resale value if you're considering a sale in the near future?
What are my best commercial flooring choices?
While there's never a "one size fits all" pattern to selecting flooring for your commercial space, there are several materials that we see commercial locations selecting again and again. They include:
Engineered Hardwood
People love hardwood in both residential and commercial settings. But solid hardwood can be finicky when added to the wrong space. Hardwood is difficult to add to commercial settings because it's difficult to care for and expensive to install and maintain. That's why many commercial properties are turning to engineered hardwood and loving the results. Because it has a more durable wear layer, it gives you the looks of hardwood while being easier to care for on a daily basis.
Laminate Hardwood
Laminate hardwood is another option growing in popularity because of its classic good looks, it's durability, easy installation, and budget-friendly pricing. Its wear layers make it the perfect choice for many different commercial applications.
Vinyl
Vinyl flooring has changed a lot over the years. While you can install durable vinyl sheet material, vinyl planks are increasing in popularity because of the realism in the looks. If you want hardwood or stone look without the cost, vinyl is an option. Vinyl planks give you the look and feel of real hardwood, stone, or other natural products.
Carpet
While it might not work in all settings, carpet is still a great choice in some areas. Commercial carpet tiles are a budget friendly floor covering with a heavy duty backing and quality construction that holds up well under pressure. Durability is key; pay attention to the manufacturer and quality to ensure a long life. Flooring tiles give you the option of changing out tiles that may be destroyed through staining or movement, giving you an easy way to keep your flooring looking great for years.
Tile
One of the hardest surfaces with the greatest longevity is tile. However, with so many choices on the market, it's important to consider your options carefully. Focus on durability. Some require sealants to stand up well over time. Whether you select ceramic or porcelain, natural stone or a composite designed to match your surroundings, tile is a great choice in all kinds of situations. It's worth another look if you haven't done so lately.
What does maintenance mean?
Once you've invested in new commercial flooring for your business, it's important to stick with a maintenance plan that will protect your investment.
Start with the warranty. Every manufacturer provides a warranty to ensure their product is well received. Learn the facts before you buy, and create a plan to keep your flooring well cared for.
Invest in regular cleaning and maintenance. Don't trust any janitorial staff, ensure they can give you what you need to keep your warranty valid. In some cases, the wrong cleaning products can void the warranty.
Keep staff on hand to clean up messes immediately. The longer you leave messes in place, the better chance you have of it ruining your flooring material.
Use rugs and entrance mats to keep the interior as clean as possible. You'll be amazed at how much entrance mats can remove off of shoes before people enter your building . It ensures scratches and other problem areas are more superficial than deeply embedded. It also makes regular cleanings easier, as less debris will be tracked in.
What are your top questions as you decide on the right commercial flooring for your location?