Are you working from home right now?
According to a recent study by MIT, it showed as of April 2020, 34 percent of people that previously worked in office settings are now working from home.
Of course, some jobs are impossible to do from home. It also showed that approximately 37 percent are still commuting to their daily jobs.
No matter which side you fall on, one thing is for certain: jobs of the future are changing forever.
What does that mean for your office environment? Only time will tell.
But we can make predictions about where we're going from here. Companies are already jumping at future designs, take a look at the 6 Feet Office.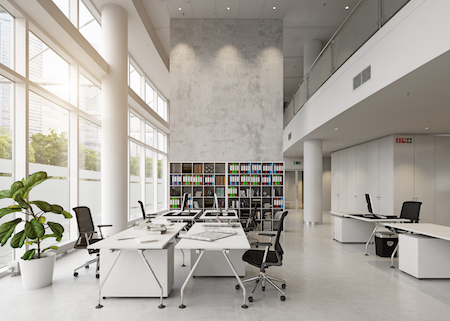 Businesses are going to increase the air filtration systems. They'll redesign floor layouts to be sure people can always maintain the six feet apart rule. Surfaces will be rethought to make things cleaner and more hygienic.
And that includes the flooring.
Our prediction for office flooring as we move back to offices
The right commercial office flooring today must be a blend of aesthetics and functionality. Of course, budget is always a consideration. But now more than ever, it's important to keep tenants and employees safe and secure.
Cleanliness will be everything as we file back into commercial spaces. That requires a flooring material that stands up well to regular cleaning, and continues to look good throughout the process.
While that might eliminate some choices from your consideration, it also doesn't mean there's a right choice for every situation.
Start by asking yourself a few questions?
How many people enter the commercial property every day?
Who works there? Who visits?
Are certain areas more high traffic than others?
What look are you trying to convey?
How is the office cleaned?
What functions occur within the complex?
A dentist's office has different requirements than an insurance broker. A retail space has different needs than a co-working space.
Remember, living and working with new rules and policies is new to everybody. The more you talk about it, the more you learn about your options, the better you can design the space you're living with to please everyone.
Break down your needs by areas and floors
If you've replaced your office flooring before, you know there isn't a "one size fits all" option. Instead, take into consideration what different places throughout your office need, and choose your office flooring accordingly.
We typically break down commercial space into four distinct areas:
Lobby and reception space
Whether people enter from outside the building, or enter into your office space by riding up in an elevator, durability and first impressions are everything. When people enter, they usually look at the decor and base ideas around aesthetics. Now, they'll also be evaluating how much thought and care is being presented to keep people safe. Say no to busyness, and say hello to simplification.
Wood finishes create a bold expression when a visitor walks in. Luxury vinyl tile may also be a great way to create a pleasing environment, while having a flooring material that's easily cleaned and sanitized. It's one of the only flooring choices that's waterproof too.
Open office spaces
While offices will still have kitchens and break rooms, they will be used differently. No more gathering and accumulating. Lots of space will have to be available for people to sit down.
That also means focus will have to be on creating a space that's easily cleaned. No more storing boxes and stacking food or water bottles for future use.
Luxury vinyl tile is a waterproof option that allows you to create and look and feel, and gives you durability and functionality too. Linoleum is also water-resistant, and gives you a natural option. Tile can also work well and give you options for creating a beautiful yet functional workspace.
Conference rooms
Everyone gathering around the conference table is going to change. Large meetings will become a thing of the past as we leave space in between, and use virtual technology more than ever before.
Where conference rooms were once viewed as a showcase for a company's product or service lines, less focus will be placed on space. Because you have less foot traffic, you also have more options to meet your cleaning and durability requirements. Wood is always in fashion. Luxury vinyl tile can continue your look throughout your office space. Stone is a good way to add elegance to any office space.
What we recommend for your office space
Now that you've evaluated your needs, and are starting to define what flooring products would work well in your office space, let's look at a few of our favorites.
Wood
Wood has been a favorite in both residential and commercial applications for decades. While that will continue to be popular in the future, we see people turning to other wood products beyond hardwood.
Have you looked at engineered hardwood? It's an environmentally friendly option to hardwood flooring, and depending on the processing, it can be easier to clean, more durable for office spaces, and give you more water resistance in the process.
Luxury vinyl tile
Want the wood look without the fuss of real hardwood? More people are turning to luxury vinyl tile than ever before. That's because it's one of the most durable, waterproof flooring options on the market. And thanks to technology, you can get it in a wide variety of colors, patterns, and styles, including mimicking hardwood plank. It makes it the perfect choice for creating an environment where cleanliness is key.
Tile
If you've ever looked at tile, you know the options are almost endless. Ceramic, porcelain, stone – you can install colors, sizes, and styles to create any look you're going for. It's a perfect choice for heavy traffic, and it's one of the most durable flooring choices on the market. Whether you use it in only in your high traffic areas, or carry it all the way through your office space, you'll love both the performance and the look.
What's the perfect office flooring for your commercial space as we move forward and back into work?
With so many options, it might be a little confusing to finalize your decision. Give us a call, and we'll help. We're learning right along with you, and discovering the best flooring products as we move forward. And we're happy to share our new findings with you.