When you select a new flooring for a residential space, it's all about taste and personalization. But when you're shopping for commercial flooring, there are other things to keep in mind.
What commercial flooring will be the best choice for functionality? Will it be an appropriate choice for the activities that take place within the space?
What commercial flooring will give the look and feel needed to complete this space? Will it enhance the branding associated with the commercial space?
What commercial flooring will be sustainable and cost-effective? Will it help me reach other goals, such as achieving LEEDs status?
What commercial flooring will best fit into my budget? At the end of the day, everything you do has to git into your financial plan. Luckily, there are always options when it comes to selecting new flooring.
Selecting your purpose for your commercial space
What tops the list for needs and demands when it comes to installing commercial flooring? Only you can decide. But after years of experience, we know functionality trumps all other factors most of the time.
Why? Ultimately, a commercial space needs to have suitable materials for the building occupants. You'd never install carpet in a hospital. Or slippery tile in a caregiving facility.
Durability also becomes a factor. Will your selection stand up to regular cleaning and maintenance? Will it meet building codes, ADA compliance, and provide appropriate acoustics for the tenants or employees inside?
Choosing the right flooring for your space may seem like an overwhelming process. Luckily, we can provide you with solid advice. Consider the pros and cons of the top flooring choices, and come in with an open mind. We'll help you find the right flooring choice to meet all of your needs.
Hardwood flooring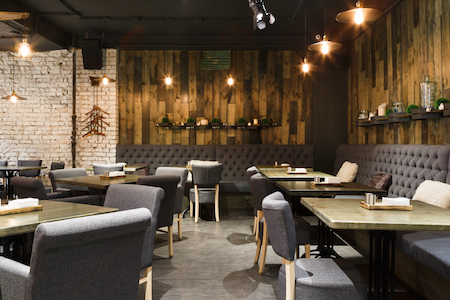 Hardwood flooring has been one of the top flooring choices for years. People love the look and feel in both residential and commercial environments. It's hard to deny it comes with classic good looks. When well maintained, hardwood flooring can last for years – decades – and bring a quiet sophistication to any place it's installed. That's why it's the preferred choice for boardrooms and financial institutions across the country.
Yet despite it being renowned for quality, hardwood can also be quite finicky to care for. In residential applications, homeowners are aware of activities that will compromise the quality. You can't ask visitors to check their heels at the door to counter the risk of scratching or denting the floor. Hardwood is also not the best choice in moist or humid conditions. It can be quite particular if humidity levels aren't kept between 35 and 55 percent, increasing the likelihood of it warping or buckling. And if moisture seeps underneath, you'll be installing new floors.
Laminate flooring
For the same reasons homeowners turn to laminate, it can be a great choice for commercial properties too. It's often considered the low-maintenance alternative to hardwood because it's easier to care for and has the look and feel of hardwood. Laminate is made from layers that give it strength and durability at an economical cost. Its tough top layer ensures it won't scuff, especially in high traffic areas.
People love hardwood because you can refinish it multiple times. Not so with laminate – it's a material you'll have to replace when it's time. Many laminates come with click and lock technology, meaning they float over the subfloor. While this makes it easy to install, it also can create a hollow sound. And that can be noticeable in large, open spaces. That can also cause bigger problems if you're moving heavy rolling loads through the space.
Vinyl flooring
One of the newest products to market includes luxury vinyl tiles and planks. These products are made to mimic many of the most popular flooring choices, including hardwood, marble, and stone tile. But unlike the materials they mimic, they offer something else that's a crowd pleaser: they can provide you with a hard surface area that's completely waterproof too. These scratch-resistant, water-resistant floors are so close to the real thing, even experts have to take a second look.
While vinyl can be the perfect flooring choice in many situations, the key is ensuring it's installed correctly to give you all the benefits it promises. This isn't something you hand over to your handyman for weekend installation. Ensure it meets the code and guidelines of the manufacturer, and you could have a flooring choice you'll enjoy for years.
Tile flooring
While vinyl may be the appropriate choice in some situations, in some cases, nothing will be better than tile flooring. If you're renovating messy water-prone areas like bathrooms, breakrooms, or entrances, tile may be the perfect choice to stand up to the pressure. They won't absorb moisture, and fight bacteria like no other flooring can. And when you clean them, you won't think twice about digging in and giving it a good clean – it won't hurt the structure of the tile, providing you install the correct tile for your unique situation.
While the tile itself may be stain-resistant and resist bacteria, you'll have to be more careful with the grout you choose to install. Grout can and will stain unless well protected by a sealant. Epoxy grout won't stain, but its cost will add to the bottom line of your installation. Tile also takes the longest to install, meaning this isn't an overnight project. It requires many hours to ensure every piece is laid correctly, and the curing process ensures it's tightly sealed.
Which is the right commercial flooring choice to suit your needs?
There isn't a right choice when it comes to selecting a commercial flooring material. Instead, it takes careful consideration, weighing your options, and considering your needs.
Whether you're still considering your options, or have made up your mind, the best place to start is by giving us a call, so we can help you select from your choices.
How can we help you select the right commercial flooring material for your space?