We've all been in houses that are chaotic at best. You move from room to room feeling like nothing matches. It's light over here, dark over there. Luxury vinyl, hardwood, tile, and carpet – the colors of the rainbow are on full display, and it's doing nothing for cohesiveness.
That can happen when you decorate one room at a time. You build the room from the ground up, thinking only about the needs of the room.
And while that's important, there are ways to do it to keep your home aesthetically pleasing. If you've had your eye on luxury vinyl, is there a way to bring it into your home AND be happy with the results?
Why luxury vinyl is appealing to homeowners
We get why you have your eye on luxury vinyl flooring. It's quickly becoming a favorite choice for homeowners, and for a good reason.
Imagine you're stepping into a cozy, well-decorated living room. The floor beneath your feet feels warm and inviting, and it looks so much like natural wood or stone that you're tempted to touch it just to be sure. That's the magic of luxury vinyl.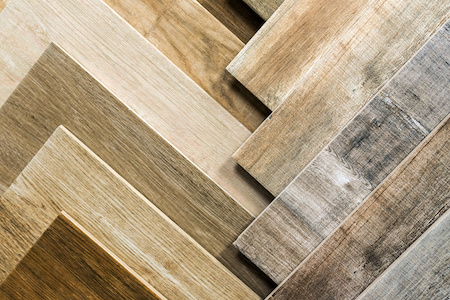 One of the biggest draws of luxury vinyl is its ability to mimic the look of natural materials. It can recreate the beauty of hardwood, the elegance of marble, or the rustic charm of stone, all with impressive realism. But here's the kicker – luxury vinyl doesn't demand the hefty price tag that often comes with the real deal. So, you get all the aesthetics without breaking the bank.
But the story doesn't end there. Luxury vinyl is a practical choice, too. It's built to withstand the wear and tear of daily life. Just think about all those shoes, pet paws, and furniture legs that traipse across your floors. Luxury vinyl can take it all, thanks to its durability. It's resistant to scratches, dents, and moisture, making it an ideal choice for high-traffic areas like kitchens and bathrooms. Yes, it's water-resistant – waterproof in some cases. That's why homeowners find it irresistible in high-traffic areas where water can be  problematic.
But what about style, you might ask? From traditional to contemporary, rustic to chic, you can find a luxury vinyl style that complements your personal taste and home decor. It's like having a world of design possibilities at your feet.
Do we agree with your choice of luxury vinyl – you bet! Many homeowners across the Front Range are installing it in their homes. And they're happy with the results.
But still, you have questions.
What about the other flooring I have in my home?
Is mixing luxury vinyl with other flooring choices possible? 
Mixing and matching different flooring materials, including luxury vinyl, is like creating a symphony of textures and styles in your home. It's a bit like choosing different instruments in an orchestra to produce a harmonious melody.
Luxury vinyl is incredibly versatile and can play well with other flooring choices. You can blend it with various materials, such as hardwood, tile, or carpet, to create distinct zones or transitions within your home.
Let's say you're designing an open-concept living space with a kitchen, dining area, and a cozy living room. You might opt for the durability of luxury vinyl in the kitchen, where spills and high traffic are frequent guests. Then, as you move towards the dining area, you can transition to hardwood for a touch of warmth and elegance. Finally, in the living room, where comfort and style reign supreme, a plush carpet can make the space inviting. This combination not only serves specific needs for each area but also adds an interesting visual and textural contrast.
Remember, when mixing different flooring materials, it's important to ensure a smooth and seamless transition. Using transition strips or architectural elements like borders can help create a polished look. And if you need clarification on the design, consulting a professional can be a great idea.
We have a few tips for you if you're considering mixing luxury vinyl flooring into your home
Installing new flooring throughout your home is an expensive endeavor. Maybe that's why most homeowners do it in waves. One room or section at a time.
You want your home to feel luxurious. You want it to look good and function well, too.
There are easy ways to create that. When mixing luxury vinyl with other existing flooring types, it's essential to plan and execute the installation carefully to achieve a harmonious and aesthetically pleasing result. We advise our clients to:
Choose Complementary Styles – Select luxury vinyl options that complement the existing flooring in color, texture, and style. Consider the undertones, patterns, and overall aesthetics of both materials to create a cohesive look.
Create Defined Transition Zones – Use transition strips or thresholds to create clear boundaries between different flooring types. This not only looks better but also prevents tripping hazards and eases the visual transition.
Maintain Consistent Color Schemes – If you're combining luxury vinyl with other flooring in a larger open space, keep the color scheme consistent across both materials. This helps tie the room together and ensures a cohesive look.
Consider Texture and Sheen – Think about the texture and sheen of the flooring materials. If the existing flooring has a matte finish, consider luxury vinyl with a similar finish for a consistent appearance.
Use Patterns and Layout – If you're working with luxury vinyl planks or tiles, consider incorporating patterns or layouts visually connecting both materials. For example, you can align the luxury vinyl planks with the existing hardwood's grain direction for a harmonious transition.
Match the Flooring Height – Ensure that the luxury vinyl and the existing flooring are the same height. You may need to adjust the underlayment or transition materials to achieve this. A level floor height eliminates awkward steps and creates a more polished look.
Consider Focal Points – Use design elements like area rugs or furniture placement to draw attention away from the transition areas. These focal points can divert the eye and make any disparities less noticeable.
Inspect for Color Match – Before installation, check the luxury vinyl planks or tiles to ensure they match the samples you selected. This step can prevent any surprises in terms of color discrepancies.
Plan for Maintenance – Different flooring materials may have varied maintenance requirements. Be prepared to adapt your cleaning routine for the combined flooring, ensuring that both materials remain in good condition.
Can you mix luxury vinyl flooring with other materials in your home? You bet! Homeowners do it all the time.
However, we get it can be confusing. If you're unsure about how to achieve the best visual integration between the two flooring types, consider giving us a call. We can offer expert guidance and ensure a seamless transition.