Flooring serves many purposes.
It keeps you warm in the winter.
It keeps you cool in the summer.
It enhances the aesthetics of a room.
It prevents injury when you fall.
It protects against germs and messes.
Flooring also goes one step further, and helps with noise reduction. If you select the right acoustic flooring materials, it can change the functionality of the room significantly.
Imagine a noisy kitchen that interrupts other household activities. Or noisy kids playing games while a family member is trying to sleep.
There are many reasons acoustic flooring matters.
And there are many ways you can bring acoustic flooring materials into your home that will make a world of difference.
What Does Acoustic Flooring Mean?
Acoustic flooring materials are designed to minimize noise transmission within your space. Whether it's the sound of footsteps, furniture being moved, or even your favorite jam blasting through the speakers, acoustic flooring helps keep the noise where it belongs – in the room you're in!
What Noises Does Acoustic Flooring Help With?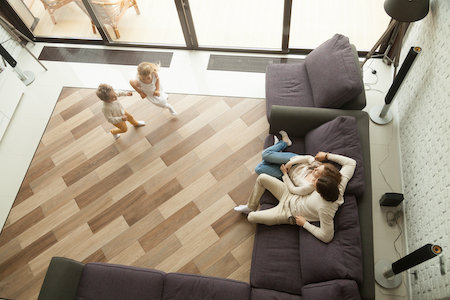 All noises are not the same. If you work at home, you might be affected by outdoor ambient noise, the kids playing in the next room, or the thump, thump from the speakers in the media room.
There are two main categories of noise that acoustic flooring can help reduce:
Impact Noise
Impact noise is the sound caused by physical contact with the floor. Think of high heels clicking on hardwood or the thud of someone dropping a heavy object. It's those annoying sounds that make you cringe and wonder if you're living in a drum. Acoustic flooring materials are excellent at absorbing and dampening these impact noises, providing a more peaceful environment.
Airborne Noise
Airborne noise is the sound that travels through the air. This includes voices, music, or any sound that doesn't result from direct impact with the floor. If you can hear your neighbor's conversations as if they're right there with you, you're dealing with airborne noise. Acoustic flooring can also help reduce airborne noise by providing an extra layer of sound insulation.
Why Sound Absorption Is Important
If you're looking at this article, you already understand that noise has an impact on you. You're looking for a solution – you're in luck! Manufacturers have created many products to help control the noise inside your home.
Sound absorption helps with a variety of things. There are some pretty compelling reasons why you should consider acoustic flooring for your home.
Peace and Quiet
A quieter home means a more peaceful and enjoyable living environment. Imagine being able to read a book without being interrupted by footsteps from above or hosting a dinner party without worrying about disturbing your sleeping kids. Acoustic flooring can make these dreams a reality.
Improved Concentration
Acoustic flooring can be a game-changer for those who work or study from home. It reduces distractions and allows you to concentrate better on your tasks. No more constantly shushing your family members or wearing noise-canceling headphones.
Better Sleep
A quieter bedroom can lead to better sleep quality. If you're tired of being awakened by the sounds of the outside world or your partner's late-night Netflix binge, acoustic flooring can create a more serene sleeping environment.
What Role Underlayment Plays in Noise Reduction
It's not just the flooring that plays a critical component in achieving optimal noise reduction. Underlayment is a layer of material that goes between your subfloor and the actual flooring material. It might not be visible, but it plays a crucial role in sound insulation.
Why Underlayment Matters
Underlayment serves as a buffer that absorbs and disperses sound. It helps prevent noise from traveling through your floors and walls, ensuring you enjoy the full benefits of your acoustic flooring materials. Without proper underlayment, you might not get the noise reduction you desire.
Types of Underlayment
There are various types of underlayment designed for different flooring materials and noise reduction needs:
Foam Underlayment – lightweight and easy to install, it's ideal for laminate and engineered wood flooring. The foam material effectively dampens sound and provides a comfortable cushion underfoot.
Rubber Underlayment – perfect for reducing impact noise. It's commonly used under hardwood and tile floors. The dense rubber material absorbs and disperses vibrations, minimizing the sound of footsteps and dropped objects.
Cork Underlayment – an eco-friendly option that works well with various flooring types. It provides sound and thermal insulation, making it an excellent choice for areas where temperature control is important.
Suitable Acoustic Flooring Materials
Now that you understand the importance of acoustic flooring and the role of underlayment, let's explore some suitable flooring materials that can transform your space into a sanctuary of tranquility.
Carpet
Carpet has long been recognized for its noise-reducing properties. The soft, plush fibers absorb sound, making it an excellent choice for bedrooms, living rooms, and home offices. When paired with the right underlayment, carpet can significantly reduce both impact and airborne noise.
Pro Tip: Opt for carpets with thicker pile heights and consider a dense rubber or cork underlayment for maximum noise reduction.
Luxury Vinyl
Luxury vinyl is a versatile and trendy flooring option that excels at noise reduction. Its multi-layered construction includes a sound-absorbing core, making it an excellent choice for busy households or apartments. Luxury vinyl can mimic the look of hardwood or stone while providing superior sound insulation.
Pro Tip: Choose luxury vinyl planks or tiles with attached underlayment for added convenience.
Hardwood
You read that right: hardwood flooring can be an acoustic superstar with the proper setup. While hardwood on its own may not be the quietest option, it can be paired with specialized acoustical underlayment to achieve remarkable noise reduction. This is especially useful if you love the timeless beauty of hardwood but don't want to sacrifice on peace and quiet.
Pro Tip: Opt for engineered hardwood, which tends to be quieter than solid hardwood, and pair it with a high-quality rubber underlayment.
Is acoustic flooring right for you?
If you're on a mission to create a quieter, more peaceful home environment, acoustic flooring materials and the right underlayment can be your secret weapon. Say goodbye to noisy neighbors, clattering footsteps, and annoying airborne sounds, and say hello to tranquility and peace of mind.
We're committed to helping you find the perfect acoustic flooring solution for your space. Whether you're looking for cozy carpets, stylish luxury vinyl, or the classic beauty of hardwood, we've got you covered. Our experts are here to guide you every step of the way, from selecting the suitable materials to professional installation.
Don't let unwanted noise disrupt your life any longer. Visit our showroom or schedule a consultation today, and let us show you how acoustic flooring materials can truly make a world of difference in your home.