Want to make a big improvement in the overall appearance of a room? Get new flooring. You'll notice the room comes alive with new style and aesthetics.
When you start your remodeling project, settling on the right flooring material may seem tricky. After all, there are so many materials to choose from. How do you know you'll make the right choice?
We suggest you give engineered flooring a second look. It's one of the top flooring choices in homes all across the Front Range.
Mile-high homes look great with a mile-high look. That means getting back to nature, following the mountain living trends, and selecting something that does well all throughout the year, winter, spring, summer, and fall.
Look no further than engineered flooring. Here's why.
How Do I Know I Need New Flooring?
If you're reading this, chances are you know you need new floors. You know it's time, but you're a bit worried about making the right choice. Should you live with what you have, or discover something new?
Let's get your head and your heart in alignment. Several telltale signs say it's time for new flooring.
First, take a look at your current floors. Are they showing signs of wear and tear like scratches, dents, or warping? Are there areas where the finish has faded or peeled away? If so, it might be time to start thinking about an upgrade.
Do you have pets that leave their mark on your floors? Do you frequently entertain guests, leading to spills and accidents? High-traffic areas can take a beating over time, and choosing flooring that can stand up to the challenge is essential.
Has your style evolved over the years, leaving your current flooring feeling outdated? New flooring can breathe fresh life into your space, enhancing its overall appeal.
Convinced it's time for new flooring? Engineered hardwood may be just what you're looking for.
What Is Engineered Wood Flooring?
Engineered wood is a versatile and innovative flooring solution that combines the beauty of natural wood with added durability and stability. It's made up of multiple layers of wood, each serving a specific purpose.
The top layer, known as the veneer, is made of natural hardwood, providing that authentic wood look and feel. This layer is what gives engineered wood its stunning appearance. Below the veneer are layers of high-density fiberboard (HDF) or plywood. These layers are bonded together under high heat and pressure, creating a solid and stable plank.
Think of engineered flooring as the best of both worlds. You get the look and feel of hardwood with benefits you can really use on a new floor.
How Does Engineered Wood Compare to Solid Wood Flooring?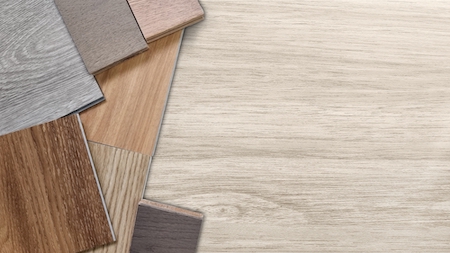 One of the first questions homeowners often ask is how engineered wood compares to solid wood flooring. Let's break down the key differences:
Stability – Engineered wood is more dimensionally stable than solid wood. It's less prone to expansion and contraction due to changes in temperature and humidity, making it an ideal choice for mile-high homes where temperature fluctuations are typical.
Installation – Engineered wood is easier to install than solid wood. It can be installed as a floating floor, which means it's not directly attached to the subfloor. This installation method is quicker and often more DIY-friendly.
Durability – While both engineered and solid wood floors can last for decades with proper care, engineered wood tends to be more durable due to its construction. It's less susceptible to warping and cupping, making it a great choice for areas where moisture is more of a problem.
Cost – Engineered wood is often more budget-friendly than solid wood. You get the look and feel of natural wood at a lower price point, making it an attractive option for homeowners.
Why Engineered Wood Floors Are Easier to Install Than Solid Wood
If you're not a professional installer, the thought of tackling a flooring project can be daunting. However, engineered wood offers some distinct advantages that make it a DIY-friendly option.
You'll find engineered hardwood can be installed in many ways. Glue them into place. Nail them down. Or select engineered wood planks that click and lock together. This eliminates the need for specialized tools and adhesives, simplifying the process.
Engineered wood can be installed over a variety of subfloors, including concrete, which is often found in basements or lower levels of homes. This versatility means you can enjoy the beauty of wood flooring throughout your house, even in areas where solid wood may not be a suitable option.
While you can use engineered wood as a DIY choice, you can ensure the process is done right the first time with professional installation. The choice is yours.
Why Engineered Wood Is Stylish and Aesthetically Pleasing
Style matters when it comes to your home. Engineered wood flooring doesn't just offer practical benefits; it's also a design powerhouse.
The top layer of natural hardwood veneer provides the timeless beauty and warmth of solid wood. Whether you prefer the classic charm of oak, the rich hues of walnut, or the exotic allure of teak, there's an engineered wood option to suit your taste.
Engineered wood also offers a range of finishes, from smooth and polished to hand-scraped and distressed. This variety allows you to create the perfect ambiance for your space, whether it's a rustic cabin retreat or a modern urban loft.
Things to Consider as You're Shopping for Engineered Flooring
As you look for the perfect engineered wood flooring for your mile-high home, here are some essential factors to keep in mind:
Go with a High-Quality Manufacturer for Better Durability – Invest in flooring from reputable manufacturers known for their quality and craftsmanship. Quality materials and construction ensure your floors will stand the test of time.
A Thicker Veneer Still Allows You to Refinish It – While engineered wood may not be as thick as solid wood, it can still be refinished multiple times if the top veneer is thick enough. This extends the lifespan of your flooring and allows you to refresh its look over the years.
Some Are Water-Resistant, or Even Waterproof – If you have areas prone to moisture, like bathrooms or kitchens, opt for engineered wood flooring with water-resistant or waterproof properties to prevent damage and warping.
Trust a Reputable Flooring Retail Center for High-Quality Products – Choose a reputable flooring retail center when shopping for engineered wood flooring. They can provide expert guidance, offer a wide range of options, and ensure you get genuine, high-quality products.
Don't Choose Quickly, Bring Home Samples and Ensure You're Making a Wise Decision – Take your time in making your decision. Most flooring retailers offer samples that you can take home to see how they look and feel in your space. This hands-on approach ensures you're making a choice you'll love for years to come.
Engineered Flooring Can Be Eco-Friendly – If sustainability is a priority, look for engineered wood flooring made from responsibly sourced materials. Some manufacturers prioritize eco-friendly production processes and materials, making it an environmentally conscious choice.
Are you ready to install engineered hardwood flooring?
When finding the perfect flooring for your mile-high home, engineered wood flooring checks all the boxes.
Its durability, easy installation, and stunning aesthetics make it an excellent choice for homeowners looking for solid hardwood floors. Just remember to consider your specific needs, choose a reputable retailer, and take your time in making your selection.
With the right engineered wood flooring, you can transform your home into a stylish and functional oasis in the sky.
How can we help you find the flooring of your dreams?