Thanks to technology, whatever you want from your flooring is possible.
Want an easy to clean, dependable surface area?
Want strength and durability?
Want waterproof flooring that won't buckle under pressure?
Look no further than rigid core flooring.
What is rigid core flooring? Read on to find out why it just maybe what you're looking for.
What does rigid core flooring mean?
The luxury vinyl tile (LVT) market has grown in strength and numbers these past few years. As homeowners wanted maintenance-free, durable flooring choices, they've responded through the products in the LVT market.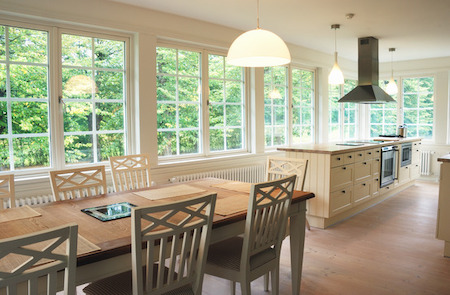 Rigid core flooring is a type of luxury vinyl flooring composed of a solid, rigid core for added durability. Rigid core flooring doesn't require adhesives or glue. It uses a click and lock installation system instead.
Within the rigid core flooring category come two types of products: Stone Plastic Composite (SPC) and Wood Plastic Composite (WPC). While both have similar traits, their differences should be considered carefully before finalizing your decision.
What is SPC?
SPC stands for Stone Plastic Composite, or Stone Polymer Composite. It consists of a core that features limestone, polyvinyl chloride, plasticizers, and stabilizers. When compressed together, they provide a stable, water-resistant material that's most often found in luxury vinyl planks.
What is WPC?
WPC stands for Wood Plastic Composite, or Wood Polymer Composite. It consists of a core that contains wood or wood-like materials such as wood flour, polyvinyl chloride, plasticizers, and stabilizers.
What are the core differences between SPC and WPC?
While SPC and WPC are similar, SPC consists of more calcium carbonate, otherwise known as limestone. That can provide added strength, making SPC more popular than WPC with some manufacturers.
There is not much difference in the way the two products present as final output. What makes them so popular with homeowners today is they can take on any look, yet give the advantages luxury vinyl brings to the market. Rigid core flooring can resemble wood, stone, ceramic, marble, or other unique materials that give your home pleasing aesthetics. They can be crafted into many sizes and shapes, which allows you to let your personality shine through.
Because SPC uses limestone, it tends to be a bit thinner than WPC. Both are created with multilayer construction, which includes.
Underlayment or base layer – the base layer of many rigid core flooring products is designed to make installation easier and more affordable. Higher quality products will also come with vapor and sound barriers to give you more protection.
Rigid core – this is where the SPC or WPC layer resides to provide the substance of the rigid core. It's super dense, water-resistant, and offers support to ensure the final planks or tiles hold their shape.
Vinyl layer – this is the layer that determines the physical appearance of the final product. Vinyl prints are designed to look like the most popular flooring products on the market today, including hardwood, stone, and tile.
Wear layer – this protects the vinyl layer from being damaged. It comes with varying thickness layers, so it's wise to pay attention to how much traffic your flooring can sustain without noticeable damage.
UV coating – some surface areas provide protective coatings to help fight everyday damage such as discoloration.
The SPC core layer consists of limestone, which adds strength to the product. If you have heavy furniture, this added strength can prevent scratches and dents as you use it every day.
An important thing to note is that many rigid core flooring products are touted as waterproof. Keep in mind that waterproof is relative based on the situation. Will a rigid core floor react to a spill? Rigid core flooring's surface layer can provide complete protection from modern day bathroom and kitchen messes. Will rigid core flooring stand up in a massive flood where the water saturates for hours? That type of damage will impact most building materials.
As long as you have reasonable expectations of what your flooring will provide, rigid core flooring can be a welcome addition to just about any room in your home.
Why people love rigid core flooring
Although we've alluded to it throughout this article, there are a number of reasons homeowners turn to rigid core flooring when they design or remodel their homes.
Looks and versatility top the list. What holds people back from hardwood or even stone tile is the upkeep. They look great inside your home … until they don't. Once they are scratched, cracked, or damaged, it can be a long process to fix the problem. It might even require fully replacing the floor.
Rigid core flooring uses click and lock technology, which gives you flexibility throughout the design and upkeep process. You don't even have to worry about what you install this product over. It can be installed over just about any subfloor, including existing vinyl, hardwood, laminate, tile, concrete, or plywood. You won't need special equipment to install it. It's a perfect choice if you're considering a do-it-yourself project. Because the underlayment is already attached, it's an easy process where you click the planks or tiles into place, and you can start using your new floors immediately.
And the looks are short of spectacular. In some cases, it even requires experts to take a second look. Because of how the print layer is created, you may find a wider array of colors and patterns, making it easier than ever to match your decor.
What's more, rigid core flooring is one of the most affordable products on the market today. It won't require a new subfloor. It doesn't take adhesive, glue, or grout. With its click and lock technology, it can be in place in a shorter timeframe. It can even be a do-it-yourself project.
Is rigid core flooring right for you?
Everyone has different wants and needs when it comes to selecting new flooring. If you're looking for:
A water-resistant product
A product to sit over problematic subflooring
An affordable floor that won't sacrifice good looks
A product you can install yourself
Rigid core flooring may be the flooring for you.
What questions can we answer for you about rigid core flooring?