The definition of durability is:
The ability to withstand wear, pressure, or damage.
When it comes to flooring, that often tops the list of what homeowners want.
It only takes one spilled glass of red wine, one tear from a moved chair, or one ding from a dropped cast iron pan to realize how quickly your flooring can lose its new look and feel.
Yet you're still concerned with the aesthetics of the flooring. You want it to look good with your decor, and be beautiful long into the future. What ticks all those boxes? What are the most durable flooring options you'll love?
Glad you asked. We have some ideas for you.
Classic Hardwood
If you want a durable flooring option, you can't avoid one of the most popular choices homeowners make: hardwood. There's just something timeless about the look. It's also one of the most versatile, giving you options all throughout your home.
When properly maintained, you can expect hardwood to last for decades. Although they can be susceptible to water damage, today's hardwood is more durable than ever. They are easy to clean, and will stand up to just about anything your family can dish out.
When selecting hardwood, there are a few things to keep in mind.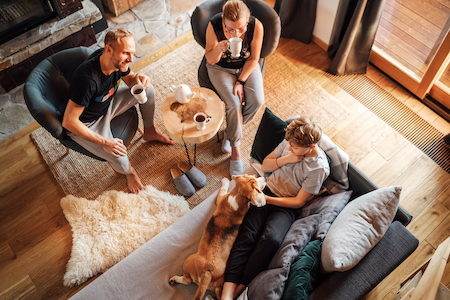 Pay attention to the wood hardness – that determines how well your hardwood floors will stand up to the test of time. The Janka hardness test ranks hardwood according to its resistance to wear and tear. Pine is one of the softest hardwoods you can install, while a Brazilian Walnut is on the opposite end with one of the hardest woods available.
It starts with a base by selecting the right hardwood for your lifestyle, but it also depends on the finish. Each manufacturer selects and uses its own technology to ensure your flooring wears well over time. Pay attention to manufacturer's guidelines for care and maintenance, and refinish your floors periodically to ensure the longevity of the floors.
Laminate
Many homeowners are in love with the idea of hardwood. Yet the more they consider adding hardwood to their homes, the more doubt they cast over having this type of flooring in place. Hardwood may not be the perfect choice in every room in your home. Its cost may also be prohibitive in some cases.
Laminate is designed to offer options when hardwood doesn't work. If you have a high traffic area, laminate may be the better choice. It's harder than hardwood, and handles well under pressure. In fact, some manufacturers offer as much as a twenty-five-year warranty against wear and tear. That can make laminate flooring a perfect choice in a growing, active family home.
Laminate also provides more durability than what a classic hardwood might. It's resistant to moisture, and will not fade from sunlight. If you have a bright, airy home with lots of windows, don't let that be your holdback when selecting your flooring.
Luxury vinyl
If you've started looking at flooring, you've probably noticed one of the fastest products on the marketplace: luxury vinyl. It comes in luxury vinyl tile (LVT) and luxury vinyl plank (LVP). Both products are durable, inexpensive, and more stylish than ever.
What draws people in is their classic good looks, and their waterproof features. Yes, waterproof. This isn't your mother's vinyl. It's designed to take on the appearance of other flooring products you've come to love – like natural stone and hardwood flooring. But it adds all the features you want in a flooring, such as durability, wearability, and lower cost.
Luxury vinyl is designed to closely mimic all types of hardwood planks and natural stone tile. When it doesn't make sense to install these classic flooring options, luxury vinyl steps up to the plate. Want to install it in the bathroom? Go ahead. Want to install it in the basement? It makes a perfect choice.
And that's really why we're seeing such growth in this product line. If you're looking for an affordable option, yet want the classic look of hardwood or stone tile, this may very well be your choice.
Tile
One of the oldest flooring choices is tile. There's a good reason for that. Tile is durable, waterproof, and provides classic looks throughout your home. You can install it in the entryway, mudroom, laundry room, bathroom, or kitchen, and never tire of the way it looks or feels.
Plus, it's difficult to ignore its good looks. Want to go bold and beautiful? Want sleek and sophisticated? Or maybe a minimalist look that blends in with the surroundings? You can create all that and more with the unlimited options you'll find with tile.
Different tiles provide different aesthetics. If you have an area prone to moisture, spills, or a lot of foot traffic, tile can be the perfect option. Work with your flooring consultant to ensure the tile you select is up for the job. You'll also be happy to know that tile handles well against fading, staining, and has longevity that can keep its good looks for years to come.
Cork
When most people think about cork, they immediately think about the little stopper in their favorite bottle of wine. Cork flooring differs dramatically. If you're looking for durable flooring that is environmentally friendly too, give cork flooring another look.
Because it's soft by nature, it's one of the quietest and warmest options you can make. That means you won't hear people coming the way you do with choices like tile or laminate, and in the heart of the winter, it can help hold in the heat. Because it has a little spring in the quality of the material, it also bounces back as foot traffic continually moves over it.
If your daily activities include walking in high heels, dragging furniture across the room, or continually using sharp instruments for your hobbies or work, cork may not be the perfect choice. But if you treat it with care, cork flooring is an easy choice to care for over the years. Regular vacuuming and mopping are all you need to keep its good looks.
You should also re-seal your cork floors on a regular basis to ensure they stay looking their best. Check with manufacturers' guidelines to understand how often you should schedule this process.
These are some of the top durable flooring choices available today.
What choice are you leaning towards?