Flooring is a personal choice. For a lot of homeowners, it isn't as much about what they want as it is about selecting the right flooring for their lifestyles.
Take hardwood, for example. You can't ignore that it's wildly popular along the Front Range. Every home decorating magazine you buy, every big box store you visit, every renovation expert you speak with will tout the positives of installing hardwood. But for many homeowners, hardwood doesn't make sense.
Why install something you know will be destroyed almost as quickly as it's laid into place?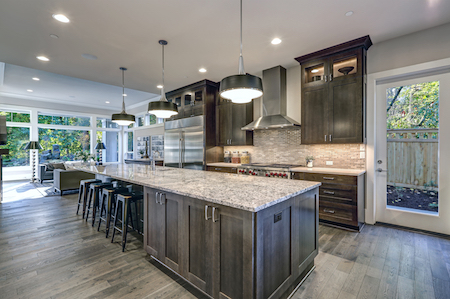 One of the latest trends in the flooring industry is rigid core flooring. It's a stylish and relatively affordable option that brings a lot of positives to the table. Rigid core flooring has two main subsections: stone plastic composite (SPC) and wood plastic composite (WPC). These two types of vinyl flooring are similar, except for their core layers.
The SPC core is made up of natural limestone powder, polyvinyl chloride, and stabilizers.
The WPC core is made from recycled wood pulp and plastic composites.
Both are considered rigid core flooring because they are created with multiple layers:
Wear layer – this is the top transparent layer that provides resistance to scratches, dents, and stains.
Vinyl layer – this gives it durability and strength. This is also where the color and pattern are printed and adhered to the product.
Core layer – this gives the product its waterproof qualities, and is either SPC or WPC.
Base layer – made from EVA foam or cork, it creates the base of the planks.
As you can imagine, each of these layers is vitally important to creating a strong, durable product that will do well in your home for many years to come. Each layer is created differently, depending on which product you select and what manufacturer you purchase from. That's why it's important to pay attention to brands, and ask a flooring expert for advice.
Similarities between SPC and WPC flooring
In the flooring industry, WPC has been around longer than SPC, with SPC being newer technology in the industry. In some ways, SPC is an improvement on the original WPC flooring. Yet both are different and make wonderful additions to your home, depending on your needs.
Both SPC and WPC flooring are:
Waterproof – that's what makes SPC and WPC vinyl flooring planks perfect for your home. If you've decided against hardwood in your kitchen, bathrooms, or basement, SPC and WPC flooring can give you the look and feel, yet stand strong against water damage. These are both perfect additions to spaces where hardwood is typically not recommended.
Durable – what makes both SPC and WPC so durable is its multi-layer construction. These products were built with strength in mind. That means they will hold up well to whatever your family dishes out, even in high-traffic areas. If durability is your focus, just look for manufacturers that create products with thicker wear layers.
Easy to install – many homeowners like the fact that both SPC and WPC products are perfect for the do-it-yourselfer. You can install both on virtually any subfloor. They also lock into place rather than utilizing messy glues for the installation process.
Stylish – both SPC and WPC offer a wide variety of colors, patterns, and styles. You'll easily find something that fits your decor. Today's homeowners love the fact that SPC and WPC vinyl planks mimic tile, stone, or hardwood, and give you the look and feel of a more expensive product in a more affordable and durable package.
Differences between SPC and WPC flooring
The core layer in SPC and WPC is made up of different materials. Because both are different products, there are some distinct differences it's worth paying attention to:
Thickness – because of the composite materials used, WPC tends to be thicker than SPC. SPC runs on average between 3.2 to 7 millimeters, whereas WPC averaged 5.5 to 8 millimeters thick.
Durability – even though WPC is thicker than SPC, SPC tends to be more durable under pressure. If you're worried about damage from high traffic or weight distribution, SPC tends to do better under pressure.
Stability – both products do well at resisting water damage, but over time SPC wins out as it offers even more resistance to both moisture and temperature variances.
Noise – because WPC offers a thicker core, it tends to absorb sound better, which can make rooms quieter when walking or moving around.
Feel – WPC provides a better feel underneath. The thicker core offers more support and cushion underfoot.
How to shop for WPC and SPC vinyl flooring
Are you starting to see the benefits of these two products?
As a homeowner, think of WPC in a similar manner as if you were purchasing a plush carpet. It looks great and feels great underfoot. That makes it a perfect choice in a room where you want softness and warmth, yet went the look, feel, and easy maintenance of more traditional flooring. Whether you prefer tile, stone, or hardwood, WPC vinyl flooring can give you exactly what you're looking for.
If you have more extreme conditions, SPC vinyl flooring is a good choice. It's no wonder it's growing in popularity in commercial spaces. It offers all of the benefits associated with traditional vinyl flooring, but adds the virtually indestructible core that gives it longevity. It keeps going, no matter what you dish out. It can handle moving furniture around without showing dents and scratches. It can take high traffic from an office space where people come and go all day long. No matter how much traffic you see, the SPC core bounces back.
Keep in mind that different manufacturers sell WPC and SPC vinyl flooring using different names. You might see it listed as:
Rigid vinyl planks
Enhanced vinyl planks
Waterproof vinyl flooring
Engineered vinyl flooring
Be sure to inspect it thoroughly to understand what the core layer is made from to determine which product you're getting. And if you have any questions, just ask. A flooring consultant should be able to answer all your questions to your satisfaction. If not, find someone who can.