Are you on the hunt for new flooring for your home? Most homeowners start out with a list of features they're looking for. Your's may look like this.
You want:
A beautiful floor
One that wears well with all your family can dish out
One that's easy to care for
Adds value to your home
And won't look shabby just a few weeks after being installed
You're not sold on hardwood. Carpet is off the list. But what else is there?
Maybe it's time to learn more about rigid core flooring.
What is rigid core flooring? 
Rigid core flooring is an engineered vinyl floor that has enhanced construction for durability and stability. A rigid core will be a solid plank with less pliability, and provides more strength when installed underfoot. It's an improved version of the traditional vinyl flooring you may have grown up with.
Think of it as marrying vinyl and wood flooring together to give you a dynamic flooring product you'll be proud to display in your home.
When you start shopping for rigid core, you'll find manufacturers carry several different rigid core vinyls. The difference is in the construction.
WPC – wood plastic composite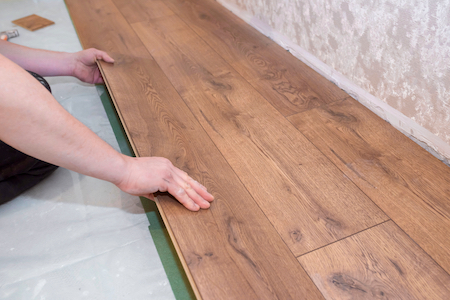 If you're still in love with hardwood, yet want something that will stand up better to wear and tear, WPS rigid core flooring may be the solution. WPC vinyl uses wood pulp, plasticizers, and a foaming agent to create a waterproof core built for strength and stability.
WPC is fabricated into a multitude of looks and designs, making it design friendly based on your needs. It has an easy click into place installation that is perfect for the DIY market.
WPC is also one of the most budget-friendly vinyl floorings on the market. If you're thinking of sheet vinyl to save on costs, take a look at WPC – the options may be just what you're looking for.
SPC – stone plastic composite
Think of SPC as a step up from WPC. It's engineered luxury vinyl that combines limestone and stabilizers to create an extremely durable flooring option. It offers a 100 percent waterproof option, and combines it with a sturdy core that holds up well to scratches, dents, and other daily wear marks.
SPC has a sturdier core, which gives it an advantage if your home undergoes a lot of changes during the year. Do you have a damp, cold basement in the winter months, followed by a hot humid location in the summer? SPC stands up to it all and looks great in the process.
SPC also has a dense core and thickness, meaning it offers comfort if you stand on your feet all day. Pay attention to the core, and you'll find one with an upgraded comfort factor that will give you noise control at the same time.
Hybrid – this has been produced with laminate and vinyl features
Manufacturers are constantly moving new products to market. As they develop new materials that are stronger, more durable, and look better than previous flooring products, they introduce them as a new option for your home decorating needs.
One of the latest technologies is a hybrid vinyl flooring. It gives you what you love about laminate, married with the best attributes of vinyl.
You'll find hybrid rigid core often has a commercial grade wear layer that is scratch resistant and can stand up to high traffic situations.
The design layer is the same realistic layer you'll get with laminate, and can be upgraded to both classic and exotic looks. Love scraped hardwood? Not a problem with hybrid rigid core.
It also comes with a waterproof core, giving you flexibility in where it's installed.
Is rigid core vinyl flooring good?
It's vinyl. Still having trouble with that concept? A lot of homeowners start out that way when they first start researching rigid core flooring.
And we get it. If you grew up with traditional vinyl flooring, it's hard to move past that traditional sheet vinyl mentality.
Rigid core vinyl flooring is nothing like its predecessor. It's emerged as one of the leading flooring choices in residential and commercial applications. In fact, today's rigid core can mimic wood, stone, and other flooring products so closely, even experts have to take another look to see that it's not "real."
You get the look you desire, without having to sacrifice on ease of use. Who wants a beautiful floor when you have to spend time each day keeping it that way?
Rigid core flooring gives you the benefits of both. And it does it very well.
If you're looking for traditional flooring – hardwood or stone, classic looks that stand the test of time – you won't be disappointed. You'll find many representations from a variety of manufacturers.
Maybe you want to change things up – how about exotic hardwood? You'll have choices here too. How about an African acacia, or a Brazilian tigerwood? The variations in the wood will leave you breathless. And what's even better is you won't have to chop down a tree to achieve it. Hardwood is harvested from resources that can take decades to produce. But because rigid core is created using manufacturing processes, it doesn't put environmental concerns at risk.
If you love a more rustic look, you'll find that too. Hand-scraped, reclaimed, or brushed looks are easy to find when you look at rigid core.
It even goes a step beyond and offers you the look of stone – without the weight or the cost. In fact, you can find just about any look you desire. The latest concrete look can be achieved easily using standard plank style installation.
Want to learn more about rigid core flooring?
The best place to start is by stopping by and taking a look at the rigid core flooring we offer. We can show you the difference between the different materials, help you narrow down your selections, and even allow you to take a few samples home to determine which is right for your needs.
Want to do it yourself? Or do you prefer to let a contractor handle the job? We can help with that too, no matter which method of installation suits your needs.
We can also share with you our extensive knowledge about different manufacturers and product lines – something you won't find at the big box stores. We'll help you find the right flooring for your needs, and ensure you're happy with your purchase long after it's initially installed.
What are you waiting for? Get started with rigid core flooring today.