Peanut butter and jelly. Horse and carriage. Durability and wood flooring?
When most people describe wood flooring, they have a lot of good things to say:
It's aesthetically pleasing
It's classic
It's long-lasting
It adds value to your home
It's environmentally friendly
All are great reasons for pushing wood flooring to the top of your wish list.
But what about durability? What's the most durable wood flooring available today? What options do you have when finalizing your selection?
Finding durability in wood flooring
First, let's define what wood flooring is. Many put it into two columns: Solid wood or imitation (fake) wood.
Yet the split goes even deeper than that.
Solid wood is solid – it's made of a single piece of wood crafted from the core of a tree.
Engineered wood flooring is crafted from a solid hardwood veneer applied on top of a plywood core. It's wood – the core is crafted from wood byproducts pressed together for strength and durability. The veneer top is solid wood, providing the aesthetics and durability of wood. It's not fake or imitation – just a different way of presenting wood flooring.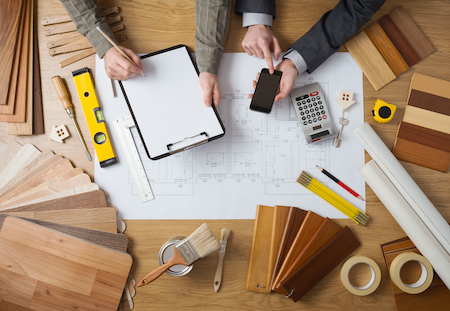 Of course, there are other products that are designed to give you the look of wood flooring, with the durability of another product. Think luxury vinyl planks, laminate, or even tile. They aren't fake or imitations – they provide aesthetics people want using a different core structure.
You've settled on wood flooring. You know it will look great inside your home. Now it's time to decide on which to buy: solid wood or engineered?
Engineered hardwood flooring may be less susceptible to environmental changes than traditional solid hardwood flooring
This is due to its unique construction. Engineered hardwood comprises multiple layers of wood bonded together under heat and pressure, with a top layer of hardwood veneer. This layered construction gives engineered hardwood several advantages over traditional solid hardwood.
First, the inner layers of engineered hardwood are made up of high-density fiberboard (HDF) or plywood, which are more stable and less prone to expanding and contracting with changes in temperature and humidity. This stability helps prevent warping, buckling, or gaps from forming between the boards.
Engineered hardwood is also more resistant to moisture because of its construction. The top layer of hardwood veneer is finished with a protective coating that helps repel moisture, and the inner layers are naturally less susceptible to water damage than solid wood. This makes engineered hardwood a better choice for areas with high humidity or moisture, such as basements or bathrooms.
But solid wood flooring excels at lifespan
Solid wood flooring is made from a single piece of wood, while engineered wood flooring is made up of several layers. Over time, every scuff, ding, or dent can take its toll on the surface. Within a few years, your floor might start looking a bit dingy.
This is where solid wood flooring excels. It can be sanded and refinished multiple times over its lifetime. Solid wood flooring typically has a thicker wear layer than engineered wood flooring, which means that it can withstand more wear and tear before needing to be replaced. When ready, sand the surface down and apply new stains and acrylic. Voila! You have "new" floors!
In contrast, engineered wood flooring has a thinner wear layer, meaning it cannot be sanded and refinished as often as solid wood flooring. High-quality engineered wood can sometimes be refinished a time or two, but less than solid hardwood.
It is important to note that both solid and engineered hardwood are crafted from wood. Neither will perform well with significant flooding or water damage.
If it all comes down to installation, engineered flooring may win
Are you looking for a do-it-yourself project? Do you need flooring installed quickly? That may push which product to choose, with engineered flooring coming out on top.
Engineered wood flooring is typically more economical because it isn't crafted from  solid core hardwood. It has the flexibility of being crafted from different resources, making it easier for manufacturers to create.
Because of how it's created, it often comes as click-and-lock flooring. This means it floats above the subfloor, with the edges locking together to create one solid surface.
Solid wood flooring must be nailed, stapled, or glued to the subfloor. That adds to the complexity, meaning the installation process may take longer.
Durability – when it comes down to strength
No matter which wood flooring option you choose, what matters most is its resistance to scratches and ding. When you walk across it with shoes on, will it scuff and leave a mark? When you drop a heavy object, will it show?
That depends on:
The wood used – species of tree
The finish – what topcoat is used on the surface
Austrian-born American researcher Gabriel Janka created the Janka Hardness Test to determine the resistance of a sample of wood.
The Janka Scale measures pounds of force needed to project a steel ball halfway into a piece of wood. The higher the Janka Scale ranking, the more durable a wood is.
However, this shouldn't be the only test. The hardest wood might not make an excellent floor. It's difficult to cut and install, and may be too hard for functionality.
The most popular choices we use today include:
Oak – rated around 1300
Hickory – rated around 1800
Mahogany – rated around 2200
Maple – rated around 1450
Durability is more than hardness. It also includes water resistance, compression resistance, and overall functionality.
Which wood flooring is the most durable option of them all?
If you're starting to sway between different styles and products, that's okay. So many flooring choices are on the market because there isn't a correct answer.
Start with your personality and desires. What appeals to you more: solid wood or engineered?
What color do you want? What topcoat works best with your lifestyle?
The more questions you ask, the easier it is to narrow your choices down and come up with a perfect solution to suit your needs.
We can help. Stop by and view dozens of options. Bring in your questions, and we'll help you find the perfect wood flooring for your home.