Cork flooring – does it still seem to be a mystery you're not quite sure of? When someone mentions cork flooring, do you hesitate and become a bit skeptical?
Don't worry, you're not alone.
Let's start by getting one thing out of the way. This isn't the cork you're familiar with in wine bottles or bulletin boards. The cork used for flooring is pretty amazing stuff.
The history of cork flooring
Cork has been used for centuries as a building material, but it was only in the mid-19th century that the first cork flooring was developed. A Spanish company was looking for a use for the waste cork generated by the wine industry, and the rest, as they say, is history.
In the early years, cork flooring was made by taking the waste cork, grinding it up, and mixing it with resins and other binders to create a corkboard. This material was sliced into tiles, which could be used for flooring.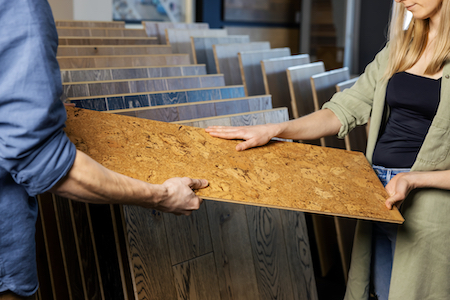 These first cork floors were not very durable, and they were also quite expensive. But over time, manufacturers found ways to improve the quality and durability. They played with different colors and patterns to make it more aesthetically pleasing.
One of the biggest advances in cork flooring technology came in the 1920s, when a German company developed a way to press cork granules into tiles without using binders. This produced a more durable and resilient flooring material that was also more eco-friendly.
Mid-century cork flooring became popular in North America and Europe, particularly in public buildings such as schools and hospitals. It was valued for its sound-absorbing qualities, as well as its natural warmth and comfort.
Today, cork flooring remains a popular choice for homeowners and designers. It is still made from waste cork, making it sustainable and eco-friendly. It is also valued for its durability, insulation, and sound-absorbing properties. And with technological advances, it is now available in a wide range of colors, patterns, and textures to suit any design aesthetic.
What to look for when purchasing cork flooring for a long lifespan
Think cork flooring may be for you? If you're interested in buying and installing cork flooring, keep these tips in mind to help ensure that you get the longest lifespan possible out of your investment.
Start by purchasing high-quality cork flooring
Like every product you purchase, there are different levels of quality. Do you care solely about price, or is quality higher on your list? Different manufacturers will provide different products. Things to consider include:
Thickness of the wear layer – this is the top layer that protects against wear and tear. High-quality cork flooring will have a thicker wear layer, making it more resistant to scratches and dents.
Density of the cork material – the density can impact its durability and lifespan. Denser cork will be more durable and resistant to compression.
Quality of the finish – the finish impacts its appearance and durability. Higher-quality finishes will protect the cork from scratches and stains.
Type of adhesive used – adhesive can impact performance and longevity.
Choose the right type of cork flooring
Like other flooring materials, manufacturers create cork floors in several distinct ways.
Glue-Down Cork Tiles – these tiles are glued directly to the subfloor. They are the most traditional type of cork flooring and are available in a range of colors, patterns, and thicknesses. They make a highly durable floor, and provide excellent insulation and soundproofing.
Click-Together Cork Planks – cork planks snap together using a tongue-and-groove system similar to luxury vinyl tiles or laminate. They are available in various colors and patterns and are typically thicker than glue-down tiles. Click-together cork planks are easy to install and can be a good option for DIYers.
Floating Cork Floors – like click-together cork planks, these are installed without adhesive. They float over the subfloor, held together by interlocking edges. Floating cork floors are easy to install and can be a good option for areas where moisture is a concern.
Cork-Backed Vinyl Planks – cork can be used in various levels of production. Some vinyl planks have a cork backing for added insulation and soundproofing. They are available in multiple colors and patterns and can be a good option for areas where moisture is a concern.
Prepare your subfloor
What makes high-quality flooring and provides the longest lifespan isn't always about flooring products. You can have the highest-quality product, but if installed on a subpar subfloor, it could show signs of wear shortly after installation.
Before installing your cork flooring, make sure that your subfloor is clean, dry, and level. Any imperfections in the subfloor can cause problems down the line, so take the time to prep it properly. This is where it pays to work with a reputable flooring company that will do the job correctly the first time. They will also make recommendations to ensure you love your product from the moment it's installed and for years to come.
Follow the manufacturer's instructions
Reputable manufacturers carefully craft their flooring products to stay looking good throughout the life of the floors. They understand what it took to create it, and have thoroughly tested it to know what it takes to keep it looking its best.
Make sure you follow the manufacturer's instructions, as this will help ensure that you install it correctly and that it lasts as long as possible. If they provide special instructions, follow them to ensure your warranty stays in effect for the life of the guarantee.
Maintain your cork flooring
Flooring isn't something you can install and forget about it. Keeping it looking takes regular cleaning and maintenance.
You'll need to follow the manufacturer's guidelines to get the longest lifespan possible out of your cork flooring. This means cleaning it with approved cleaners and following their outlined schedules. Just because you find a cleaning product in your favorite big box store doesn't mean it works for all flooring types. Err on the side of caution when placing anything on your flooring.
Keep it clean and free of debris, wiping up spills immediately, and using furniture pads to protect it from scratches. It's really as simple as that.
Is cork flooring right for you?
If cork flooring has come up on your radar and you're considering it for your home, by all means, come in and take a look. We think you'll fall in love with the styles and colors. The aesthetics make it a perfect choice for many homeowners. And by following these few simple tips, you can help ensure your cork flooring lasts for many years.
How can we help you select the right cork floors for your home?