Linoleum was once a popular flooring choice for modern homes. It was a good choice for homeowners who wanted an easy-to-clean, easy-to-care-for option.
Then flooring manufacturers started producing other options that grew in popularity. Carpet. Hardwood. Luxury vinyl.
Yet today, more homeowners are returning to linoleum. Why? Because linoleum is a great choice for building a healthy home.
What is linoleum?
Linoleum is a flooring material crafted from natural materials, including linseed oil, cork dust, wood flour, and jute. It was first developed in the mid-19th century as a durable and relatively inexpensive alternative to other types of flooring, such as hardwood or tile.
Linoleum is created by mixing natural materials and pressing them onto a backing material.
The key ingredients are linseed oil, wood flour, cork dust, and jute. These ingredients are mixed in specific proportions to create a homogenous mixture. Pigments are added to the mixture to give the linoleum its desired color.
The linoleum mixture is then applied to a backing material, which can be made from burlap, jute, or other materials. The mixture is spread evenly across the backing material using rollers or other equipment.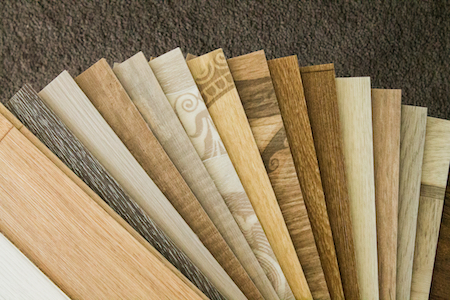 The linoleum and backing material are heated and pressed together to create a strong bond. This process can take several hours and involves applying pressure and heat to the linoleum mixture to create a smooth and even surface.
Once the linoleum is heated and pressed, it is allowed to cool and cure for several days. During this time, the linoleum becomes even stronger and more resilient, making it suitable for use as flooring. It can be cut into tiles or rolls and installed in homes and businesses.
What makes linoleum a healthy choice?
Linoleum is often considered a healthy choice for flooring for several reasons.
It's created from natural materials – Linoleum is made from natural materials such as linseed oil, cork dust, and wood flour. These materials are renewable and biodegradable, which makes linoleum an eco-friendly choice.
It produces low emissions – Linoleum does not emit volatile organic compounds (VOCs) into the air, unlike other flooring materials such as vinyl. This means that linoleum does not contribute to indoor air pollution and is a healthier choice for people with allergies or respiratory issues.
It's hypoallergenic – Because linoleum does not emit VOCs and is resistant to mold and bacteria growth, it is a hypoallergenic flooring option that may make a perfect addition to your home.
It's easy to clean – People often think linoleum is difficult to care for. That may have been the case with linoleum from a generation ago, but no more. Today's linoleum is easy to clean with just water and a mild cleaning solution, which reduces the need for harsh chemicals.
It's easy to repair – Flooring takes a beating. Even in everyday living, you scuff it with your shoes, drop a pan while cooking, or pull a chair out and take a seat. In every case is a chance to scratch, ding, or damage your flooring. And when you add up months – years – of abuse, it takes its toll on your flooring. It's why many homeowners think twice before installing flooring, to ensure it will stand up to daily wear. With linoleum, cuts and minor scratches can be buffed out and resealed without losing pattern or color. It's worth upgrading to high-quality linoleum to ensure a long life.
It's durable – Linoleum is a highly durable and long-lasting flooring option, which means that it does not need to be replaced as frequently as other types of flooring. With proper care, linoleum can last anywhere from 20 to 40 years. This reduces waste and the need for new materials.
Linoleum or vinyl – not sure of the difference
Linoleum or vinyl: Homeowners often use the words interchangeably, but there are differences. If you're looking for a healthy addition to your home, linoleum may be the way to go. Linoleum and vinyl are both popular flooring options, but there are several reasons why linoleum may be a better choice than vinyl.
It starts with the environmental impact – Linoleum is made from natural materials, while vinyl is made from synthetic derived from petrochemicals. Linoleum is biodegradable and does not release harmful chemicals into the environment, while vinyl can take hundreds of years to decompose and may release harmful chemicals into the air during its production and disposal. In both cases, it's wise to pay attention to the manufacturer and learn more about their production process.
Linoleum is the way to go if you're buying for health benefits. As mentioned earlier, linoleum is considered hypoallergenic and will not emit harmful VOCs into the air. Vinyl may emit harmful chemicals such as phthalates and dioxins, negatively affecting human health. Pay attention to production before you finalize your decision.
Durability is dependent on what you buy and your lifestyle. Most manufacturers will tell you that vinyl will last 10 to 25 years while linoleum lasts 20 to 40. This is where it pays to evaluate your lifestyle, determine the best choice for your situation, and decide which product is best to suit your needs. Linoleum often does not need to be replaced as frequently as vinyl, which can reduce waste and the need for new materials.
When you compare appearance, the two products are similar. Linoleum is available in a wide range of colors and patterns, including some that mimic the look of other flooring materials, such as hardwood and stone. This makes it a versatile choice for a variety of interior design styles.
Is linoleum the right choice for you? 
While linoleum fell out of favor for a period of time in the mid-20th century, it has experienced a resurgence in popularity in recent years as more people seek out sustainable and eco-friendly products for their homes and businesses.
Are you still excited about linoleum?
Stop by today and see our entire collection. It may be the perfect addition for your remodel.