For some homeowners, white is the ultimate color in home decor. White cabinets. White walls. White furniture. White floor.
That's just one of the reasons why whitewash flooring is growing in popularity.
According to Pantone, the leading authority on color, white is the expression of "quiet calm.:
"White is a symbol of calming influence in a frenetic society that is rediscovering the value of measured consideration and quiet reflection."
In our fast-paced, chaotic world, sometimes it's nice to come home to peace and serenity. Loud colors can be too bright. Patterns can add more chaos to an already busy life. But white offers peace and tranquility, a place to sit back and relax.
No wonder whitewash flooring is making a comeback.
What is whitewashing?
Whitewashing has been around for a long time. Originally, whitewashing was a way to protect wood from moisture, mold, and mildew. Homeowners would whitewash the wood around the homestead to give it protection from the elements throughout the year.
It's similar to painting wood. Instead of paint, whitewashing is a combination of lime and water. Lime is antibacterial, antimicrobial, and resists mold and mildew. Once mixed, it can be applied directly to wood, producing a chalky white liquid that smooths on.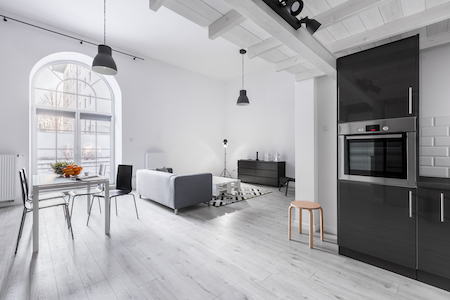 You're likely to see whitewash flooring in colonial homes, or homes on the seaboard. The whitewashed look is also a mainstay in Scandinavian design.
What makes whitewash so popular is the light, bright appearance it gives to any room. If you're trying to open up space and make it appear larger than it actually is, whitewash is a great look.
Are whitewashed floors popular?
You may remember Tom Sawyer whitewashing the fence in the beloved book by the same name. Whitewashing was ever-present during that time period because of its protection to homestead design features. It preserved wood and made it last longer, giving homeowners freedom and flexibility to spend time on other things than floor maintenance.
But over time, we as a society began inventing new flooring materials, and implementing new processes that made flooring more durable and easier to maintain. Why add whitewashing to your to-do list when a floor could remain in good condition for years without the process?
But there's still something about the whitewash look that brings back classic charm.
If you want a traditional design, whitewashing may be your best choice.
If you want light, minimalist looks, whitewashing may give you what you desire.
If you prefer shabby chic, whitewashing may enhance your design by incorporating your own personality into your home.
Luckily, whitewashing flooring of today isn't anything like it was one hundred years ago. You can choose to paint your existing hardwood flooring to achieve the look. Or you can install whitewash prefinished flooring for a classic look without the fuss.
The problem with DIY whitewashing techniques
If you do a quick search online, you can find a wide variety of sites showing you ways to achieve a whitewashed look using do-it-yourself strategies. There are a variety of resources you can find that will show you ways to complete the look with a bit of elbow grease on a small budget.
The problem with a lot of these strategies is they don't work, and they may cause permanent damage to your hardwood floors.
A lot of sites recommend painting your floors to achieve your desired results. In theory, it sounds like a good idea. How many home projects have you completed with a bucket of paint? But there are many reasons why this is a bad idea.
Paint covers up the wood, which separates the wood from the top coat you'll ultimately apply. Whereas stain penetrates the wood, paint creates a protective covering. Without the proper sealants, it'll be easy for your painted floors to chip and peel, meaning you'll be repairing your flooring more frequently.
Paint also has the right consistency to run and move anywhere it can. Instead of sitting on the top surface, it'll seep between the cracks and move to the sides and underneath the planks. When you decide to refinish your floors again in the future, you won't be able to sand this trace paint away. You'll be able to see the white paint no matter what you do. This means the only way you'll ever eradicate it is to rip them out and install new hardwood flooring.
Best options for whitewashing floors
If you already have hardwood flooring in place, and are interested in achieving a whitewashed look, your best course of action is to select a white stain. You can also use a white tinted sealer, which gives you added protection for your floors.
If you're looking at remodeling your home and want to install new whitewashed floors, there are a number of ways you can do this.
If traditional hardwood is a priority, work with your flooring consultant to purchase a light hardwood that will work well with a white stain. Keep in mind that different materials will provide different results. Do you prefer red tints or yellow? Are you looking for as light as possible, or do you want other tones shining through? White oak, pine, or elm all start with classic light hues that will only be further enhanced by a whitewashing look. But don't discount darker materials – even walnut can lighten up dark undertones to provide a unique look.
Other flooring materials can also give you the classic whitewashed look.
Today's luxury vinyl planks come in many different colors and hues. Plus they add durability and waterproof qualities that make it a perfect choice where traditional hardwood may be more problematic. Want it in your basement, bathrooms, or renovated home office? Luxury vinyl planks may be just what you're looking for.
Laminate can also give you the appearance of hardwood with more durable qualities. Think of this as an easy way to get the look you love, while adding durability to your home design too.
Are you ready for whitewash floors?  
Whitewash flooring may be the perfect addition to your home. Easy to achieve, easy to live with, easy to clean, you're going to love the look.
Are whitewash floors the right choice for you?