Thinking of remodeling your home? Want to upgrade your living space for better workability? For many, it starts with the question: Laminate or hardwood, which is better suited for my needs?
Selecting the right flooring material is one of the most important questions you'll ask yourself in any remodeling project. Flooring sets the stage for your entire design. Get it wrong, and you'll regret your decision for years to come.
A study by Houzz, an online redecorating resource, found that 75 percent of homeowners planning on remodeling listed flooring as one of the top projects they planned to take on.
Where should you begin?
Laminate or hardwood – an overview
When most homeowners start thinking of remodeling, their minds often turn to hardwood flooring. But in today's world, even the concept of hardwood is blurring.
Many different flooring options are taking on the appearance of hardwood. You can install luxury vinyl tiles, or even porcelain tiles that take on the appearance of hardwood. Want the "real thing" with more flexibility? Laminate remains ever-popular.
For some, only "real" hardwood will do.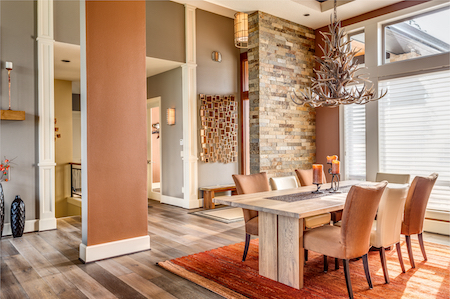 Solid hardwood flooring consists of solid hardwood from top to bottom. The boards average ¾ inch thick, with grooved edges that interlock for a smooth surface area. Most solid wood floors are blind-nailed into place. They can be installed prefinished – select your stain before you install – or site-finished, meaning the floorboards are sanded, stained, and sealed once they are laid into place.
Laminate is increasing in popularity.
Laminate flooring is manufactured with multiple layers for strength and durability. It starts with several layers of wood byproducts as a core. A printed design layer is placed on top to resemble wood and other materials. A protection layer finishes it off, offering scratch-resistance and durability to prevent it from common household mishaps. These boards often have click in place edges that allow them to snap together and hold in place. That means they're easier to install than hardwood, no nailing or gluing required.
Which is right for you?
Laminate or hardwood – pros and cons
While both laminate and hardwood can give you a floor you'll love for years to come, they each have distinct advantages and disadvantages when installed inside your home.
Appearance
It's hard to deny that solid hardwood gives you a look that's impossible to replicate. The strong lines, grains, and finishes create a rich quality that can give your home aesthetics and appeal. Style and color can be found to match anything you desire. From standard materials like oak to exotic choices like Brazilian cherry, you'll have numerous options when designing your rooms.
Because laminate is created using life-like imagery, it can take on a wide variety of appearances you might not find in nature. Looking for something lighter or darker than you've seen in hardwood? You might find it with laminate. What people usually find with laminate is a more standard approach to patterns. If uniformity is important to you, you'll find common threads throughout laminate materials. It lacks some of the originality you'll discover when laying a floor made with natural hardwood.
Longevity
When maintained properly, hardwood floors can last for decades. Hardwood has the distinct ability to be able to be sanded down and refinished when the surface scratches, dents, or even stains. That makes it an investment that keeps on giving for many years to come. Keep in mind that hardwood is susceptible to warping and damage when it comes in contact with moisture. Hardwood isn't a product that should be installed in places like bathrooms or basements. When moisture is ever-present, hardwood isn't the best choice.
Many people think laminate can be a better choice where hardwood is questionable. That isn't necessarily the case. Laminate takes on many of the same qualities as hardwood. The core is susceptible to damage in moist conditions. It has the added issue of having a top image surface instead of real hardwood, which means it can't be sanded down and refinished. Laminate must be replaced if it's damaged, warped, or scratched. But thanks to its cost, it makes a welcome addition to many homes who are looking for appearance in the short term.
Green, eco-friendly design
Want a green, eco-friendly material to improve sustainability inside your home? There are many ways to make solid hardwood more sustainable. Reclaimed hardwood is growing in popularity. This is repurposing existing wood previously used in building. Many forests are now sustainably resourced and farmed as a crop. That means for every tree that is harvested, new trees are planted and maintained. Just look for seals like Forest Stewardship Council (FSC) to ensure your hardwood is sourced using sustainable guidelines.
Many assume laminate wins in the sustainability race because it isn't sourced from forests. This isn't necessarily the case. Laminate is created using composite processes of mixing wood products with resins and glues. This can increase VOCs and create off-gassing. This is where it pays to do your research. Ensure you select high quality manufacturers who develop products without questionable material. We can help you find the right product to suit your needs.
Installation
Installing hardwood isn't a process that happens overnight. It's also not a good choice for installers who wish to have a DIY project. Solid hardwood takes time to install. It must acclimate to your surroundings for a few days before it's installed. Nailing or gluing means it takes experience to understand the process. If you don't have expertise in finishing work, the surface area may not look like a quality finish. Prefinished planks aren't as fussy as site finished, but it still takes expert guidance to lay each plank into place.
Laminate is very easy to install – it's the perfect choice for a do-it-yourselfer. Laminate comes in click and lock technology, which means the surface area floats over the subfloor. It's more forgiving if you make mistakes, and can even be taken up and reinstalled if you have a problem. That also means laminate can be used below-grade in basements if you don't have a high moisture issue. If you want a floor installed quickly, laminate may be your choice.
Laminate or hardwood – what's your choice? 
There is never a right choice for every homeowner. It depends on your needs, your style, and what you're looking for.
If you have questions about laminate, hardwood, or what's the best choice to suit your needs, we can help you finalize your decision, and pick the perfect flooring for your home remodeling project.