One of the most high-traffic areas in your home is the kitchen. That's probably why you hear so many experts tell you hardwood flooring in the kitchen isn't a good idea.
But is that true?
Think about all the action that happens in the kitchen. You cook. You bake. You eat. Food and liquid hit the floor on a regular basis.
At dinnertime, it's one of the busiest, dirtiest places inside the house.
That's why flooring choice is so important.
You want to couple durability with aesthetics, giving you a room you'll love to spend time in, and one that functions well too.
Hardwood is one of the most popular flooring choices. According to a National Association of Realtors Remodeling Impact Report, 78 percent of consumers who installed wood flooring had a greater desire to be in their home. And as an investment, new wood flooring had 106 percent cost recovered when selling a home.
So why not the kitchen?
If you dig deep into what designers really think, you'll quickly discover that hardwood in the kitchen isn't as taboo as you might think. In fact, there are many benefits to using hardwood in the one spot your family spends countless hours in.
Create a uniform floorplan
A lot of homes across Colorado utilize an open concept floorplan, which has been popular for many years. Instead of closing off every room with a door, openings and entries allow you to flow naturally from room to room. Living rooms, dining space, kitchens – they all flow together to allow easy living. And as such, it only makes sense to install the same flooring throughout.
If using hardwood in other areas, only to transition to tile or vinyl in the kitchen has left you cold in the past, now is the time to rethink your flooring strategy. With the advancements made in hardwood flooring technology, there's no reason to stop hardwood at the starting point of your kitchen. It disrupts the flow and creates a choppy design – that's not the way to create appealing aesthetics throughout.
Hardwood is one of the most durable floors you can install
Why do so many people install hardwood flooring? Because it can last for decades if well cared for.
People are even seeking out reclaimed wood that was recovered from old barns and structures, refurbishing them and using them to add personality to their homes.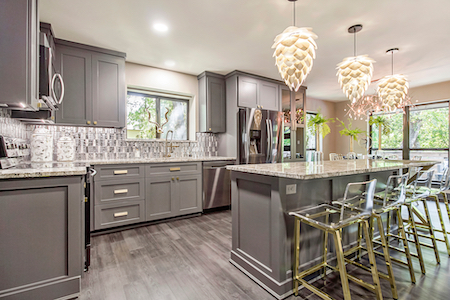 When you bring hardwood into your home, and use a protective seal to protect it, you're giving your floors strength to withstand all your family can dish out.
In the kitchen, that can include dropped pans, leaky containers, and the occasional food spill that causes a sticky mess. Today's sealers offer enough defense to make any cleanup easy, and prevent it from doing further damage.
Think hardwood can't stand up to all your family can dish out? Check the warranties of many of today's top lines. They offer years worth of protection. If they provide the warranty, isn't that one more reason for you to consider hardwood in the kitchen?
It's easy to clean
Kitchens get messy. There's no avoiding it.
It isn't a place to worry about every time you drop a spoon. Luckily, you don't have to.
Today's finishes and sealers protect against a variety of daily mishaps. With a damp cloth and quick action, you can prevent staining and damage just by wiping it up. That's all it takes for daily maintenance.
You can vacuum the floor weekly to ensure all crumbs are picked up and pushed from the corners. If you prefer to mop, do so with it carefully wrung out – excessive moisture isn't good for hardwood, especially if it's allowed to sit.
And when the time is right, hardwood gives you another advantage – it can be refinished multiple times. A professional can come in and sand it down, fix any damage, and apply a new coat of stain and sealer. Then you're ready to go once again, and can enjoy your hardwood flooring all over again. It's the one floor that keeps on giving throughout the years.
It's easy to install
Hardwood flooring has been used in homes all across the world for decades. That means installers have a lot of experience with installing hardwood, and understand how to blend it with other flooring materials inside your home. Whether you choose to match it up with hardwood already in place, or remove old flooring and start with a clean slate, a hardwood specialist will be able to create the look you're striving for.
It's environmentally friendly
Going green may be a buzzword in the home renovation business, but if you're striving to make your home cleaner, more chemical-free, hardwood may be just the thing to install.
Natural versus human-made – the closer you can get to nature, the more assured you'll be of the impact it has on your family. Pay attention to the entire life cycle; does the manufacturer use sustainable processes throughout? This included production, manufacturing, and what happens to materials at end of life.
Is hardwood flooring in the kitchen right for you? 
We've had clients wait years to install hardwood throughout their living space out of fear of what would happen in the kitchen. They installed vinyl and hated it. They've laid tile into place only to turn around and tear it out. When they finally settled on hardwood, matching it to the floors in their living room, dining room, and family space, that's when they felt their homes were complete.
If you've been stalling on adding new flooring to your home because you weren't sure if hardwood was the right choice for your kitchen, put your doubts aside.
Hardwood is more than doable in any kitchen with today's product lines. And you'll love the results.
Isn't that what home design should be?
The chance to let your personality shine, and create the look that's perfect for your tastes.
Don't be afraid of hardwood. It might just be the best material you've ever installed in your kitchen space.