Are you ready to add new floors inside your home? Have you been dreaming of hardwood for years, and are finally ready to have them installed? Before you make your final selection, there's another decision: Do you want prefinished or site finished hardwood flooring?
While it might seem better to select prefinished, picking out what you want inside the store, each choice has pros and cons. Before finalizing your decision, pay attention to the differences to discover what truly is the right choice to suit your needs.
What is prefinished hardwood flooring?
Prefinished hardwood flooring takes the "what you see is what you get" philosophy to flooring design. It allows you to shop manufacturers and supplies inside the store, knowing exactly what you'll get once you bring it into your home.
When prefinished hardwood planks are created in manufacturing, they are cut to size, stained, and sealed with a polyurethane topcoat before being shipped to your local flooring dealer. The boards come fully intact with a highly durable and scratch-resistant coating.
Because this method is ever-popular, you'll be able to find prefinished hardwood planks in many different materials, stains, finishes, and sizes, all ready for you to take home and start installing.
What is site finished hardwood flooring?
While site finished flooring may have been the norm years ago, it's making a comeback among homeowners and designers. Site finished hardwood flooring is precisely what it sounds like – it installs hardwood on your floors before the finishing process, with staining and sealing performed after the planks are installed.
Installers will lay unfinished wood planks down first, sand the floor, and then apply stains and sealants to finish the flooring. While this is historically how hardwood has been laid into homes for generations, there are still benefits to doing so today.
The pros and cons of prefinished hardwood flooring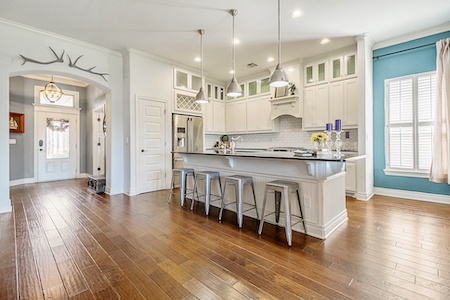 For some homeowners, only prefinished hardwood flooring will do. There are lots of benefits to selecting prefinished hardwood.
What you see is what you get – if you're a visual person, selecting prefinished hardwood planks is the perfect choice to suit your needs. You can pick the material – oak, hickory, or maple – and select the stain – light, medium, dark. You don't have to visualize it from a tiny square on a paint chart. Instead, you can get sample planks, bring them home, and live with them for a few days. See how the different styles feel with your surroundings, and choose the right look for your lifestyle.
Faster installation – Because the boards have already been stained and sealed, you won't have to wait for the sanding, staining, and sealing process. Once the boards are laid into place, you'll be able to move your furniture back in and get on with life.
Durable – prefinished hardwood has the advantage of being created in a plant, meaning they have perfect controls to ensure every hardwood plank is curated according to specific specifications. The top layers can have one of the most durable sealants applied – no worries about how fumes and chemicals will impact those around during the processing. They can also use UV lights for curing, making the topcoat one of the most durable on the marketplace.
More options – because prefinished hardwood is growing in popularity, you'll have a wide array of colors, styles, and sizes to choose from.
Less customizable – while prefinished hardwood may give you an array of colors and styles to choose from, you'll never be able to match what site finished offers. If you have a specific color in mind, finishing the flooring on-site allows the installer to mix and match products to achieve exactly the look you're going for. No more choosing between a too light and too dark stain – you can mix it to your specifications.
More difficult to sand and refinish in the future – while prefinished makes your first install a snap, it can increase the difficulty for future refinishes. Hard coating installed in the factory can be more difficult for refinishing in the future. It can also be tougher to fix damage without ripping up the entire floor.
The pros and cons of site finished hardwood flooring
While prefinishing gives you a variety of options, site finished makes just about anything possible.
Customize to your heart's content – if you've ever walked into a paint store and looked at your options, you know there are many different colors for you to choose from. Prefinished planks are created based on customer preferences. They select the colors and stains that people buy the most of. That can lead you to accepting something less than perfect. With site finished planks, any color goes. You can get richer, deeper color combinations. You can mix and match and come up with any style you choose.
Solid surface and no beveled edges – prefinished planks are designed for quick production and installation. They have beveled edges to make installation a snap. Not sure if you like the look? Then site finished will give you a smooth look. This means it can be sanded to a smooth surface with little or no separation between the planks. This also gives you better coverage, with stain and sealer spreading across the entire surface, meaning even the seams will have protection.
Refinishing is easier in the future – because stain and sealant are installed across your entire flooring, the smooth surface will make it easier to refinish down the road. Solid wood floors last for years. But knowing you can sand it down and start over whenever you choose to update your look makes it even more worth it today.
Timing – the biggest drawback to site finished hardwood flooring is its time for installation. Every piece of production is performed inside your home. Installing the planks, sanding it for uniformity, staining it your desired color, and adding sealant and topcoat for protection – it's all performed on site. With curing and drying times, be prepared to wait between each step. This isn't a process that can be rushed.
Which is the right choice to suit your needs? 
Prefinished or site finished – what's best for you? Luckily, both options are available to allow you to select what's right for you.
Both can give you the floors of your dreams. It's just a matter of which is better suited for your lifestyle.
How can we help you make the right choice for your home remodel?