Choosing flooring is a critical decision for both design and functionality. When a homeowner decides to remodel a room or renovate an entire house, flooring sets the stage for personality and lifestyle.
Of course, you have different options. You may love the stone tile you've seen in your local decorating magazine. Or have loved the new carpet installed in a friend's new media room. But is it the right choice for you? Will it serve all of your needs?
For homeowners today, there are a plethora of choices when it comes to buying and installing new flooring. But only one stands above the rest as one of the most requested and well-loved flooring choices: Hardwood.
If you're dreaming of new hardwood floors in your home, the choices don't stop once you've set your eye on the target of hardwood. All hardwood flooring isn't created equally. Yes, color will be an essential choice. Yet durability and performance are equally important.
Where do you start? And what's the best season to complete your flooring project? What should you know before you say "yes" to new hardwood floors?
Let's start with when – What's the best season for new hardwood floors?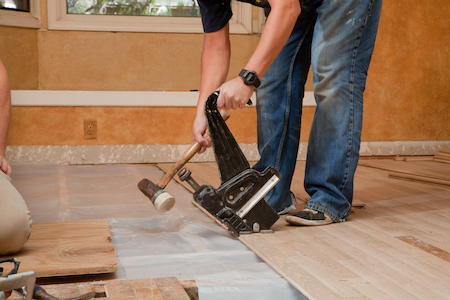 Ask four people about the best season for installing new hardwood floors, and you'll likely hear four different answers. And in most cases, they'd all be right.
For many reasons, fall is the best season to install new hardwood floors. That's because autumn is the start of new beginnings. Most homeowners wind down their outdoor summer projects, and start looking for indoor activities. You have weeks until holiday festivities begin, which means a little more downtime. The kids are in school, projects at work seem steady and stable. Autumn is a great time for getting your rooms fixed up and ready for holiday company.
If autumn doesn't work for you, don't let timing hold you back. The main thing to watch out for is dry environmental conditions. Colorado tends to be dry throughout the year, which means humidity levels can be low inside your home. No matter when you decide to install new floors, it's important to introduce the hardwood planks before installation day, and let them acclimate to your indoor environment. That ensures they are properly conditioned before they are placed inside your home.
Choosing new hardwood floors
Now that you've settled on the ideal time to install new hardwood floors, it's time to choose the right materials.
Traditionally, hardwood floors were created from thick solid planks of timber. Today, you'll have a variety of choices when selecting your final flooring.
Solid hardwood is still widely acceptable – it's a choice many homeowners can't imagine living without. Still, solid hardwood isn't always the best choice for your situation.
Many companies now offer engineered hardwood that is equal to more traditional flooring choices. Engineered hardwood is created from planks with a thinner top layer of hardwood, bonded to other layers that provide strength and durability. It also offers options when hardwood flooring might not be the most logical choice.
Colorado homes almost always have basements. If you've ever had a flooring expert talk you out of hardwood planks, it's for a good reason. Basements, condos, and apartment buildings are often built with concrete flooring. Traditional hardwood planks are typically installed over one or two subfloors, which raises the height of the flooring and can interfere with doors. Engineered flooring can be glued directly to concrete, meaning you won't have to raise the existing flooring in order to have a subfloor to lay traditional planks down.
Engineered hardwood is also perfect for radiant heating. If you're looking for a new way to heat your rooms, radiant heating is an efficient way to keep heat near the flooring. It's also perfect for rooms where you might be hesitant on hardwood because you worry about stepping on it and bare feet in the cold winter months.
If you choose engineered hardwood, be careful with the width of the top layer. Some manufacturers create the top veneer level so thin that it can't be sanded and refinished in the future. While engineered will never give you the longevity of traditional hardwood planks, higher quality engineered planks can be sanded and refinished several times, giving you a flooring choice you'll be able to live with for many years.
Prefinished or site finished
Hardwood planks can be purchased in one of two ways: prefinished or site finished.
With prefinished planks, what you see is what you get. You'll select the type, style, and color based on what you find on the showroom floor. You'll be able to choose the finish with the stain and topcoat already in place, which means no surprises with a finished look you didn't plan on.
By going with prefinished, your project will be completed in a shorter time period. Once the prefinished planks are installed into place, you'll be able to get back to living immediately.
With site finished, unfinished hardwood planks will be installed. Then the stain and finish will be applied once all of the hardwood planks are installed into place. The advantage of site finished is the entire surface area receives stain and finish after installation. Because an installer can mix different colors together, the possibilities are endless for how your finished floors will look. This is the perfect way to do it if you're trying to match another color.
Site finished also gives you the advantage of installing sealant after all planks are in place. This creates a tighter seal, protecting between the planks as well as the planks themselves. This can be especially important in a busy household where more messes become commonplace. While hardwood will never be waterproof, with the proper sealant, it can offer years of protection, keeping your floors looking good no matter what you or your family members dish out.
It's here – the perfect season to install new hardwood floors
If you're ready to install new hardwood floors, make today the day you move forward and do something about it.
While some would argue there's a perfect season to install new hardwood floors, we'd say that the best time is when you're ready for a change in your home.
How can we help you select the perfect hardwood floors?