I was watching one of those design shows the other day. They talked about doing a complete home remodel from top to bottom – the house was in really bad shape.
When they got to the floors, one sentence was used to explain it all:
And we'll lay hardwood floors throughout.
Yep, that's it. And unfortunately, we hear that a lot when we speak to customers about their plans for adding new flooring to their homes. They often come in with one thing in mind: installing hardwood. But what they quickly discover is it's a lot more complicated than that.
What type of hardwood flooring are you going with?
There may have been a time when hardwood was hardwood, but that day has long since past. Today, the lines are blurred as to what hardwood really is. Yes, you can still install traditional hardwood, often made from oak, pine, or ash. But other options are almost endless.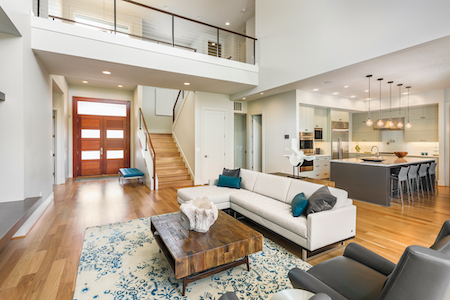 How about exotic hardwood? You can go as light or as dark as you wish.
When traditional hardwood isn't right for your space, you may do better with laminate wood. Laminate is a wood product made of several layers to add strength and durability, where a more traditional hardwood plank may not be the best choice.
How about luxury vinyl tile? Thanks to modern technology, luxury vinyl tile can now be purchased in plank, and have such realistic looking graphics, it's difficult to tell it's not the real thing. This is a perfect choice for rooms where hardwood doesn't hold up well, such as laundry rooms or bathrooms.
If you prefer something more sustainable, why not give bamboo a try? Technically, bamboo is a grass, not a wood product. But it still performs just like hardwood, and has classic good looks you're going to love from the moment you install it.
What about tile? Even tiles are being manufactured in plank format, giving you the look of hardwood with the durability of tile. It can be the perfect choice for bathrooms and kitchens, where you're looking for something more durable than traditional hardwood.
What is the driving factor for purchasing your new flooring? 
We all enter into a purchase with an ulterior motive. For some, it's all about budget. For others, it's about satisfying a lifelong dream of creating the perfect home.
Why are you changing out the floor in your home? That can easily dictate the type of flooring product you invest in.
For example, if you shop with a budget in mind, start with that as your goal. Hardwood and bamboo are going to be more expensive than products like luxury vinyl tile. If you're fixing up a home and turning it into a rental, luxury vinyl tile may be the perfect choice to add style for renters, yet stay reasonably priced, knowing you'll be replacing it more frequently than in other living conditions.
What is your everyday lifestyle like?
Can you imagine white carpet is you have small children and several pets? Nope.
Yet few people consider lifestyle before they purchase and install hardwood. Hardwood is a classic, everybody loves it. But in some homes, it just doesn't make sense.
Let's say you're a dog person. Not only do you have dogs, but you also breed them. Your home doesn't have a dog or two; you have up to a dozen or more running throughout your home on any given day.
Solid hardwood can be a finicky flooring material. It doesn't stand up well to constant cleaning. It can easily warp if it gets too wet. And it can scratch easily, something that's almost guaranteed to happen with dozens of little paws running across it on a regular basis.
Take the time to truly evaluate your lifestyle. Don't ignore it, or look past your reality. Instead, focus on getting a fully functional flooring that suits your needs … and looks great in the process. There's never been a better time to marry the two together.
What are my long term goals?
Are you designing your forever home, a place you see yourself living for decades to come? Is this a stepping stone – you'll live here for a few years before you're off and on the next great adventure?
Each of those goals can lead you to a different type of flooring material.
If you're designing your dream home, by all means, select your dream flooring material. Choosing hardwood floors can be the perfect choice to give you years of pleasure.
Yet if you know you'll be leaving this home and moving in the foreseeable future, you can select flooring with other things in mind.
What about resale value? Ask any realtor and they will tell you that one of the best flooring choices is hardwood. It can give you up to an 80 percent return on investment, as new home buyers love to walk into a home with a beautiful wood floor.
What about sustainability and environmentally friendly materials? 
Are you conscious about the environmental impact of every product you bring into your home? Then you'll have a variety of options available to you as you're choosing hardwood flooring.
Bamboo flooring may be the perfect choice because of its sustainability in growing. It's a grass, not a tree, and can reach full maturity in a matter of years rather than decades. If you select the right manufacturer, you'll be guaranteed they use sustainable harvesting methods, and make conscious choices for how the material is processed.
Keep in mind that it's not just about the flooring product you choose. You can spend a lot of time researching the perfect hardwood, learning where it's harvested from, and follow the certification for the manufacturing of the final product. But if you install it with an adhesive with high (volatile organic compounds (VOCs), you're defeating the purpose.
If being environmentally friendly, or selecting sustainable products is at the forefront of your mind, let's start there. If we know that going in, we can make a variety of suggestions to ensure you stay true to your goals throughout the process.
So what's your perfect flooring? What questions do you have about choosing the right hardwood flooring for your home?