In a perfect world, you would install all new flooring throughout your house at the same time. Yet most of us don't live in a world where that's possible. Instead, we take it one remodel at a time, hoping we can match up the flooring between rooms well enough that it won't be noticeable.
If you've ever walked into a home where the flooring doesn't coordinate, you know there's more to it than a simple install.
You're ready to remodel the kitchen. You want it to flow into the living space you renovated last year. How do you ensure the flooring looks great from room to room?
The difference between matching hardwood and coordinating
There are two basic concepts in design: matching and coordinating. While similar in principle, they are slightly different when put into practice.
Matching is a concept we learn early in life through matching games. We put things together based on color, shape, and size. A red square goes with a red square. A right gray shoe goes with a left gray shoe. We look for things that appear to be the same, and fit together nicely in a set.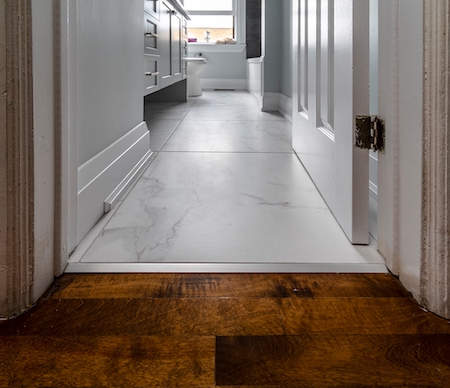 Coordinating puts items together that might not be a perfect match, but somehow fit together anyway. The color is the same, but the texture is different. Or the shape is the same, and the pattern is different. They may not be identical, but they go together anyway. You'll find this every day in the way you dress. A light pink silk shirt coordinates well with a dark burgundy skirt.
How matching and coordinating helps you with flooring
Now let's return to selecting flooring. You installed hardwood in a room last year, and this year it's time for a new remodel. You have a space in mind. You've picked out the decor, and the paint has been purchased. But what to do with the floors?
Matching would give you the same flooring as you flow from one room to another. Matching would mean that with every installation, the new floor is the same color, texture, and size. Planks would be the same width. The stain would match in color. When everything is installed, it would appear that it was all done simultaneously.
Coordinating would allow you to create harmony throughout your home in different ways. It may contain hardwood in one room, vinyl in another, and laminate in a third. What ties them all together is the ability to live in harmony. Comfort instead of chaos. The colors would blend, the shades would go together, and you'd tie it all in with the decor.
Matching hardwood to hardwood
One of the most common requests we receive is installing hardwood in a new room and matching it to another already in place.
The existing hardwood has been installed for a while. It's been walked on, worn, even faded from the sun. If you placed a new plank on top of it, you'd be surprised at the color change. Is there any way to match the two up?
If this is the case, it's best to try and match the tones from one floor to another. Ensure you purchase new hardwood that is closest to the color. It might not be the exact same shade. You may have to select a slight variation to ensure it flows freely. Consider your decor as well to ensure it coordinates well. If you have red undertones, for example, you wouldn't want to introduce grays.
Custom staining is also an option. Instead of trying to select prefinished hardwood, the installer would custom-mix the stain to match the flooring already laid. Be sure to use a professional with experience in custom mixing colors, and understands how to match colors already in place.
Matching hardwood to vinyl
Hardwood is a great choice for living space. When you move to the bathroom, it may not be your best choice.
When considering your options, it's hard not to fall in love with vinyl. Today's luxury vinyl planks mimic hardwood so closely, it often fools even professionals who work with it regularly.
What makes luxury vinyl planks so impressive is they are durable, and can be waterproof. That makes them the perfect choice for moisture-prone rooms like the bathroom.
But is it possible to install vinyl against hardwood?
That's where coordinating comes into play. The key to great flooring is to pay attention to the transition. Transition strips connect two different types of flooring together, so they blend well as you move from one to another. It's a board between the two floors for a smooth transition. It can be nailed in, screwed in, or laid with adhesive.
This is where coordinating comes in handy. Select colors that coordinate well, have the same tones or qualities. This is where a color palette can help. Stick with the same undertones – grays, reds, or browns. Think of the lighter shirt complementing the darker skirt.
Matching hardwood to laminate
Laminate provides a different quality than traditional hardwood. Many homeowners prefer laminate in places like the kitchen because they stand up to heavy traffic better, and won't be impacted by moisture in the same way as hardwood. Want to match your hardwood and laminate for a cohesive look? Make sure the appearances are similar so the transition will be seamless as you move from one to another.
To coordinate the two effectively, a lot of professionals use transition strips. This is where it pays to have a professional who has done this many times. They'll understand how to blend colors, and ensure a seamless look.
What's the best flooring for your remodel?
What's holding you back from installing new floors? If you know hardwood isn't right for your space, but you want it to look good with the hardwood already in place, why not coordinate it with vinyl or laminate? Each type of flooring offers different benefits and options. Why not pick the right flooring to suit your needs?
https://pro-flooring.com/a-step-by-step-guide-to-choosing-flooring-for-your-remodel/
Transitions are easy when you work with a professional. You can have the best look, working together with different products and textures.
What's the best flooring choice to suit your needs?