Planning a remodel soon? Choosing flooring is more complicated than selecting based on looks.
If you choose the wrong material, you'll hate your floors from the moment they are installed.
Where should you begin? Follow this step-by-step guide to ensure you reach the best flooring decision right for your needs.
Step One: Is moisture a problem?
While this seems like a simple "yes or no" question, it's also one of the most important you can ask. You may love hardwood and want it throughout your home, but if you put it in a high-moisture area, you'll have a variety of problems associated with it.
If you are remodeling a kitchen, bathroom, or even the basement, keep in mind that moisture may be a problem in the future. You can use this to guide you in making a decision that will be based on lifestyle, and not just looks.
Step Two: Dive deeper into the room's purpose
Different rooms have unique requirements. While there are a variety of different flooring choices available for each room type, it helps to think about your lifestyle and what you consider "normal activities" within the room you're remodeling.
The concept of a kitchen is unique to every family. Some families barely enter the kitchen, using the refrigerator mainly for storing leftovers. Others consider the kitchen a pivotal room in the home. They create meals together. They work there. They host parties there. They're active multiple hours of the day.
By considering your daily activities, you can work with a flooring expert to come up with several different flooring types, and finalize it to suit your individual needs.
Step Three: Who do you live with?
You may love white carpet, but if you have three young children and four furry friends, a white carpet wouldn't be a great choice.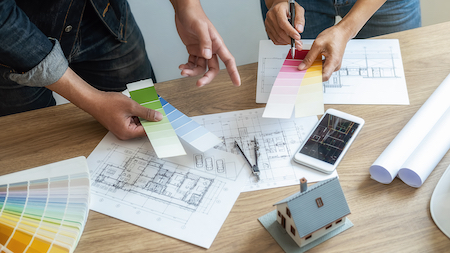 Have elderly relatives living with you? While thick, plush carpet may cause a tripping hazard, a cement floor is hard to stand on, and even more dangerous if they fall.
Flooring provides the base for whatever your family needs most. Dreams and wish lists should be considered, but don't forget to look at your lifestyle realistically as well.
The good news is there are many flooring choices designed to mimic well-loved choices. Love hardwood but know it's not practical? Luxury vinyl planks may be just what you're looking for.
Step Four: Different types of flooring
Depending on when you last replaced flooring, you might not be aware of some of the latest technology available for your home's remodel. Today's flooring is more durable and easy to clean than ever before. Whether you're looking for natural, eco-friendly, stain-resistant, or water-resistant, you'll find it in today's flooring.
A few of the most common ones that homeowners love right now include:
Hardwood – people can't resist this classic flooring material. Yet if you've had it in the past and aren't sure about durability, give it a second look. This makes a great choice for many rooms in your home.
Tile – this is one of the most cost-effective flooring choices available today. Plus with an almost unlimited color and pattern supply, you'll be able to create any look you're going for. Manufacturers have also duplicated other classic good looks, such as hardwood and stone, giving you an option when the more traditional options won't work for your situation.
Luxury vinyl – this isn't what you remember from your mother or grandmother's homes. Today's luxury vinyl comes in plank and tile format, giving you a beautiful design with things like water-resistance or waterproof to go along with it.
Carpet – it's still a good choice when softness and acoustic insulation are required. And with today's technology, stain-resistance will give you years of quality behind it.
Step Five: Define your budget
With every flooring choice you'll consider for your remodel, you'll find a product in an array of costs and qualities. Still, it's a great idea to define your budget early and adjust your expectations to match what you can afford.
Don't forget to leave money for underlayment, subflooring, and installation too. They will likely add more to the bottom line, impacting the total dollar amount you'll spend.
Low price – for homeowners with a tight budget, easy to install options can help you save money and time. Laminate and vinyl are often good choices for quick installations.
Medium price – you get a great quality product at reasonable prices. You'll have great choices in every category of flooring.
High price – if uniqueness is important to you, you can look for customized flooring choices. Exotic hardwood will show off your personality, or look for premium tile, luxury vinyl, or carpeting.
Step Six: Professional installation or do-it-yourself?
When some people remodel, they look for ways to get involved. Paint a few walls … sure, why not?
For do-it-yourselfers, click-and-lock technology is a great way to go. You'll find that technology on things like laminate or luxury vinyl planks.
https://pro-flooring.com/everyones-talking-about-luxury-vinyl-is-regular-vinyl-still-a-thing/
For more complicated jobs, hiring a professional is the only way to go. Traditional hardwood is easy to mess up if you aren't sure of the installation process.
Know your limits, and select based on your needs. Because your flooring is the base for everything in your room, it's the one thing you should be guaranteed and feel comfortable about. Ensure your flooring will stand the test of time.
Step Seven: Maintenance
Once your new flooring is installed in your remodel, what level of maintenance would work best for your situation? Do you want daily hands-on care? Or would you prefer a lay-it-and-leave-it approach?
Some floorings are more sensitive to daily care than others.
This is where resilience comes into the picture too. Any form of resilient flooring such as vinyl, tile, or even laminate works well because of its hands-off approach. A quick sweep, and you're set to go.
Yet other things may come into play too. Wall-to-wall carpet may require you to replace the entire room if an accident occurs. With luxury vinyl planks or even carpet tiles, you can replace sections without having to install a new floor.
Final thoughts
Use this step-by-step guide to help you define the perfect flooring choices for your remodel.
With so many options available, there's more than one choice that will perfectly suit your needs.
How can we help you finalize your selection?