Want to know the most popular question we get about hardwood flooring? It isn't about durability or maintenance. Instead, it's about hardwood stain colors.
Homeowners want to feel assured they are selecting a hardwood stain color they'll love for years to come. They want a color they won't grow weary of in a few short years. One that will be too trendy, and looks dated before they're ready to replace it.
They also want a hardwood stain color that adds to the resale value in case they decide to sell. Why add something to your home if it will detract from the looks, especially for potential buyers as they enter your space?
That's a lot to ask from one question. Yet we've been doing this long enough we have a great answer whenever homeowners come in with this question.
The answer isn't as hard as you might think. By starting with a few questions of your own, you'll easily be able to select a stain color that best suits your lifestyle. And it'll bring just the right personality to your home that anyone who enters will fall in love with the aesthetics you've created.
The basics of staining
Before we jump into color decisions, it's important to fully understand what staining is. Staining is a separate process performed between sanding the hardwood planks and applying the clearcoat top cover. Don't confuse stain with finishing.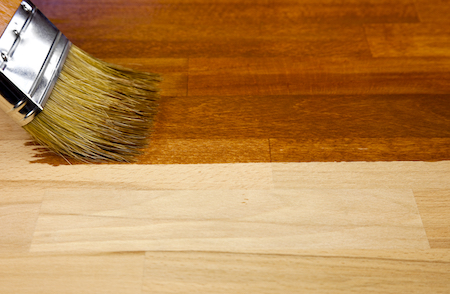 Finishing is the topcoat process. It contains multiple coats of clearcoat applied on top of the stain.
A floor doesn't have to be stained. It's perfectly okay to apply finish to the original hardwood planks. If you prefer the color of natural wood, a clear coat protects the hardwood itself, and seals in the natural beauty of the wood.
If you want to change the color, stain is applied to hardwood planks after it's smoothed and ready for a surface finish to be applied. This is when you have the option to use a colored hardwax oil, a stain under the oil, or a pre-tinted finish. Each will have different looks; it's up to you to decide which is the best look for your home.
Hardwood also makes a difference. You can select from many different species of wood. Mahogany, cherry, walnut, pine, and oak all have different characteristics and hues. You may fall in love with the natural qualities of a species. Or you might prefer using it as a basis, then lightening or darkening it with a stain. This is how you build character. Some have more grains and imperfections than others, giving you the chance to create something truly unique.
Of course, you can also go with pre-stained planks, which allow you to select the color before it's installed into your space. You can see the color applied, and know what it will look like before you install the first board.
How do you choose wood stain color?
If you've ever shopped at your local big box store, wandering the paint aisles can have you running for the doors. You'll find several manufacturers of stains. Each manufacturer offers a selection of different colors, different treatments, and different options.
And if you're not confused enough, pick up another manufacturer's information and start comparing. The colors are similar, yet different. Is that too much yellow? Or maybe too much red?
Maybe you start with the fact you want a dark color. But the light color choices throw you into a tailspin – is it the best choice?
Before you finish your planning, step back and think about what you desire. There's a reason you're installing hardwood flooring in your home. What were your original desires? How did you see your "dream home" after renovation? That gives you a starting point in the direction you should take it.
Take a look at the latest design magazines. You'll quickly find an array of color choices. You'll see some hardwood in the darkest colors, while others stay more neutral, or traditional.
That says it all.
The best choice is always based on what you desire.
Let's talk about hardwood color choices
Dark hardwood colors are considered stylish and dramatic. But there are a few things to keep in mind.
The darker the color, the less you see the grains of the wood. You can find an array of dark colors – ebony, expresso, true black – but the darker you stain the wood, the less color variation will come through in the wood planks. This can create a clean, minimalistic look that may make it easier to decorate. However, with a more solid line on your flooring, it is more difficult to clean and maintain the look.
Lighter colors remain open, airy, and neutral. They blend well with any decor, letting the aesthetics of your decor shine through rather than the color of your floor. In many cases, decorators will select a species of hardwood based on the color the homeowner desires. The closer you can keep your color choice to the original color, the easier it will be to maintain.
Lighter does tend to wear better, show less dirt, and stand the test of time.
Of course, mid tones might be more of your preference.
Mid tones are more traditional. You'll see this in older homes, and it hides imperfections well. This tends to have more brown tones than red, but can change based on where it's applied. How much direct sunlight streams in? What does your decor look like? Keep in mind that every species will impact how the color appears when they are finished and ready for daily wear.
Don't forget about gray hardwood and whitewash. It's one of the newest, hottest color choices, and has been popular for the past several years. Gray can be a bit challenging, and often requires mixing several colors to get the right hew.
Going back to resale – what's the best hardwood stain color? 
Homeowners often move back and forth during the decision process, trying to settle on a color.
Should you go with a color you love?
Or should you choose one based on longevity, resale, and ensuring it holds up well over time?
That's a personal decision. What's best for you?
Is this your "forever" home? Then, by all means, go with your instincts, and choose your favorite color.
If you have any doubts, and aren't sure about direction, it might benefit you to stay more neutral. Grays are very trendy. Reds can feel dated. Whitewash is an acquired taste.
Yet neutral will never go out of style.
What hardwood stain colors are your favorites?