Are you in the market for vinyl flooring?
It's easy to get swept away by the growth in the luxury vinyl market. Luxury vinyl planks or luxury vinyl tiles have brought the beauty of hardwood, stone, and tile at a more affordable price. Through modern technology and sophisticated visual effects, these luxury vinyl planks and tiles look so much like the real thing, you might have to get closer to tell the difference. Luxury vinyl is a great way to add classic good looks to any room in your home, while maintaining your budget.
But luxury vinyl isn't the only vinyl in the flooring industry. Regular vinyl is still a popular choice amongst homeowners. Many prefer it because of its ease of installation and use. If you're looking for seamless flooring, regular vinyl may be a better choice. If you're looking for classic good looks, regular vinyl may be your perfect choice.
What is regular vinyl?
Regular vinyl may bring back memories of the vinyl used in your parent's or grandparent's homes. Regular vinyl, also known as sheet vinyl, comes in a roll of flooring material up to 12 feet wide. For smaller rooms, this means the vinyl can be rolled into place from one side to the other, without seams in the middle of the room.
Seams are minimized, which means there's less risk of them being compromised over time. You won't have material bumping against one another, adjusting, and causing tripping hazards. You won't have the possibility of liquid seeping between the cracks, compromising the backing and subfloor.
Vinyl also is flexible, making it very forgiving as it's being installed. Lay it in place over existing flooring, such as wood, tile, or other vinyl. And because it's easy to install, you can have your new floor in place quickly.
It's effective in high-traffic areas where spills and scratches may be a problem. It's created by embedding color granules right into the vinyl for added durability. This helps resist scratches and wear marks. Its water-resilient surface area means less damage from everyday spills. Simply wipe away the moisture with less impact from damage.
How is regular vinyl constructed?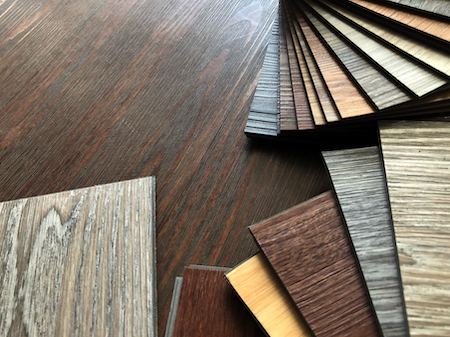 Today's vinyl flooring is a composite of ingredients. It's made from polyvinyl chloride, often referred to as PVC, plasticizers, and print films. Vinyl is placed onto a backing material, which is also a composite of vinyl and plasticizers or fiberglass. Laid over the top is a print layer, which provides the desired colors, patterns, and images customers want most. Finally, on top of the print layer is a transparent layer of PVC used to provide protection and maintain its good looks.
This top layer is what gives it strength and durability. It's also what changes from manufacturer to manufacturer. You can see where someone cuts corners by the wear layer in place. The print layer wouldn't have complete protection without a durable top layer.
Typically this top layer will also be given texture to compliment the print layer. A topcoat or urethane will be applied over the wear layer, to further protect the final finish.
You'll often see manufacturers guarantee their products for durability and wearability. They may tout coatings, warranties, or even patent-pending technology. But what really matters most is the wear layer. Because once the wear layer is worn through, the pattern will be damaged, and the only way to repair it will be to replace it.
That makes the wreck layer the most important layer. The thicker and more durable this layer is, the longer your floors will last.
Understanding the wear layer
Think of the wear layer as the protector of your floors. It's measured in thousands-of-an-inch, or what is referred to as mils. The goal is to make this wear layer between the topcoat and the print layer as thick and durable as possible. The more wear you have, the longer your floors will last.
If you start looking around, you'll find vinyl sheets come in many different mil ratings. But what is good? 0.1 mil? 10 mil? 20 mil?
It seems only natural that more is better. But it's still difficult to understand how such a slight difference can make a difference.
First off, mil does not equal millimeter. Most vinyl manufacturers are based in Asia or Europe and rely on the metric system for accurate measurement. Yet the few vinyl manufacturers that are American-based have converted it to a unit of measure that makes sense in America. They use mil, which is one-thousandth of an inch. Common wear layers range from 4 to 40 mil, providing different durability standards.
In general, the greater the wear layer, the greater the protection. A higher mil level will last longer and give you better wearability. Of course, there are other things to take into consideration.
What's important when selecting regular vinyl
Wearability is one of the most important things to consider. A lot of characteristics make certain sheets of vinyl more durable than others.
Before you finalize your selection, consider the application of your project. How much traffic? What type of activity?
Every time you replace your floor, you have to consider:
Material cost
Cost of installation
Additional fees for materials like baseboards, trim boards, etc
Any other related expenses
Whether this is for a home entryway, a high-traffic kitchen, or a commercial business setting, understanding what the flooring will face should guide you towards the right selection. Why select a 40 mil commercial-grade vinyl when the only traffic your floors will ever see are those who enter your guest bathroom?
Pay attention to the warranty too. Most reputable manufacturers will guarantee their flooring against defects. But they won't cover labor costs for removal and replacement. Keep this in mind, as installation is the most significant part of most vinyl flooring jobs. Does that make it worth considering a less expensive grade vinyl, and replacing it sooner to gain a new, updated look? Only you can decide.
Is regular vinyl flooring the right choice for you?
In some cases, regular vinyl may be your best flooring choice. Regular vinyl may be the perfect addition for a small bathroom, an entryway where durability is your top concern, or a kitchen where flexibility is everything,.
If you haven't looked at vinyl flooring lately, stop by today and see our entire line. You're going to love what it can do for your project.