Homeowners love tile for so many reasons. It's easy to install, looks good, and lasts a long time.
Are you thinking tile will be a great addition to your remodel? For living rooms, kitchens, bathrooms, and basements, tile can seem like the perfect option. With so much to choose from, where do you start?
Luxury Vinyl Tile (LVT) and Ceramic Tile are two popular choices for homeowners. Is one of these the perfect choice for you?
What is Luxury Vinyl Tile (LVT)?
Luxury Vinyl Tile is a versatile flooring option that has gained immense popularity in recent years. It is a synthetic flooring material made from multiple layers, including a PVC (polyvinyl chloride) backing, a vinyl core layer, a photographic layer that mimics the appearance of natural materials like wood or stone, and a transparent wear layer for protection.
One of the most attractive features of LVT is its ability to closely resemble the look and texture of natural materials, while offering greater durability and versatility. LVT comes in various styles and finishes, making it suitable for almost any room in your home.
How is Ceramic Tile Crafted?
Ceramic tile has been a classic choice for centuries. It is crafted from natural clay, shale, and other minerals. The manufacturing process involves molding the clay into tiles, firing them at high temperatures, and glazing them to create a smooth, durable surface. Ceramic tiles are known for their timeless elegance and come in a wide range of colors, patterns, and sizes.
Comparing the Two: Pros and Cons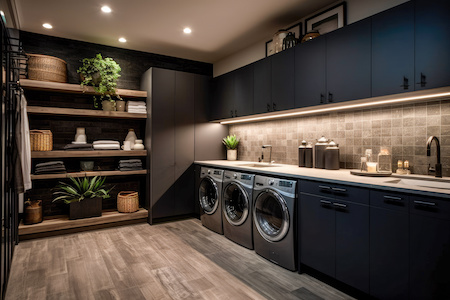 You can't enter any home improvement store and not find LVT and ceramic tile. Both offer many benefits to a home, and can do wonders for your space.
Still, homeowners have their own thoughts and personalities on which fits best into their aesthetics. If you're stuck between the two, let's contrast and compare.
Durability
LVT is engineered to be highly durable and resilient. It can withstand heavy foot traffic, making it suitable for high-traffic areas like kitchens and living rooms. Its wear layer protects against scratches and stains, ensuring a long-lasting appearance.
Ceramic tile is renowned for its exceptional durability. It is resistant to scratches, stains, and wear, making it an excellent choice for both indoor and outdoor applications. However, it may chip or crack if heavy objects are dropped on it.
Winner: Both LVT and ceramic tile excel in durability, with slight variations in their vulnerability to specific types of damage.
Installation
LVT is known for its ease of installation. It can be installed over most existing floors, including concrete, plywood, and old tiles. It can also be installed as a floating floor, making it a suitable DIY project for homeowners who enjoy tackling home improvement tasks.
Installing ceramic tile requires more skill and time. It involves preparing the subfloor, applying adhesive or mortar, placing the tiles, and grouting. Professional installation is often recommended to ensure a flawless finish.
Winner: LVT takes the lead regarding ease of installation, especially for those looking for a DIY option.
Maintenance
LVT is relatively low-maintenance. Regular sweeping and occasional mopping with a mild cleaner is usually sufficient to keep it looking pristine. The wear layer resists stains, which is a significant advantage for households with pets and children.
Ceramic tile is easy to clean and highly resistant to stains. However, the grout lines between tiles can be prone to staining and require periodic sealing to prevent discoloration.
Winner: LVT is the winner for low-maintenance flooring, thanks to its stain-resistant wear layer.
Aesthetic Appeal
LVT offers a wide range of design options, including realistic wood and stone looks. The photographic layer replicates the textures and patterns of these natural materials, providing a convincing appearance.
Ceramic tile is valued for its timeless beauty and comes in an array of designs and colors. It can create a classic and elegant look in various spaces.
Winner: The winner in terms of aesthetic appeal depends on your personal preferences. LVT offers versatility in mimicking natural materials, while ceramic tile has a classic and timeless charm.
Permanence
LVT is a semi-permanent flooring option. While it can be removed and replaced, it is not as permanent as other flooring choices. It can be found in click-lock format, meaning you can install it easily, replace it at will, and remove it just as quickly.
Ceramic tile is a highly permanent flooring option. Once installed, removing without significant effort and potential damage to the subfloor can be challenging.
Winner: Are you looking for a permanent solution? Ceramic tile wins in the permanence category, making it a long-term investment. If you prefer something you can fix and replace easily, LVT may be your go-to flooring.
Moisture Resistance
LVT is inherently moisture-resistant, which makes it an ideal choice for bathrooms, kitchens, and basements. Its synthetic composition prevents water damage and warping.
Ceramic tile is also highly resistant to moisture, but the grout lines may require sealing to maintain their integrity in wet environments.
Winner: Both LVT and ceramic tile offer excellent moisture resistance, making them suitable for humid areas.
Cost
LVT is generally more budget-friendly than ceramic tile. It offers a cost-effective alternative to achieve the look of natural materials without the high price tag.
Ceramic tile can be more expensive due to the materials and labor involved in installation. However, it's considered a long-term investment due to its durability.
Winner: LVT is the winner when it comes to cost-effectiveness.
Resale Value
LVT may not add as much resale value to your home as other premium flooring options. However, it can still be an attractive feature to potential buyers.
Ceramic tile is often seen as a premium flooring choice and can enhance the resale value of your home. Its timeless appeal is a selling point for many buyers.
Winner: Ceramic tile takes the lead in terms of resale value.
Are you ready to start your remodeling project?
What's the best flooring for your project, Luxury Vinyl Tile or Ceramic Tile? Both offer unique benefits and are suitable for various applications. Your choice should depend on your specific needs and preferences.
If you prioritize ease of installation, low maintenance, and cost-effectiveness, LVT may be your better choice. If you seek timeless elegance, permanence, and enhanced resale value, Ceramic Tile might be the ideal flooring option.
Before making your decision, we recommend visiting our showroom to explore our wide range of LVT and Ceramic Tile options. Our flooring experts can provide personalized advice based on your project's requirements and help you select the perfect flooring solution for your home.
Whether you opt for the modern versatility of Luxury Vinyl Tile or the timeless charm of Ceramic Tile, we are here to ensure your flooring project is a success. Contact us today to get started on your remodeling journey and transform your space into the home of your dreams.