A basement can add much-needed space to your everyday living. Yet it can also be one of the most difficult areas to design.
Many basements across the Front Range are behind closed doors. Descend down the stairs, and you're often transported to a different world. It doesn't look like the rest of your home. The decor is off. It's a little colder down there – which isn't a good thing in the dead of winter.
But what can you do? Where do you start?
One of the best places to begin is with the flooring. Basement flooring options don't have to be dull and drab. Install the right basement flooring, and you'll fall in love with the space, look forward to walking downstairs, and enjoy the space with your family and friends.
Basement flooring can pose a problem. Not any floor will do, especially if your basement is prone to moisture. That means selecting the best floor is not just for aesthetics, but for preventing future health problems too.
What flooring options should you consider for your basement remodel?
Luxury vinyl – it tops our list
When someone visits our showroom floor and asks about basement flooring options, we immediately start talking about the benefits of luxury vinyl. If your first thought was "vinyl, really?" you're not alone.
Today's vinyl has the ability to look identical to other flooring options you know and love. Want hardwood? Luxury vinyl can mimic that. Want stone? Luxury vinyl can give you that look too.
Yet luxury vinyl gives you something many other flooring options can't: the ability to be highly functional below ground level, and offer a waterproof flooring option you'll love. Yes, waterproof. For many homeowners who have experienced occasional problems in their basement, the thought of waterproof flooring is all it takes for them to give luxury vinyl a second look.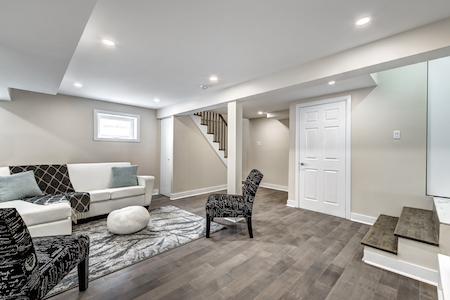 What makes luxury vinyl different from the sheet vinyl you may be used to from years past is how it looks. Luxury vinyl planks (LVP) and luxury vinyl tile (LVT) take on the look of the most popular flooring on the market – hardwood planks and stone tile – yet gives you the benefits they don't. Luxury vinyl is:
Waterproof – up to 100 percent depending on the style and manufacturer you select
Durable – it can stand up to just about anything your family dishes out
Easy maintenance – it continues to look good with occasional sweeping and mopping
Styles – whether you want the look of hardwood, stone, or a more traditional pattern, you'll find it with vinyl
DIY – click and lock technology makes it easy for anyone to install
Affordable – because of its popularity, this is one of the most affordable options you can install in your remodel
We could go on and on with the benefits of this flooring material, but the best way to experience it is to come and have a look for yourself. Luxury vinyl planks come in a variety of widths and sizes. Whether you want a light whitewash or the darkest walnut, you'll find any color combination you've anticipated installing into your final design. Luxury vinyl tile gives you an easy way to have the most luxurious stone, without the hassle of adhesives, dry times, and grouting. From marble, granite, or limestone, it's an easy way to get the look you've been dreaming about.
Creating warmth with tile
While luxury vinyl continues to be one of the most popular choices for a basement remodel, if you're looking for the "real thing," we suggest taking a closer look at tile.
Tile comes in a variety of styles, shapes, sizes, and materials. Porcelain tile can create just about any look you desire. Want natural stone? Its elegance can build luxury into your basement decor. Have a specific pattern in mind? Ceramic tile takes on just about any color, pattern, shape, and size you can imagine. Whether you have your own design ideas in mind, or have something pinned to your Pinterest board, you'll love what you can do with tile.
Plus, it installed correctly, it's a great choice for below-grade living spaces. Its moisture resistance can stand up to whatever happens on your property. In some cases, it can offer waterproof protection.
But what also attracts homeowners is the option for a more efficient way of heating their basement spaces. Radiant heating systems allow you to maximize the potential of turning often unused space into cozy living areas. You won't have to worry about what your HVAC system can produce.
Porcelain, ceramic, and natural stone are all great thermal conductors. They don't expand and contract based on hot or cold situations, meaning they hold up well when installed over radiant heating systems. Where tile was once thought to be exclusively for warmer environments, it's now growing in popularity because of the warmth it can bring to your home.
Carpet is still a great choice
If you're not sold on hard flooring options, want something warm and economical, carpet is still one of the best choices you can make for your basement living spaces. While it doesn't have the waterproof, mold and mildew-proof qualities of vinyl, it is a warm option that can give you the cozy feel you may desire.
Carpeting is often a great choice for main living spaces, bedrooms, and staircases. It's soft to the touch, safer at preventing falls, and provides cushion for walking, sitting, and laying on.
Carpet also offers the perfect look and feel for those that wish to adhere to a budget. No matter what your budget is, you'll find the perfect color, pattern, and texture to suit your needs.
It can also help you create a quieter space. If your basement brings additional family space, a game room perhaps, or even a media room, carpet can help settle noise and keep it inside the space.
What's your choice for basement flooring options?
There isn't a wrong choice when it comes to designing the basement of your dreams. Whatever flooring you desire will ultimately be the one that gives you the most satisfaction when you're using the space.
Stop by today. We're happy to show you our wide selection, and help you make the right choice to suit your needs.