Berber carpet is one of those terms that may be a part of your vocabulary, yet you really aren't sure what it means. Berber carpet is synonymous with a popular flooring choice for both residential and commercial because of its durability and classic good looks.
Its history dates back to ancient times. Berber carpet comes from northwestern Africa, from people known as the Berber tribe. Our Berber carpets of today didn't actually start out as flooring. Instead, the Berber tribe made cloaks of wool with the same characteristics as today's carpets, with the recognized loops in tight formation.
And that's where Berber carpet stands today. Berber carpet is also known as loop style carpeting because of the way the fibers are woven together with short, thick loops in a tight design.
Popular in the 80s and 90s, it was typically used in low maintenance, high traffic areas because it held up well.
How today's Berber carpet differs from past materials 
The first Berber carpet originally came from Africa. It was made from wool and had flecks of color that resembled dirt. Because this came from a natural resource, color variances were accepted as a part of the product.
That look was often mimicked as it transferred to modern manufacturing.
The first machine woven Berber carpet was created from olefin. Olefin is a petroleum by-product that is difficult to keep clean because of the oils within the fibers. Those oils actually pulled dirt down and trapped it into the fibers.
Eventually, the most durable Berber carpet was made from nylon. It's much easier to clean, and stands up in high traffic situations. While the original Berber designs came in varying shades of cream and beige, you'll find a wide array of colors and designs with modern Berber. Styles vary greatly to match any preference in home decor.
Why you should consider Berber carpet for your next remodel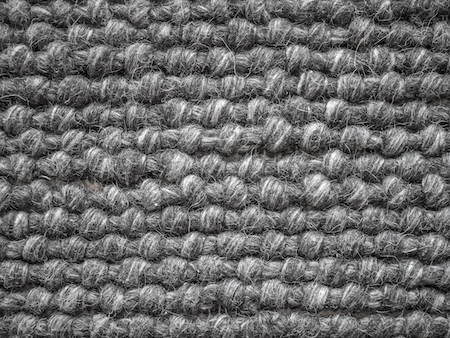 Today's modern Berber carpet styles provide a host of color backgrounds with darker flecks weaved in. This gives you an advantage of having carpet that stands the test of time, and hides dirt well.
Whether you grew up with Berber carpet, or are looking for a great addition to your high traffic areas, Berber carpet is a welcome addition to any home for several reasons:
Durability – Berber carpet is often moved to the front of the wish list when durability tops the list of expectations. The loop piles are woven closely together, making it difficult to snap or pull with most activities. It continues to look good no matter what's involved in your daily routine. That's what gives Berber carpet an advantage in family rooms, basements, and even home offices. You won't have to worry about it leaving marks after you walk out.
Stain-resistance – From coffee and tea, to wine and juice, accidents happen, especially in busy areas. Berber carpet's tight weave leaves the spill on the surface longer, giving you a chance to quickly clean it and have it disappear for good. It also leaves dirt sitting on top of the surface rather than falling down into the fibers, making vacuuming a snap. It is important to note that as with any carpet, you get what you pay for. Higher quality products will be better at resisting stains and looking great over time.
Cost – You'll find Berber carpet made from a variety of fibers, including olefin, polyester, nylon, and wool. Wool continues to be one of the more expensive options because of its natural qualities. Move into other fibers, and Berber carpets become even more economical. In addition to the carpet itself, you'll also have to rely on professional installers to ensure the carpet is installed correctly. Yet for longevity, Berber is often one of the better carpet choices for giving you years of enjoyment.
Things to be aware of before installing Berber carpet
There is never a product that is all things to all people. Berber carpet has a few drawbacks that may hold some people back from installing it into their homes.
Rough texture – If you're dreaming of a soft carpet to wiggle your toes into, Berber carpet isn't it. Berber carpet is built for durability, and its tight weave provides a more solid texture. Depending on the fibers, it can even feel a bit rough underneath your feet. If you want the softest feel, check out Berber carpets made from wool or wool blends, or even nylon. Manufacturers constantly work to provide the most durable product with the most requested features, and you'll find one that suits your needs.
Cleaning issues – Vacuuming can leave your carpets looking their best. But with Berber carpet, you do have to be careful in the tools you use to clean it. Some vacuums come with powerful beater bars that may pull or snag the loop material. If this happens, you'll have snags and pulls in the fibers that can unravel and start to show wear. Check with the vacuum owners manual for recommendations. It may benefit you to turn the beater bar off while vacuuming your Berber carpet.
Pets – In the same way the beater bar can snag the fibers, pets' nails can be equally harsh on the tightly woven material. Cats especially can be hard on Berber if they begin using it as a scratching pad, pulling at the loops every time they stretch.
Is Berber carpet the right choice for you?
Berber carpet is a personal choice. It's all about meeting your needs.
If you prefer a tight weave that handles well under high traffic situations, Berber carpet may be the right choice for you.
The easiest way to finalize your decision is to come in and look at your options. With thousands of options in styles, colors, patterns, fibers, and textures, we'll help you find what you're looking for. Take a few samples home, and fall in love with what's best for you.
Top brands offer Berber carpet that will look great in whatever room you're remodeling.
You'll love what Berber carpet does for your home.