Take a look around your home. Does your flooring suggest it's been around a while? Do your carpets look worn, faded, and outdated?
Still, you're nervous about remodeling. Should you install new carpet? Is carpet still fresh and new? What's the most popular carpet right now? Is carpet truly something for you?
Here are some statistics that may surprise you.
The carpet industry in the United States accounts for 51% of the total flooring market.
Flooring sales in the United States reached $21.9 billion in 2017, with over 19.7 billion square feet of product sold. Carpet holds the largest share of the overall floor industry, with 41.5% of revenues earned in 2018.
We often get homeowners in our retail location, asking whether carpet is still a viable option inside their homes. Our answer is always overwhelmingly: Yes!
The nitty-gritty of carpeting
Before we get into the good stuff of selecting carpet, it's worth a few moments to understand what carpet truly is.
Most people start with the looks, styles, and designs available, we tell people to focus instead on the fibers and how the carpet was made.
A saxony carpet is dense and luxurious. It's similar to shag pile, and flattens a bit over time.
Loop pile is hard-wearing and a good choice for busy rooms. It's created from heavier and wider cut loops of yarn, giving you a textured look. The loops can snag, and may be difficult for homes with pets.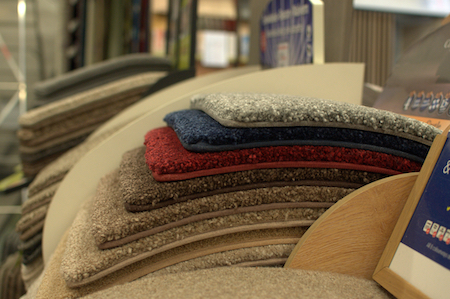 And then there's the hardest working carpets in the industry, twist pile carpets. These are one of the most popular carpets found in homes all across Colorado. That's because it's created from yarn that has been tightly twisted together. The loops are cut, meaning it won't easily snag. It creates a firm surface area that won't collect dirt easily.
Twist pile carpet comes in a variety of styles and colors. You'll also find plenty of textures and patterns.
When it comes time to clean, twist pile carpet holds its shape. Just run a vacuum over it regularly to help it keep its original condition.
It's a style that you'll find readily through many different manufacturers. And with the warranties they offer, you won't be disappointed in how these flooring choices handle.
What about options? I want a carpet that looks good over time
When selecting carpet, focus on manufacturing first, looks second. It's our top recommendation when people come into our location.
If you want a carpet that wears well over time, the way a carpet is created will determine just how well it stands up. It's about the fibers, the backing, and even the padding. You'll never be disappointed if you invest in high-quality carpet.
Yet we understand that you want style, color, beauty. After all, that's what people see when they walk into your home.
The good news is you'll find all of that and more in today's carpet choices. What people want right now is:
Green carpet
Sustainable, eco-friendly, and green are the in-thing. Why invest in a new floor that ultimately harms the environment? That works in a number of ways. Homeowners want carpet made from a sustainable resource. They want materials that aren't harmful to the environment. That includes indoor air quality. Why bring something inside your home if it makes your space anything but a safe place to live?
Luckily, you have choices today. We can point you in the right direction to find the greenest carpet materials on the market. You can also look for certifications such as Green Label Plus. This Carpet and Rug Institute's certification is placed on products that care about indoor air quality. Manufacturers pay attention to materials with very low emissions, and are safe for the environment.
Natural fibers
Wool carpet is climbing in popularity because of the qualities it offers. Harvested from sheep, it's soft and durable. Its thickness comes from tightly wound natural fibers that have long since stood the test of the elements. It's soft, thick, plush, and has environmentally-friendly options. While wool can last longer than many other carpet options, it's important to note that it does take care to maintain it over time.
Underlay
What's underneath your carpet will have more impact on the durability than what you can see. Yet most homeowners place attention solely on the fibers.
Think of the underlay as the base for your flooring. If you have the right base, your carpet will last for years, and look great while aging.
Underlaying also determines the acoustics of the room. If noise reduction is important to you, ensure a quality underlay that has effective noise control. Underlayment and padding come in a variety of materials, thicknesses, and capabilities. You can get a waterproof backing that will help in potentially moist situations, such as the basement.
Also realize that what lies underneath your carpet will change depending on where you install your carpet. The basement has different needs than an upstairs bedroom. A staircase will require different underlayment than a home office or den.
While the quality of the carpet matters for longevity, equally, quality of the underlayment matters to. If you want your carpet to last, choose the highest quality padding you can afford.
Carpet makes a statement
Is carpet still a viable option for your home? You bet! We think it's often the best choice for certain rooms in your home.
Only you know your personality and your tastes. Do you prefer to go bold? Or is natural more suitable for your liking?
Not all carpet colors are suitable for every environment. It's about creating a space that creates a livable situation.
You can't go wrong with gray or beige. Light natural colors will always be in style. They set the stage for your walls and furniture. They allow you to play with color through accents and decor.
Of course, if you're big on color, you'll find more colors available now than at any time in history. No matter what statement you wish to create, you'll find the right color to suit your tastes.
Is carpet still trending? You'll never go wrong with carpet. It's the best flooring choice in a variety of situations.
How can we help you select the right carpet for your space?