Do a search online and you'll likely find various articles on installing floors in a home with pets. But different kinds of pets present different levels of potential destruction. Arguably, cats can be one of the most destructive pets you'll ever have in your home.
Just one cat can leave your new floors looking old and worn after the wrath of claw marks, urine, and vomit, for starters. If you're planning on purchasing new floors, what should you look at to ensure you install cat friendly flooring?
Protection from cat claws
If you have brand new flooring, watching your cat stretch and scratch their claws across carpet or hardwood can send chills down your spine. You know instantly that your flooring will never be the same.
Declawing may not be an option for you. Many cat owners are forgoing the practice and allowing cats to live as naturally as possible. You can train them to use a scratching post, but they can still wreak havoc on your floors as they tread across the surface daily.
To avoid that, it's easier to select the right flooring that will stand up to all your cat can dish out. What kind of flooring works well to prevent cat claw scratches? Two of the best choices today are luxury vinyl tile (LVT) and luxury vinyl plank (LVP). They are created using the latest technology, designed to prevent things like scratching, scuffing, and staining.
LVT comes in the more traditional tile squares, and will give you a surface texture that resembles tile, stone, or even concrete. It can take on a realistic look, and can even be set with grout if you wish, for it to resemble traditional tile.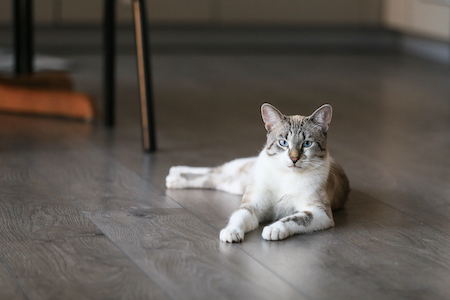 LVP comes in plank shape and offers you the look of traditional hardwood, albeit with many benefits not found with hardwood planks. It's harder, more durable, and can stand up under pressure to scratching too.
Both LVT and LVP are constructed using several layers. There's a durable wear layer, a design layer that features its classic good looks, a PVC core, and an attached backing that provides added comfort and support as well as creating a more quiet flooring underfoot. Pay attention to thickness levels as that's where your true protection will be over time.
Protection from cat urine
Training your cat to use the litter box is high on your list of to-do's when you bring a kitten into your home. But it takes time to train a kitten properly. Accidents will happen.
If you have an older cat, incontinence problems may also be a part of your life. Cat urine could become a major problem if you don't have the right flooring installed. If you've ever walked into a home where cat urine is present, you know it's a smell that will never go away.
To prevent this problem, we turn once again to the latest technology in vinyl flooring. LVT and LVP look like real hardwood or stone, yet is more durable and makes clean-up a snap.
LVT and LVP are waterproof – yes, waterproof. That means if your cat has an accident, you can simply wipe it away. Keep in mind that while your flooring may be waterproof, your flooring can still be susceptible to problems. If moisture seeps along the baseboards, or if cracks between planks or tiles aren't properly sealed, there is a risk urine can penetrate down into drywall or subflooring, and become a permanent part of your home. The faster you clean it up, the better the results.
There is another type of flooring that works well in this instance as well – vinyl sheet flooring may be the perfect choice in this situation. Because vinyl sheets can often extend throughout the room without seams or cracks, it provides a surface area that can stand up to accidents even better than LVT and LVP.
How about the perfect flooring to prevent cat hair and other stains?
Cats shed. You'll find hair all over your home if you've added a cat to your family.
Once again, that makes vinyl a perfect flooring to simply sweep the hair away. It won't get trapped in the fibers of carpet, and will be easy to clean daily.
Yet we also know that vinyl isn't the perfect choice for every homeowner. Want something more natural? Something that looks as good as vinyl but has more natural qualities to it? Give linoleum a second look.
Linoleum is one of the longest lasting floor options on the market today. It's been known to last forty years and even longer with careful cleaning and maintenance.
Linoleum has a protective layer on top that protects it from scuffing or scratching. It's water resistant, meaning it can stand up well to those occasional accidents as long as you wipe them quickly away.
It also comes in large rolls like sheet vinyl, making it a snap to install in large rooms. Just roll it into place, and depending on the width of your room, you can hide seams in inconspicuous places.
The price of linoleum is also a plus. It's one of the most economical choices you'll find, making it easy to install now, and replacing it as needed without breaking the bank.
It's all about proper maintenance
As a pet owner, extra maintenance is a part of the job. With a cat, it's important to go into it realizing you'll have to stay on top of daily maintenance items to ensure your flooring stays in good condition for years to come.
The good news is, if you make the right choice, you'll have cat-friendly flooring that will last for years. Cleaning is relatively easy, have a vacuum to clean up dirt and hair, and a mop for spills and accidents. Pay attention to the cleaning products you use, to ensure they don't strip the finish from the floors. Most manufacturers make suggestions as to which products are safe. You can always use a natural cleaner of vinegar and water to keep things fresh.
Well-known manufacturers often create products that are especially tough at handling what homeowners can dish out. If you're worried about how your cats will damage your floors, let's talk. We can show you which flooring products make the best choices, and show you the available options. You'll be surprised at how durable today's flooring lines are, and how they'll wear even in active homes.
The only question now is: What cat friendly flooring choice is right for your home?