Every remodeling or renovation job starts at the bottom – with the flooring, that is.
That's because your room design starts with great flooring.
Can you imagine a bathroom with carpeting? Or slick, ceramic tile in the kitchen? Both would be a disaster waiting to happen.
Instinctively, we know what flooring works best in each room in our homes. But once you move past the basics – no to the carpet in bathrooms – it gets a little tricker.
Especially when your family includes dogs. As a nation, we love our furry friends. The American Veterinary Medical Association states that 38.4 households across America own a dog. That's more than one in three!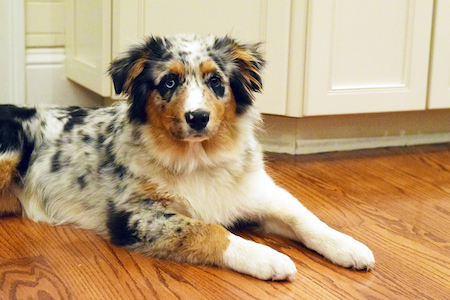 Yet Coloradoans also love their hardwood flooring. It continues to be one of the most popular flooring choices, with hardwood flooring being one of the top requests from people out looking for a new home.
A global pandemic in 2020 didn't change that. What it did change, however, is the type of hardwood in demand. While it's still speculation what homeowners will want in 2021 and as we move forward, places like Hardwood Flooring Magazine are already predicting consumer demand.
Thanks to technology, you have a lot of choices when it comes to installing hardwood flooring in your home. And growth is predicted in lines where durability, upkeep, and cleanliness are all at the top of the benefits list, something we appreciate even more during 2020 as we've dealt with COVID.
According to Hardwood Flooring Magazine's 2021 outlook, they are predicting an uptick in engineered and factory-finished hardwood. Both are extremely durable, easy to care for, and have hard surfaces that are especially conducive to keeping clean. They also handle well in high traffic situations, and perform equally as well when you have pets.
Dog adoptions are up.
Remodeling is booming as we get our homes ready for more staying in place.
Is hardwood the perfect choice for both situations?
Choosing hardwood flooring when you have a dog
Think about all your furry friend does during the day.
She runs circles throughout your home
She eats and drinks from bowls placed on your floor
She digs in with her claws to gain traction
She naps in the sun
Is hardwood flooring the best to handle all of that?
Fortunately, there are several choices of hardwood flooring that work well for all of those activities. Consider:
Pre-finished hardwood flooring – this offers a major benefit over unfinished hardwood where you stain and coat it once it's laid into place: it comes with a harder, more durable surface. That's because manufacturers have more options when they finish a product inside their production facility. Most manufacturers apply an aluminum oxide finish to the surface, which creates a stronger surface coating that can withstand more abuse from what your family can dish out. That gives it more scratch-resistant properties.
What species you'll install – there are many different species types used for hardwood flooring, including ash to walnut and everything in between. Some species are harder than others; they've developed a Janka hardness scale to rate each type of wood to help you make your final decision. Soft woods are more susceptible to scratching while hard woods can sustain more impact. If you have dogs and an active household, be sure to select a hardwood on the harder side of the scale.
Surface – every hardwood has its own unique characteristics. Some have a more textured appearance, helping them hide scratches and dents more easily. For example, hand-scraped flooring has grown in popularity, and with its slightly uneven texture, it adds warmth and personality while hiding scratches and dents at the same time.
Care for your hardwood floors when you share your home with a dog
No matter what type of hardwood flooring you decide to install, it's important to create a regular maintenance schedule to keep it looking its best. There are a number of things you can do to ensure your flooring has a long life, and looks great in the process.
Wipe your dog's paws
While you can't ask your dog to leave her shoes at the door, you can ensure that she leaves the dirt and debris she collects outside where it belongs. Set up a routine for when your dog comes in from the outside. On dry days, using a pet-safe towel to wipe down their paws may be all it takes. On snowy days, don't forget to check their paws for chemicals they may have picked up on your daily walk from snowmelt and other chemicals used for snow clearing.
Use doormats
Every entryway in your home should have a doormat to help collect dirt from your shoes and boots. It will also help reduce dirt from your dog's paws as he enters from the outside. Ensure it has a solid backing to prevent it from slipping as you both track in water, snow, and ice.
Cut your dog's nails frequently
The American Society of Prevention of Cruelty to Animals recommends that a dog's nails be trimmed just as they touch the ground. When you hear a clicking noise as they walk on a solid surface, it's time to schedule a trim with your vet or groomers, or do it yourself. Be sure to educate yourself on the procedure before you begin.
Use a dog bed
Hardwood flooring can be hard as your furry friend sleeps during the day. Instead of leaving them basking in the sun on the hard surface, invest in a dog bed to give them a more comfortable spot. As your working from home, place it nearby so she feels like a member of the family as you go about your day.
Avoid bones and other heavy objects
The younger your dog, the more they enjoy playing. Pay attention to what toys and bones you give them, avoiding the heaviest objects or reserving them for outside play. Puppies especially are prone to picking things up and dropping them repeatedly. That can quickly damage softer woods.
Do you have a dog at home? Are hardwood floors on your list of projects for the year?
It's easy to marry the two together when you put a little thought into your project before you begin.
How can we help you make the right choice for your home this year?